The Williams Formula One team has announced the resignation of its well-regarded technical director Sam Michael this morning – and revealed that his replacement will be none other than disgraced former McLaren chief designer Mike Coughlan.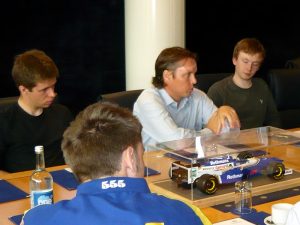 However Michael, who is leaving alongside chief aerodynamicist Jon Tomlinson, is set to remain at the team for the rest of the 2011 season, one that has reputedly seen the team's worst start in more than 30 years of racing.
The reason given for the resignations is a restructuring of the Grove-based team's technical department after a decade with Michael in senior positions there.
Coughlan, set to join Williams next month, will last have been on the radar of most F1 fans after leaving McLaren in troubled circumstances in 2007 as part of the Spygate fallout.
Following a FIA-enforced absence from F1 he spent some time working with sports and touring car teams, desiging an armoured car and collaborating on the abortive Stefan GP bid to enter F1.
Team boss Frank Williams said of the resignations: "Both Sam and Jon are talented and driven people who have worked hard for Williams over 10 and five years respectively.
"Nonetheless, they have recognised that the team's performance is not at the level that it needs to be and have resigned in order to give the team the opportunity to regroup and undertake the changes necessary to get back to the front of the grid.
"Both will continue to work in their present positions through until the end of the year to ensure that the team maintains focus and momentum during the 2011 season. We are very grateful to Sam and to Jon for their professional approach."
Speaking of Coughlan's appointment, he added: "Mike Coughlan is a fine engineer with extensive experience across Formula One and both civil and defence engineering.
"He left Formula One in 2007 because of conduct which he acknowledges was wrong and which he profoundly regrets. His two year ban from the sport expired some time ago and Mike is now determined to prove himself again.
"Williams is delighted to be able to give him the opportunity to do this and we are very pleased to have one of the most talented and competitive engineers in the sport helping us to return to the front of the grid.
"This is the first step in re-building and strengthening our technical group. We will announce the next steps as they develop."
Coughlan said of his appointment: "I am grateful to Williams for giving me this opportunity. My experience in 2007 was life-changing. Since then, I have endeavoured to put my skills to good use in the design of the Ocelot vehicle whose purpose is to transport soldiers in safety.
"I have also enjoyed my time with Michael Waltrip Racing: they are an excellent race team and I wish them well for the future. Now, I am looking forward to returning to a sport which I love and to joining a team that I have admired for many years.
"I will dedicate myself to the team and to ensuring that we return to competitiveness while respecting the ethical standards with which Williams has always been synonymous."
Williams is currently in 10th position in the constructors' championship, behind new entrant Lotus and perennial under-performers Toro Rosso and Sauber. It has no points on the board after three races.
The car has been dogged by reliability issues. Williams' highest race finish this year was a 13th place for Rubens Barrichello in China and neither of its drivers finished the first two races. The only other teams with comparably poor results are newcomers Hispania and Virgin.
The timing of this poor run of form coincides with the team's decision to float in a public share offering on the Frankfurt stock exchange and therefore has not contributed to a boost in its value.
It is being reported this morning that CEO Adam Parr also offered his resignation, but that it was refused.