This season sees the return of the energy recovery system KERS to Formula One – and, with it, kilograms of extra weight that have to be clawed back from some other part of the car in order to maximise performance.
Combine this re-adoption of KERS with the pressure caused by last year's refuelling changes, which require a larger fuel tank, and one of the first places that teams look in this particular battle is to drivers. For them, shedding the kilos becomes a crucial part of pre-season training – and possibly also of job security.
Despite the many jokes about the waistline of NASCAR and ex-F1 star Juan Pablo Montoya, it's becoming more and more widely-recognised that competing in top-level motorsport requires an individual to be a superb athlete as well as a skilful driver.
But this creates a pressure in the opposite direction – drop the weight too far and both health and driving ability fall with it. So how do you combine the the obligation to keep weight low with the nutritional needs of a body performing at the top of its sport?
This has been an issue for Formula One drivers for years, with former McLaren, Williams and Red Bull pilot David Coulthard shocking fans in 2007 with the brave admission in his autobiography that he had suffered from the eating disorder bulimia as a karting-obsessed teenager.
Drivers outside the top flight put a lot of time and energy into fitness and specialised strength work to boost their careers and increase their appeal to teams. Nico Hulkenberg, for example, is known to have impressed Williams with his commitment to training before the Grove outfit offered him a race drive.
And GP3 racer Adrian Quaife-Hobbs took dedication a step further by designing, building and marketing a specialist weights machine for gyms that features a simulated steering wheel and driving seat, with the aim of conditioning the exact muscles used in driving.
Working in partnership with professional training consultancy Pro Performance, which had long been searching for such a machine, and his parents' engineering company, he produced a piece of equipment now used by a range of professional drivers as they work to get themselves in shape for the season.
Finding the balance
So, how does a driver achieve the tricky balance between well-being, performance and nutrition – especially since some are young enough to still be growing? Increasingly by working with a specialist fitness company that can help them balance all these competing demands.
Fans of American racing will be used to hearing drivers on the far side of the Atlantic mentioning their adventures with Pitfit – an Indianapolis-based motorsport fitness specialist that has counted Dario Franchitti, Scott Dixon and Will Power among its clients.
Followers of its Facebook page, or the Twitter streams of drivers such of Pippa Mann, will be very familiar with the efforts it expects of its clients.
On this side of the Atlantic, Pro Performance performs a similar task for drivers such as Quaife-Hobbs, IndyCar Series racer Mike Conway, Irish rallyer Craig Breen, the racing team Carlin, and several drivers in British F3 and Formula Renault UK.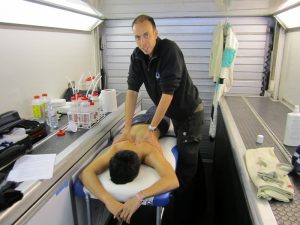 According to director Dan Williams, a wide range of range of physical problems can result from rapid weight loss, depending on which technique is used to shed the pounds.
For example, an aggressive reduction in calorific intake can cause tiredness and reduced aerobic capacity, as well as decreasing alertness and slowing down both problem solving abilities and muscle response time.
Another possible area of impaired performance is a driver's fine motor skills. The nature of racing requires a driver to make many precise movements while under high physical strain and, potentially, experiencing disruptive environmental factors such as extreme ambient temperatures or humidity.
The dreadful accident suffered by Robert Kubica has drawn attention to the damage that injury can do to these motor skills – but according to Williams it's not just trauma that can leave them impaired.
He says, if the driver is under-prepared nutritionally, these fine motor skills can also become compromised – and this in turn could make the difference between finishing first or third at the flag.
Water of life
Another important issue, and one that occasionally surfaces in the public consciousness during Formula One races in hot weather, is hydration. Races in various championships may take place anything between one and seven days apart and drivers need to recover between such back-to-back events, also taking into account the demands of long-haul travel.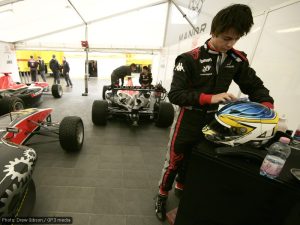 Moving between time zones can affect eating and drinking patterns, with the unprepared driver unable to get their eating routines back on track, leading to wrong decisions on when and what to eat.
Williams said: "We teach our clients to maintain a healthy diet/weight for performance, whilst maximising their lean tissue status. With experience advising athletes on weight and diet issues from professional boxing, rowing and motor racing, three sports where competition weight is vital, we understand the role nutrition plays in sporting performance and the difficulty of maintaining an ideal weight for competition.
"Often drivers will make the mistake of wanting to lose weight too quickly during the off-season, they then go into a cycle of yo-yoing their weight. It is much more effective if the driver can maintain a healthy ideal weight throughout both the competition and off-season phase, the human body responds better to this strategy, with performance not becoming compromised."
He added that an effective way to get a client on an effective weight and nutrition programme was to ask them to complete a food diaries over several days with detailed descriptions of the foods they eat.
"This highlights information about the client's energy levels and micro-nutrient intake. With the demands of modern racing growing physically and starting at a younger age, better nutrition strategies are fast becoming an aid to gaining that extra 10 per cent in performance."
Certainly, in a sport as ultra-competitive as racing, and where drivers can start racing at the age of eight or younger, anything that can provide an edge is going to be wholeheartedly embraced.