Thousands of car, bike and motorsport fans descended on Donington Park today in a gesture of support for the beleaguered circuit, which is trying to rebuild its future following the Formula One fiasco.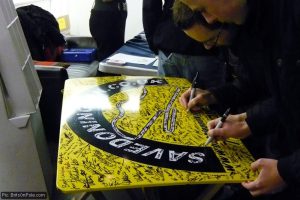 Although there was some disappointment that owner Kevin Wheatcroft was not able to name a new leaseholder, as had been hoped, the turnout on a cold but gloriously sunny day filled most visitors with optimism.
The rally, and the Wheatcroft family's welcoming of it, were powerful statements that the DVLL days of silence and obfuscation about the circuit's prospects were well and truly over, and that the fans who attend races and club meetings are welcome stakeholders in the hoped-for renaissance of Donington Park.
Talking to BritsOnPole after a question and answer session on stage, Wheatcroft re-affirmed his personal commitment to bringing racing back to the historic circuit, which has been left unusable following the collapse of former leaseholder Simon Gillett's bid to stage the British Grand Prix.
He said: "It's easy to take a cheque off someone, walk away and let it become a building site. But I think I've got a chance here to add my bit to British motor sport history.
"This has been a circuit since 1931 with only a few interruptions, and hopefully we can make sure this is just another one. I'm confident we can."
Earlier in the week a spokesperson for the circuit had told the Leicester Mercury that it had not proved possible to secure a deal on a new leaseholder in time for the event: "We wanted to announce the decision on Sunday in front of thousands of supporters, but it's important to make sure we make the right choice and not rush the decision."
Organiser Lee Coombs described the event as "breathtaking" and estimated that as many as 4,000 people may have attended.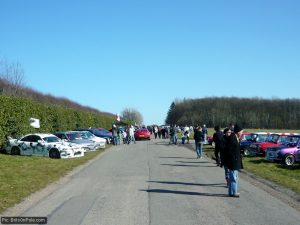 He said that never in his wildest dreams had he expected such a response when he started his internet campaign calling for fans to attend the circuit and demonstrate their support of it to the Wheatcroft family.
"They are all taking time out on a sunny Sunday to attend. And we know that there is no better way of spending a sunny Sunday than at Donington Park. Thank you for putting in the effort – it shows a future leaseholder that the future of Donington Park is good."
And he thanked the circuit ownership for embracing the event: "Kevin Wheatcroft and his team have done so much in such a short period of time."
Asked what the next step might be, Coombs told Brits on Pole: "Nothing at the moment – but I would love to talk to the new leaseholders."
Fans turning out to support the event were able to enjoy a close-up view of hundreds of cars belonging to club enthusiasts, encompassing vintage and racing cars as well as classic road cars from the 70s, 80s and 90s, modified vehicles and collectable/prestige modern cars.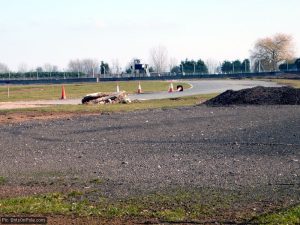 Visitors were also keen to take the opportunity to view the Starkey's Straight section of the circuit from Coppice almost as far as the Esses and see for themselves how much work was needed to allow racing to resume.
Traders in car and bike parts, clothing and memorabilia formed a flea market outside the circuit perimeter, while the £5-a-head autojumble also did great trade. The Grand Prix Exhibition boasted half-price entry and seemed to be doing a roaring trade on the strength of it.
Marshals dusted off their overalls and radios following the winter break to provide many welcome pairs of hands to help the event run smoothly.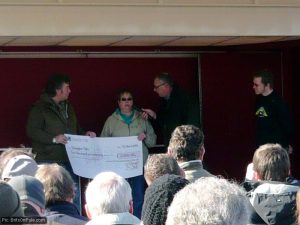 The event also saw a cheque for £2,000 presented to Wheatcroft by Yvonne Bennett of the Donington Park Racing Association Club, a group founded in 1974 to assist in bringing racing back to the circuit. When that goal was achieved in 1977 it lived on as an independent supporters' club, helping fund medical care for competitors.
Tom Wheatcroft was club president until his death at the end of 2009 and Kevin has since taken the role over. You can learn more about the group here.
To keep in touch with the Save Donington campaign and find out how you can contribute, visit its website here or its Facebook group here.
A Save Donington fund has also been set up, inviting donations of £15 or £100, with the money to be spent on either helping repair the track, commissioning a statue of Tom Wheatcroft, or reinstating the Dunlop Bridge, depending on how members vote. More details on what subscribers get for their money here.
We'll be writing more in our weekly Over the White Line newsletter – you can sign up for that here.