The British F3 championship has increased the number of races on its 2010 schedule after introducing an extra event at each meeting.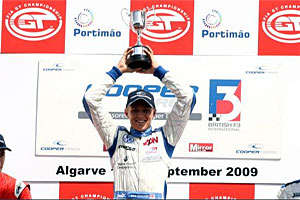 The provisional calendar includes two visits to the Silverstone Grand Prix circuit as well as races at the European Grand Prix tracks of Magny-Cours, Hockenheim and Spa-Francorchamps. The series will also be visiting British tracks including Thruxton, Rockingham, Brands Hatch and Oulton Park.
The championship will get under way over the Easter weekend at Oulton Park alongside the Avon Tyres British GT Championship. The Snetterton date has switched to late August, a month later than previously envisaged.
British F3 is also scheduled to join the FIA GT World Championship at Silverstone in May and at Spa-Francorchamps alongside the prestigious Spa 24 Hours – one of three overseas events aimed at maintaining the championship's status as an international proving-ground for young talent.
Bernadette Fitzsimons, General Manager of SRO Motorsports Group, which runs the championship, said: "The proposed calendar is the best that the championship has ever enjoyed. We are particularly pleased that both our visits to Silverstone will be on the Grand Prix circuit and that 50 per cent of the races will take place on full Grand Prix circuits.
"It's great also to be returning to Thruxton after a year's absence – it's a favourite for teams and drivers, as well as for spectators."
2010 British F3 hopeful Oli Webb, 18, who will be driving for Fortec Motorsports, added: "I am delighted that we are starting at Oulton because that's my home circuit and one of my favourites, very much a driver's track in the same way as Spa is.
"It's great also to be visiting Spa, Hockenheim and Magny Cours, and Silverstone GP, because they are big Grand Prix tracks. Thruxton is a very different type of place, very high speed and it will be a big challenge for the teams."
T-Sport team boss Russell Eacott is also pleased: "You can't argue with five out of the 10 meetings taking place on proper Grand Prix circuits – it's a great calendar. And the other circuits will provide great racing, too, especially Thruxton; three races there in a weekend will make for an exciting meeting, that's for sure."
In 2010 British F3 will continue to enjoy title sponsorship from US tyre manufacturer Cooper Tires, following the company's successful association with the championship in 2009.
Further support comes from Sunoco Racing Fuels, Anglo American Oil Company and Mirror.co.uk. The championship is set to again receive extensive terrestrial TV coverage in the UK via Channel 4 and across Europe on the Motors satellite channel.
Provisional calendar 2010 Cooper Tires British F3 International Series
April 3-5: Oulton Park (British F3/British GT)
May 1-2: Silverstone (British F3/FIA GT)
May 22-33: Magny-Cours, France (British F3
May 29-30: Hockenheim, Germany, (British F3/ADAC GT Masters)
July 17-18: Rockingham (British F3/British GT)
July 30-31: Spa-Francorchamps, Belgium (British F3/FIA GT)
August 7-8: Thruxton (British F3)
August 14-15: Silverstone GP (British F3/British GT)
August 29-30: Snetterton (British F3/British GT)
September 25-26: Brands Hatch (British F3/British GT)