The rollercoaster career of Helio Castroneves took another major leap skywards when he converted pole position at the Indianapolis Motor Speedway into his third Indy 500 victory.
In a race of constantly-shifting fortunes and some quite horrendous crashes, the podium was eventually filled by perhaps the three drivers the IRL would have chosen to secure the maximum coverage across tomorrow's news pages.
Third place was taken by the most recognisable face in American motorsports, Danica Patrick. Second went to Englishman Dan Wheldon, sponsored by the US National Guard and running in camouflage overalls as a tribute.
And, in an outcome that immediately fuelled a flood of "just like Hollywood" cliches, the win was taken by Castroneves – barely six weeks after his acquittal on tax evasion charges that could have seen him spend the remainder of his racing years in jail.
Instead, in the week the Federal authorities decided to drop the one charge on which the jury that acquitted him could not agree, he has once again climbed the fence to celebrate a famous victory with his fans.
"You guys… you guys don't understand. You guys kept me strong. You guys are the best – thank you so much. I'm honoured to have fans like you – thank you so much," he said during emotional scenes in Victory Circle.
Castroneves qualified on pole, was fastest during the last practice sessions on Carb Day, and even won the challenge to find the quickest pitstop crew, but his victory was far from being a flag-to-flag cruise.
A bitty, fragmented race was repeatedly disrupted for caution periods caused by crashes, including spectacular and dangerous incidents involving the Brazilian's countrymen Tony Kanaan, Vitor Meira and Raphael Matos in which fan favourite Meira broke two vertebrae in his back.
Castroneves, Team Penske colleague Ryan Briscoe and Ganassi Racing's Dario Franchitti set the early pace, with all three leading for some of the period up to lap 63, when the tone of the race changed on a re-start following Graham Rahal's crash seven laps earlier.
Briscoe reported poor tyre pressure and was forced to pit, sending him to the back of the field, and Castroneves faded back into the pack. Franchitti was passed by his team-mate Scott Dixon, and the winners of the previous two races seemed ready to sweep all before them and score a crushing 1-2 victory.
But the race turned again during pitstops on lap 134, following a crash by Nelson Philippe, and lap 163 after Justin Wilson's race-ending accident. First Franchitti and then Dixon suffered botched pitstops that dumped them into the lower reaches of the top 10 and ended their chances of victory.
That put Castroneves back in command of the race, with the short-fuelled Briscoe out of position in second and the third Penske car, driven by Will Power, looking ominous in fifth.
With most of the top non-Penske qualifiers either hamstrung by problems or out of the race altogether, some unexpected faces were bubbling up behind them.
Patrick, who had run in the top 10 for most of the day, began to close in on the leaders. Wheldon, who qualified 18th, was squeezing more out of his Panther Racing car than had seemed available from it at any previous point in the season. When Briscoe dived into the pits for a late splash of fuel the pair locked off the lower podium places.
And, behind them, Townsend Bell was putting in a quite remarkable run to drag his one race only entry from 24th at the start to an eventual fourth-place finish.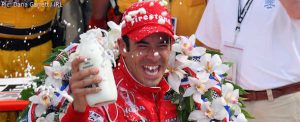 But the day belonged to Castroneves, whose eventual margin of victory was a shade under two seconds from Wheldon, with Patrick a further third of a second back.
"Once I got in the front, it was never look back," said Castroneves. "What a day. This place is magical."
Wheldon said: "I'm incredibly excited. Unfortunately we didn't have quite enough for Helio and the whole Penske organisation – they should be very proud.
"There's not many races that I've done in my career where I can honestly say that the team executed 100 per cent – and I have to say they did today. The National Guard Panther Racing pit crew were phenomenal. They made my job incredibly easy all day because they made me spot after spot in the pits."
Franchitti duelled with Dixon all the way home, losing out as the pair finished sixth and seventh behind Power.
He said: "When I managed to take the lead and was running away I had a big smile on my face, I can assure you. That was cool. But it was tough in traffic – when we got back in the pack it was really difficult.
"But that's the Speedway – everybody has to be flawless, and we had problem in the pits. The Target guys are fantastic on pit lane, normally. They do a great job. But one mistake, unfortunately, is very, very costly.
"We'll go back, regroup and try to get ourselves a championship. Helio did a fantastic job, and he deserves it. The Penske team deserves it. Believe me, we'll be back next year to try to take it back from them."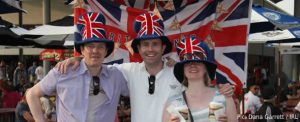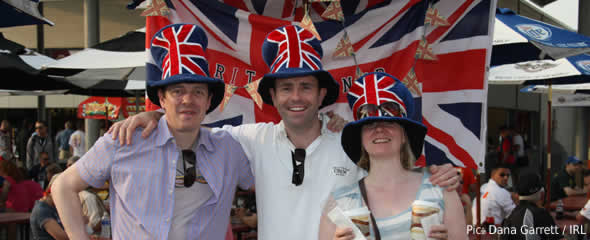 The other British drivers in the field suffered mixed fortunes. Alex Lloyd started 11th, but was forced to pit for a minor mechanical issue just as the day's first caution period was ending and went a lap down. Although he eventually got back onto the lead lap his race was effectively wrecked and he finished 13th of the 20 cars still running at the end.
"We got screwed having to pit under green for my tail light falling off," he said via Twitter. "We were fast when at the front of the pack but at the back it is so hard to pass. We made the best of the tough luck we had – we had a car capable of top eight at least so I'm disappointed but that's life."
His attention is now firmly elsewhere, as his heavily pregnant wife Samantha began her contractions during the race. "There was no way I was leaving – I had to see the end of the race," she said.
Lloyd's successful build-up to the race was the opposite of Mike Conway's nightmare month, which included a hospital stay and doubts over whether he'd be replaced. But in the race itself he exceeded expectations, running in the top 10 for much of the last section before a late pitstop dropped him to 18th.
Wilson was the only British driver not to finish, losing his car in dirty air behind Alex Lloyd in turn one on lap 161 and hitting the wall. He was classified 23rd in the final race order.
"It was a bit of a let-down with how the day ended," said Wilson. "I just couldn't hold the car after the grip went completely away in turn one. I have to put this behind me and focus on Milwaukee where I think the team can run strong."
"I'm disappointed for Justin," said team owner Dale Coyne. "He has been terrific all month and was running well when his day ended so close to the finish. I'm proud of his contributions to the team and for making our second driver, Tomas Scheckter, feel comfortable with the team here at Indy."