Earlier in the season, just when the threat of a split in world motorsport seemed to be receding, up popped Max Mosley and Bernie Ecclestone with dangerous talk of F1 breakaways and rivals to GP2.
But if it happens, does it have to end in tears?
In a series of three articles due to be published this week Brits on Pole examines other sports that have suffered from splits – the reasons why, the damage done, and any advantages that might have resulted.
Finally, we'll look at the possible effects if F1 was hit by a breakaway, or if the whole pyramid of race series leading up to it split in two.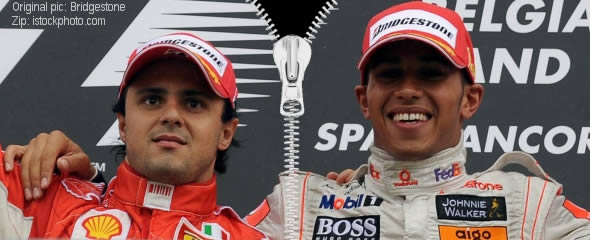 From CART to darts, cricket to snooker, sporting history is full of leagues, federations and governing bodies that split apart, often when at the peak of their success.
For some years now motorsport has seemed eager to follow their example, with senior behind-the-scenes figures using the idea of a breakaway series as a bargaining tool during the endless rounds of negotiations over rulebooks and commercial agreements.
The recent scandal surrounding Max Mosley – his survival as FIA president despite opposition in some quarters of F1 and rare (though short-lived) public criticism from Bernie Ecclestone – has brought the debate out of the smoke-filled rooms and into the open.
Nor are manufacturer breakaways the only type of split on the cards – the biggest names in the administration of Formula One seem to be busily building rival empires of race series that could one day be pitted in head-to-head competition.
Mosley's plan for a Formula Two that would act as an affordable bridge between the worldwide network of F3 series and F1 took a step closer to reality recently with the appointment of Jonathan Palmer's MotorSport Vision to run it.
If it succeeds, it's likely to find itself in a battle with Ecclestone's and Flavio Briatore's GP2 for the unofficial title of proving ground for wannabe F1 drivers.
Assuming, of course, that Bernie and Flav haven't activated their GP1 trademark by then and set up drivers' and constructors' championships of their own, supported by the existing GP2 series and Formula Master, which reports in August suggested is to be rebranded as GP3.
If it happens, would this competition be good for the sport? Would it foster rivalries that enthuse fans, attract sponsors and excite the media?
Or would it kill world-class, world-wide open wheel motor racing stone dead?
Sporting splits are nothing new. Some sports emerge stronger, most are knocked back for years. And often the reasons behind the original disputes look very similar.
Why it happens
In early 2008, the rift that had divided and weakened American open wheel racing ended when the Indy Racing League absorbed the rival Champ Car World Series. In splitting, it had walked a path also trodden by sports as diverse as cricket, darts, boxing, snooker and even chess.
The same few threads run through many of these examples:
Lack of confidence in executives and in the plans they make for the future of their sport
The pressures caused by growing public interest
Arguments over commercial opportunities and prize money
And, of course, plentiful clashes of ego between the strong-minded individualists who often rise to the top
Any of this sounding familiar?
Taking a wrong turning: CART vs IRL
There's no greater incentive for going it alone than a basic philosophical issue about the development of your sport. That's what happened in North American open wheel racing – twice.
In the mid-1970s some owners became increasingly dissatisfied with the way the United States Auto Club was managing their sport: their concerns were ignored and in 1978 off they went to form Championship Auto Racing Teams.
Less than 20 years later, history repeated itself. Indianapolis Motor Speedway president Tony George had spent several years arguing with the CART owners about the balance of power between owners and promoters, and the status of the Indianapolis 500.
When CART brought in a new, British, president to expand the series beyond its traditional base George quit and declared the formation of what would become the Indy Racing League, which he said would be more like NASCAR.
The IRL ran its first race in 1996, CART – eventually renamed the Champ Car World Series – ran its last this spring. In between, a succession of legal wrangles, disputes over entry to the Indianapolis 500 and incompatible technical specifications forced a wedge down the middle of the sport – and allowed NASCAR a free run at dominance.
The stock car series' big race, the Daytona 500, overtook the Indy 500 in TV ratings and ambitious drivers begun to head for NASCAR instead of the squabbling open wheel cousins.
By the end of 2007, the IRL had two genuine break-out media celebrities in its field, in the shape of reality TV winner Helio Castroneves and Indy 500 leader Danica Patrick. But it had lost its two most recent champions, Dario Franchitti and Sam Hornish Jr, to NASCAR and came close to losing 2005 winner Dan Wheldon too. And if the obituaries were being written for the IRL, Champ Car seemed in an even weaker state.
In the end, the two series pulled back from the brink.
Favourable terms
Champ Car teams were offered favourable terms on the cars and engines they would need to join the IRL, some of their races were added to the league's calendar, and long-time CART loyalist Paul Newman teamed up with Indycar rival Roger Penske to write to fans who had drifted away, inviting them back.
Only time will tell if the ground lost to NASCAR can ever be recovered. Not all fans are happy with unification – bitterness remains among Champ Car fans, while IRL supporters oppose the dilution of their oval-based series with road and street courses.
But many early signs are positive, with race attendance up and Franchitti's return for the 2009 season suggesting the driver drain to stock cars may have ended.
Even without an obvious equivalent to NASCAR to act as rival, the lessons for F1 and its leaders seem clear. The experience of the North American split suggests that rival series do not strengthen each other through healthy competition – rather, they weaken each other by dividing finite resources such as sponsorship, drivers, and the enthusiasm of fans.
But it's not just motor racing that has seen this sort of split. In the second part tomorrow, we'll look at how and why several other sports have descended into civil war.