Defending champions Switzerland have moved ominously to the front of the pack following two races in South Africa that saw Team GBR and previous leaders Ireland each beset by problems.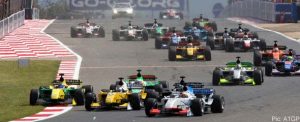 While Swiss driver Neel Jani comfortably won the feature race and finished third in the sprint, the Irish were left fuming after Adam Carroll was dumped out of contention in the feature by wayward Malaysian driver Fairuz Fauzy.
Irish team boss Mark Gallagher said: "Frankly I'm disgusted – it's taken us four seasons to get to this level of competitiveness, we're pushing to win a championship, and it's not the only time that this driver has caused incidents – in fact he did the same thing to New Zealand later in the race.
"We were on course to consolidate our points lead today but for a piece of poor driving. It's now developed into a very tight three-way battle at the head of the points table with Switzerland, Portugal and ourselves. Team Malaysia is one of the very best in A1GP, but today their driver has cost us dearly."
Carroll attempted a pass on Fauzy on lap one of the feature race, only to be tapped and sent spinning out by the Malaysian after the move was more-or-less completed. "I'm pretty annoyed, pretty angry," said Carroll.
"Malaysia was slow coming onto the back straight so I used my push-to-pass and I knew I was ahead. I even turned in quite late to give him some room and he just hit me in the back right corner."
Earlier in the day, it had been a bit harder to work out where to place blame for Danny Watts' exit from the sprint race — stewards ended up investigating both drivers when he and Brazil's Felipe Guimaraes tangled while trying to share the same bit of track on lap nine of 14.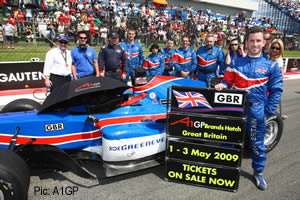 Watts said: "I'm really disappointed with the result especially as the team has transformed the car for the better since yesterday. It's really easy to drive and it's just a shame we found the sweet spot so late in the weekend."
His feature race was rather more successful, attrition and a good start lifting him as high as fifth before poor pit stops and a late pass by Lebanon dropped him back to seventh.
He said: "The car was fantastic throughout and that made it a lot easier during each stint. I had a good race with both Netherlands and Portugal, but unfortunately lost out at the pit stops, which is one thing I've got to work on.
"Apart from that we have come out of the weekend with a semi-decent result — it's satisfying after what has been a very character building weekend for all of us."
Team boss Katie Clements added: "This weekend has not been as good as we had hoped but we were playing catch up the whole time as we didn't take part in Friday practice.
"The team has worked really hard all weekend and we finally found a quick car today. The first race was unfortunate but in the second Danny pushed hard, stayed safe and we have scored some points, which we really needed."
However, with only four races left in the season the Brits will be hard pressed to meet their goal of improving on the third-place championship position they achieved in each of the previous three years.
The team is currently 10th, although all the rivals ahead of it have run two more races and will have to drop their two worst results before the final standings are calculated.
Behind Switzerland and Ireland in the standings are Portugal, followed by sprint race winners Netherlands.
Jeroen Bleekemolen won the sprint from pole, holding off Portugal's Filipe Albuquerque while Jani and Carroll took third and fourth.
Monaco's Clivo Piccione was fifth, but better was to come for him in the feature where he cashed in his pole position for a third place behind Jani and Guimaraes.