A rogue anti-stall system cost Adam Carroll the chance of a clean sweep of victories in New Zealand, instead handing the A1GP Taupo feature race win to reigning champion Neel Jani of Switzerland.
But Team Ireland's runner-up finish – a reversal of the 1-2 in the earlier sprint race – was enough to ensure they remain top of the championship hunt by 13 clear points ahead of the Swiss and the Portuguese.
Team GBR's Dan Clarke ran in the points for some of the race, but a spin on lap 19 dropped him out of contention and he could only finish 13th. The Brits, hoping to improve on their 3rd-place finish in each of the first three A1GP seasons, now slip to 10th in the standings ahead of the next races, to be held at Gauteng in South Africa on February 22nd.
Carroll started from pole and survived a nudge at the start from Portugal's Filipe Albuquerque to lead all the way to the second round of pitstops, where disaster struck.
He said: "I needed just a little push to get off the line from behind, and Filipe gave me that. It was all a bit close and quite interesting, but everything was going well until the second pit stop.
"Basically as I left the engine just went. It didn't stall immediately as to begin with it was okay. The anti-stall system came in, then it stalled completely and I had to bump start it and go again. I don't really know what happened – I was actually lucky not to lose more places. It was unfortunate but second place is still good."
Jani's victory came despite a serious health scare, which saw him only declared fully fit from hospitalisation with suspected meningitis the day before the race.
He said: "What a weekend in the end. On Monday I still felt really bad, but I just got better every day with the warm weather in New Zealand, and it looks like the clean, fresh air helped me as well, so that is good.
"The first race was already good, but here coming up from fifth to first was nothing we had ever thought of. The second pit stop was fantastic, very quick from the guys. I saw Adam next to me and heard his engine revving on the limiter and thought there must be a problem, and I just kept on my side then and was able to take him like that. Then I was just able to control the race."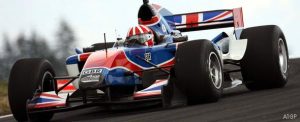 Clarke admitted responsibility for his spin: "The start was okay and it was running alright in the race. The guys did a great job in both pitstops, as they have all weekend, but when I made the mistake and spun that was it really.
"I was just pushing really hard and I lost the rear on the bumps shifting down a gear, however I was lucky to get out of the gravel. It wasn't an easy race but we have made speed increases in every session and showed good promise."
Team GBR boss Katie Clements was unhappy with the outcome of the weekend: "Ultimately we cannot get away from the fact that this has been a disappointing weekend and we have come away with no points. We have got positives to take in the team's performance and the pace we have once again shown and we now have to brush ourselves down and work hard in preparation for the next race in South Africa."