While Lewis Hamilton and his rivals laboured under the Spanish sun, the A1GP circus pitched up in a rainy Regents Street to give London's West End a taste of life in the fast lane.
The event, organised to promote the A1GP season three title decider at Brands Hatch next weekend, saw all 22 cars lined up as if on a starting grid, while drivers and team personnel chatted to the crowds and signed autographs.
Dancers, drummers and cheerleaders from the US, Ireland, India and Brazil put on a show to support their teams, children's TV characters entertained the youngsters, a car engine was fired up to show the crowd what 520 horsepower sounds like at close quarters, and scantily-clad dollybirds huddled under umbrellas, smiling bravely.
Fourteen drivers, as well as A1GP executives and several national team seat holders including double Formula One world champion Emerson Fittipaldi, took it in turns to be interviewed on stage, while a jumbo screen displayed action from the season.
A1GP chairman Tony Teixeira said the event was a fantastic lead up to the season finale next weekend: "Today was a great way to give the people of London a taste of what they can expect at Brands Hatch next weekend," he said.
"We're really honoured to be able to showcase all our teams and their cars and drivers on such an iconic street in the multicultural city of London and we thank the Regent Street Association for giving us this opportunity.
"From the outset one of our aims has been to make motorsport accessible to all ages and it was great to see so many families and young people here today getting up close to the cars and drivers."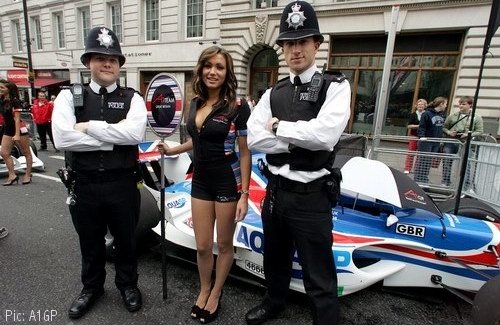 Body guards
Beats policing a Millwall match – two of London's finest pose with a Team GBR grid girl.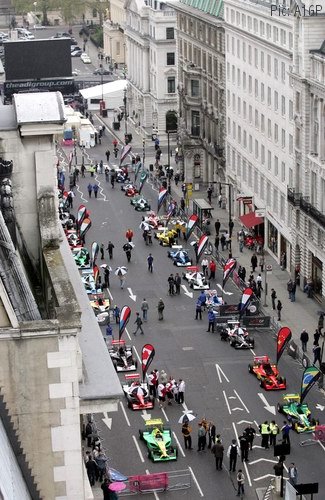 The A1GP grid from the sky
Makes you wish all that talk of an F1 London street circuit hadn't gone silent, doesn't it?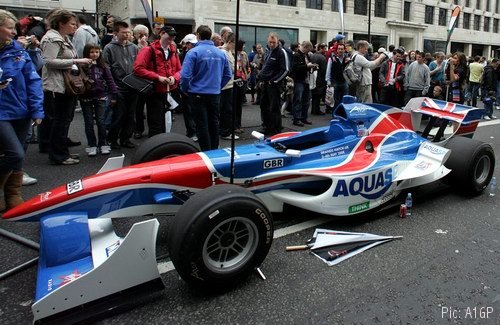 Up close and personal
A1GP prides itself on getting closer to its fans than other forms of racing.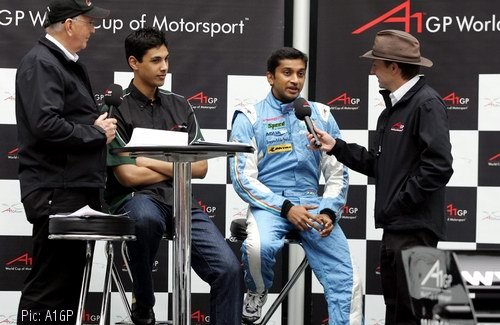 Khan and Karthikeyan
Pakistan's Yorkshireman Adam Khan and India's Narain Karthikeyan interviewed on the big stage.