It was a year during which nothing went right for Team GBR.
Early races were missed because the team had no car to drive. That led to a slow start to the season, after even the coup of securing experienced series tester Danny Watts.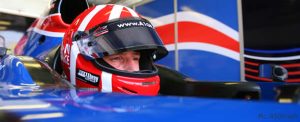 He grabbed a couple of podiums, showing the potential of the team, but no sooner had he got into his stride than he took paternity leave.
And then, in a move that now seems extremely well-timed, he signed a contract to drive sports cars and ended his association with Team GBR just before the company that ran it went into administration.
The team's future is unclear, although someone – A1GP itself? – put out a statement on behalf of the team stating it intends to compete in next year's season five, and series boss Tony Teixeira has said that as long as there is A1GP there will be a Team GBR.
(Of course, fan opinion diverges at present on how long there will be an A1GP series, but this is not the place for that discussion.)
By the time the series limped into Brands Hatch for the final races of the season, Team GBR was a shadow of the outfit that finished third in each of the previous seasons.
And it looked at first as if its home race would have few scraps of consolation for driver Dan Clarke and rookie Aaron Steele, with an underwhelming sprint event and most of the home fans cheering on eventual champion Adam Carroll of Team Ireland.
But things looked up in the feature race, when Clarke benefited from trouble in front of him then found some race pace, including a majestic pass of the Australian car, to finish seventh and contribute four more points to the team's final season total of 28.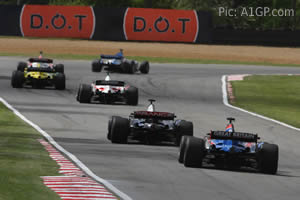 It might have been a better result had he not been one of several cars to suffer from a cracked exhaust and lose pace, just after he had cruised up to the back of the battle for third to sixth places.
And, of course, Team GBR did considerably better than Adam Khan's Team Pakistan. Apart from brief spells of testing in Snetterton and South Africa, he never put wheel to tarmac in anger all season – and the team's fans are pretty fed up with him as a result.
But, even given all the problems, former Champ Car ace Clarke is still hopeful of starting season five with the team at the planned Surfers Paradise event taking place on Australia's Gold Coast in October.
It is a race that A1GP has rather cannily taken over from America's Indy Racing League, and in which Clarke has run twice before, albeit retiring both times.
He said after the Brands Hatch event: "My car wasn't much good in the sprint race, suffering from understeer but, after talking about what changes to make to it on the grid before the feature race, it really came good. I now certainly want to come back for more and contest the entire series.
"I had caught the group ahead of me but knew that passing them would be difficult as it's all down to aerodynamics at Brands Hatch. But a vibration set in with a dozen laps to go and I thought at first that it was an out-of-shape wheel rim, but it soon became clear that it was the exhaust."
He said he was particularly pleased with the car's speed, which allowed him to set what ended up as the the fourth-fastest lap of the race, and with the spirit the team had showed in the face of adversity.
"It's not every team that has its race engineer running around carrying tyres. The team has great potential, and I really want to spend the summer racing in the US and then come back and run the whole season, to build on what we've achieved."
As someone who hasn't raced in his home country for years, Clarke was clearly moved by the home support: "I'd really like to thank the fans waving Union Jacks around the circuit. Their support was really appreciated. It's just that I was too busy to wave to them until the slowing-down lap."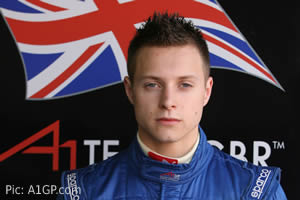 And rookie Aaron Steele..? Well, how are racing drivers supposed to react in the face of speed? Don't they remain cool, calm and level-headed? Isn't it just lesser mortals like us who turn into wide-eyed, endorphin-soaked fanboys and fangirls when allowed out for a spin in a performance car?
Apparently (and refreshingly) not.
"Driving an A1GP car," he said after the practice session, "is like straddling a rocket ship and hanging on by the reins. It was really good and I really enjoyed it."
That much is clear.
"It was literally like pressing a time warp button with that throttle, it's just so responsive. The amount of G-force and aerodynamic down force it generates is something I have never experienced before so it was all new to me and I had to take it all in my stride. It is certainly the most powerful car I've ever driven."
When some of the adrenaline had worn off, he added: "The team were really helpful and friendly. Our original aim was to do all the session on the track, but the red flag – for A1 Team Monaco's car to be cleared – changed this.
"Also, I started struggling as the g-force was too much for my neck, so we split the session into shorter runs and I'd stay out until my neck would start to give again.
"What this run has done, though, is to give me the desire to get into an A1GP car again and hopefully I will be able to use this outing to generate some finance for further racing this year."
Let's just hope there's a team – and a series – for him to aspire to.