Team GBR's Robbie Kerr and the other British-based drivers have set themselves a stiff test for both the sprint and the feature races in New Zealand after disappointing qualifying sessions.
Ireland's Adam Carroll's seventh place in the sprint race qualifying was the best result on a day that failed to fulfil the hopes of the teams after the previous day's practice sessions.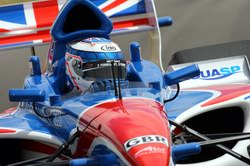 Robbie Kerr flying the flag for Britain
Kerr, back in the car for Team GBR after Oliver Jarvis had driven the previous races, could manage only 13th for the sprint and 9th for the feature race, despite having been second-fastest in the final pre-qualifying practice.
Carroll will start 13th in the feature race, while Pakistan's Yorkshire driver Adam Khan qualified 21st of 22 for the feature race and last for the sprint.
Home nation A1 Team New Zealand will start first in the sprint while France took the feature race pole. A1GP officials said it had been an unusual qualifying hour as the majority of teams waited as late as possible to take to the windy, dusty track during each of the four 15-minute segments.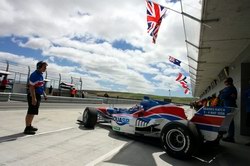 Robbie Kerr suffered grip problems
The British team said Kerr had been hampered by grip problems, traffic and a mystery technical fault in the sprint qualifying and had not been able to really push until the feature session.
Kerr said he was disappointed with the result, but accepted that the team had not been in a position to do better: "We had been reasonably competitive yesterday, very competitive this morning and were setting competitive laps on old tyres.
"But the grip levels just weren't there during qualifying and we also have a technical problem which the team is going to look into. Then on the last lap, I pushed too hard which cost a couple of tenths."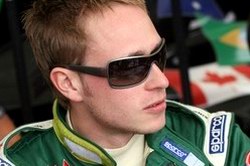 Adam Carroll had hoped to do better
Carroll was another driver to find himself mired in traffic on an overcrowded track. He crossed the line second-fastest in sprint qualifying but saw other cars bump him down to seventh.
He said: "The car was really drivable but yesterday was twice as hot as today and it now feels like we're in a different country; the conditions have totally changed. What we ended up with yesterday just hasn't worked for us today. We have a good race car for tomorrow and hopefully we can make up a few places."
His race engineer, Dan Walmsley, added: "It's disappointing as we really felt that we would be competitive today. We struggled for overall grip and didn't extract the performance out the car that we did yesterday.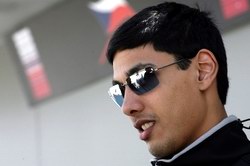 Adam Khan had little to smile about
The Pakistani team did not seem particularly surprised at their driver's lowly position, given his lack of experience of the circuit and the challenging conditions, but Khan himself was unhappy.
He said: "I'm a bit disappointed as we didn't maximise our potential in the session. We struggled with traffic, and the dusty conditions. It's not an easy track to learn or to master, and the dust blowing across the track made each corner very unpredictable."
Team manager John Allen said: "For a driver who is relatively inexperienced with these conditions, added to the traffic that we had and a technically difficult circuit, it is tough. I think we'll improve our pace and make progress; Adam has already learnt a lot from Danny [Watts], our driver coach and as we work together, the results will start to come through."
Tomorrow's sprint race at Taupo, New Zealand will start at 1100 local time and the 70-minute feature race will start at 1500.
Photos courtesy of A1GP.