Allan McNish and Dindo Capello won a dramatic Autosport 1000km of Silverstone to help Audi take an upset clean sweep in the Le Mans Series drivers', manufacturers' and team championships.
Coming into the race, Peugeot and its drivers Nicolas Minassian and Marc Gene were favourites for the titles, but the German manufacturer brushed aside their challenge – literally, as both French cars ended up crashing.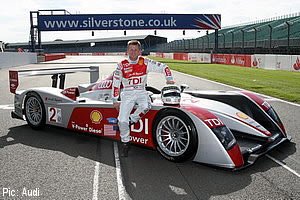 Minassian was at the wheel for the championship-leading duo when he tagged another car on the Hanger Straight and suffered a high-speed accident that damaged his Peugeot 908 HDi FAP beyond repair.
Then, on the restart, Stephane Sarrazin in the other Peugeot made contact with Capello and was forced into the pits for eight laps-worth of repairs, destroying his hopes of victory with co-driver Pedro Lamy.
Capello suffered a cut tyre in the incident and lost three laps extracting himself from the gravel and returning to the pits for a replacement. In combination with McNish, he fought back to second behind Audi colleagues Alexandre Premat and Mike Rockenfeller and the pair inherited the win when their team-mates were forced into the pits for late repairs that dropped them to fourth.
Audi Sport Team Joest technical director Ralf Jüttner said: "That was a strange and difficult race. Previous races already showed that Peugeot tends to make mistakes when they're under pressure.
"In my opinion, the Peugeot drivers clearly made mistakes here. Perhaps they got a little nervous because they didn't manage to drive away from us."
Unsurprisingly, Sarrazin disagreed: "I turned, and when I started to turn he pushed me like crazy. He didn't decelerate, and I am sure he braked later than usual. So he did it by choice."
Capello said: "If you look at the pictures I would say 101 percent it was not my fault."
McNish, who won the 24 Hours of Le Mans with Capello and Tom Kristensen, shrugged aside the controversy.
He said: "I believe that Dindo and I deserve this victory, and so does everyone in the team – both the exploit at the finale and the champion's title.
"We fought hard this year. For Dindo and I things didn't always go as well as they should have. We had incidents when we were in a position to win races. I think 24 hours ago nobody would have expected Audi to win the race and the manufacturers' title or 'Rocky' and Alex the drivers' title."
Le Mans Series general manager Patrick Peter told main sponsors Autosport: "This has been the most exciting race since the Le Mans Series began in 2004, there was a lot of suspense and drama throughout. I feel sorry for Peugeot, but this is motor racing. Audi used their experience and are very worthy champions."
The LMP2 class had already been won by Jos Verstappen's dominant Porsche, and the Dutchman won again at Silverstone with co-driver and team owner Peter van Merksteijn.
Yorkshire-based Embassy Racing looked to have taken third in the class with Warren Hughes and Jonny Kane, but a post-race penalty dropped them off the podium. Darren Manning and Joey Foster finished well down the standings after a series of problems.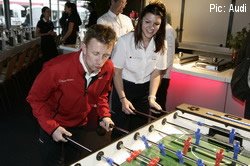 * Audi have now won the 24 Hours of Le Mans, the Le Mans Series and the American Le Mans Series already this year and are running competitively against Mercedes in the DTM series.
Two of the manufacturer's British drivers from that series, Katherine Legge and Oliver Jarvis, visited Silverstone to be shown the Le Mans cars and spend some time with the drivers.