For years, the iconic British Racing Green and yellow colours of Lotus were visible only in history books, classic race car rallies and the dusty memories of nostalgic fans – but this year they're back with a vengeance.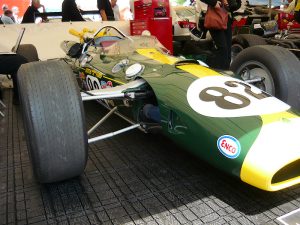 Changes at the top of the Norfolk-based company have seen a renewed commitment to open wheel racing, and the result has been Lotus teams springing up seemingly everywhere.
They're in Formula One, as of this weekend they're in the IndyCar Series, and they're also in Formula Renault 3.5 as the Lotus F1 Racing Junior Team.
Of course, in many cases the connection between these teams and the organisation built up by the great Colin Chapman is pretty tenuous.
The F1 team is not part of the main Lotus group and will one day relocate to Malaysia. The Renault World Series team is a straight re-branding of the Malaysian Mofaz outfit. And the IndyCar 'team' is simply a sponsorship deal with KV Racing Technology whose owners, Kevin Kalkhoven and Jimmy Vasser, also own Cosworth.
This is leading to the bizarre situation where a Honda-powered Dallara is racing under the Lotus-Cosworth name.
But the commitment to the racing revival of the Lotus name is more than just badge engineering. New Lotus Group CEO Dany Bahar wants the company back in the IndyCar Series as a manufacturer and is deadly serious about using its racing heritage as a way of promoting sales of sports cars.
He said: "Racing has always defined Lotus and on many occasions in motorsports history Lotus' numerous innovations have re-defined racing. It's only fitting that as the Lotus Racing name re-enters Formula One, we will also race and innovate again in IndyCar.
"The Lotus name will, once again, compete in the top two open-wheel racing series for the passion and enthusiasm of car fans around the globe."
In this photogallery, compiled using images from the Lotus F1 team, the Lotus Group, the Indianapolis Motor Speedway, the IndyCar Racing League and Renault Sport, you can indulge in a bit of nostalgia for the old days, then see the three new incarnations of the team.
Watch out for the similarities in how the cars and racing uniforms are designed and coloured – but also for the small but significant differences, such as who uses the proper Lotus Group logo, and who uses a redesigned and semi-detached version.
The many faces of Lotus in photos