Glasgow Rangers' Superleague Formula car will be fielding a substitute behind the wheel at the Nurburgring after first-choice driver Ryan Dalziel was handed the chance to make a one-race return to American sports cars.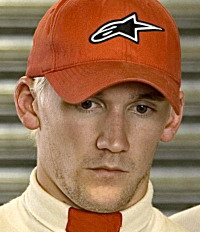 James Walker will stand in for the Lanarkshire racer, and has promised to give the Rangers fans "something to be proud of" while their regular driver is on the other side of the Atlantic.
Dalziel had been one of the pace-setters in the 2008 Grand-Am Rolex Sports Car Series, winning round five at California's Mazda Raceway Laguna Seca, until his team ran out of sponsorship in July.
Superleague Formula's second race clashes with the Grand-Am Rolex season finale – and Dalziel has been offered a drive in it by the team that first introduced him to North American motorsports back in 2002, Michael Shank Racing.
Dalziel said: "Mike gave me my first opportunity to come race in the United States and we've maintained a great relationship since then. We'd discussed working together again on plenty of occasions but the timing was never quite right so I'm pleased we've now been able to change that and go racing again."
Along with newly crowned Indy Lights champion Raphael Matos, he has been signed by the team for the SunRichGourmet.com 1000 at Miller Motorsports Park, just outside Salt Lake City in Utah.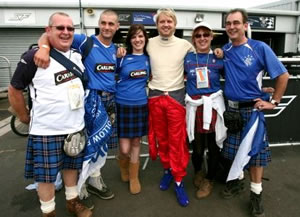 "I'm obviously pretty happy to be heading back to Miller after last year's podium there," he said. "It's one of my favourite circuits here in the US so I'm looking for a strong result."
The vacancy in the Rangers car will be filled by Jersey-born James Walker, who helped set up Liverpool's Superleague Formula entry but did not get a race drive in the series.
He will go into the Nurburgring race with the most up-to-date experience of the circuit among the 17-car field, as he was racing there in the World Series by Renault during Superleague Formula's Donington Park launch.
He said: "There will be a lot of pressure on me because the Rangers car has great support from the Scottish fans, but I am really looking forward to it. My aim will be to do a great job and hopefully give them something to be proud of.
"My first impressions of the Superleague Formula car were really good. When I tested for Liverpool, I was really happy with the car even though I only did about 25 laps on old tyres. It has a lot of power and it looked and felt fantastic – I can't wait for the opportunity to try the car on fresh tyres and represent Rangers next week.
"I was out of luck in the race at the 'Ring in World Series by Renault because I picked up a puncture. Hopefully our luck will be a bit better in the Rangers car. I was third fastest in the World Series test prior to the weekend so I am confident we will be quick in the Superleague Formula car.
"The Nurburgring was the scene of my first major international win in Formula 3 so I have fond memories of the place. Having just raced there a couple of weeks ago should give me and Rangers a great advantage."
He will hand back the car to Dalziel for the third race, at Zolder in Belgium, where the Scotsman raced last year in the now-defunct American Champ Car series.