In every form of motor sport, in every corner of the world, there are British drivers taking part and winning – but which one of them is doing best?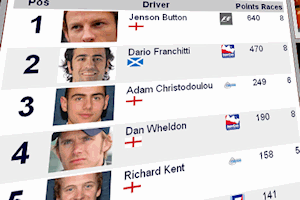 From the glamour of the Indianapolis 500 and F1 at Monaco, to the slog of a rainy Sunday at a circuit no-one's heard of in a series no-one cares about, there are Brits on pole – and Brits among the backmarkers.
But how do they shape up against each other?
We decided to find out, by taking the performances of the 39 British drivers competing in 10 of the top open-wheel racing series, and compare them in one big championship of our own.
It took a lot of number-crunching to find a way of fairly comparing apples with pears, as Jenson Button beats the world's best in a 17-race Formula One season while eight Brits compete against each other over 20 races in British F3 International.
Jense is top, of course, after his stunning start to the F1 season – but who's next? And who's last? Click through to the Brits on Pole All-Star League page to find out…