On Sunday Brits on Pole was at a rainy Silverstone for the Blancpain Endurance Series, where a number of drivers we've regularly covered in single-seaters were in action. They included ex-Superleague Formula race-winner Duncan Tappy who qualified his McLaren MP4-12C third. We caught up with Duncan before and after the race in the ART Grand Prix garage.
As days at the office go, Sunday at Silverstone counted as one of the rougher ones for Duncan Tappy. With only minutes left in a three-hour endurance race, a near-certain podium disappeared in the split second it took an electrical fault to strike down his team's McLaren MP4-12C.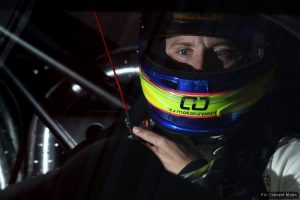 Watching helplessly from the ART Grand Prix garage, Tappy saw his team-mate Grégoire Demoustier suddenly fall more than 25 seconds off the pace, turning a weekend that had promised much into one of maybes and what-might-have-beens.
"It's gutting," he said afterwards. "I thought that was going to be a nice solid podium. We were looking very good for second in class and then there was an issue with the car, some kind of electrical problem because Greg lost the throttle. But we've shown we have the pace – we just have to work on a few other bits to get the full package."
Tappy's switch to GT racing came after several seasons hustling for drives in single-seater championships such as Superleague Formula, Auto GP and Indy Lights. These races brought podiums, a victory and a share in a team championship, but they rarely led to the sort of secure, season-long employment that allows a driver to relax and concentrate on their craft.
That's all changed for 2012, as he settles into the well-established French team ART Grand Prix – best-known for a phenomenally successfully GP2 squad currently badged as Lotus – as part of its new GT operation in the Blancpain Endurance Series.
The single-seater veteran said the series is a strong one: "It's the the biggest GT championship out there – everyone's doing it, all the GT1 teams bar a few. It's ultra-competitive, if you can be competitive here and beat these guys it's really good."
He sees it as a type of racing that plays to his strengths and where he can make an impression that may lead to a long-term future: "I think I've proven already I've got the pace. I'm out there out-qualifying the works drivers, and that's what I've got to do. My ultimate goal is to be a factory driver and be here for a long time."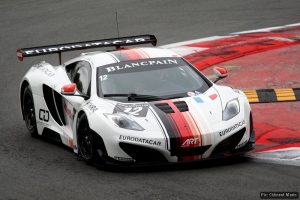 "My thanks go to Frédéric Vasseur at ART for giving me this opportunity. I think it suits me really well – I always thought it would because it's a case of staying out of trouble, being consistent and being a team player. All those are things I can do well. It's proving to be a very good choice for me and I'm thoroughly enjoying it."
That enjoyment peaked in qualifying, when he proved his speed by taking the second spot overall, beaten only by the former A1GP champion Adam Carroll in one of the pro class cars.
His pace was so strong that even when his best lap was struck out for a disputed penalty, his next-best was still good enough to start third.
However, a slow pitstop and the electrical failure meant Demoustier eventually brought the car home 13th overall and 6th in the pro-am class, not the reward the team was hoping for after he finished the opening stint in second place despite his status as the 'am' part of the pairing.
The Blancpain Endurance Series categorises drivers in the pro-am class according to their experience, from the 'platinum' drivers with F1 or equivalent experience to the amateur 'bronze' drivers such as Demoustier.
Tappy's role at ART is to be the 'pro' driver of the pairing – as a proven race-winner, he ranks as 'gold' – and, in a two-driver pro-am team, that means he's only allowed 70mins of the three-hour race while Demoustier does the rest.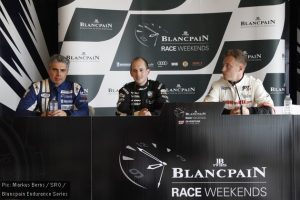 That makes mixing it wheel-to-wheel with the pro teams for the entire race is a near-impossible dream, but beforehand Tappy was hopeful of mounting a respectable challenge.
He said: "The cars are exactly the same spec, the difference is the drivers. We've gone for a two-driver line-up, which has some advantages and some disadvantages but, either way, we're pole for our class, which is amazing. It's hard to compete with the pro teams, however I think we can do very well in our class – a podium is realistic, and if we can go for the win then great."
Sadly for Tappy, it was not to be – leaving him looking ahead to the next round of the championship at Paul Ricard on June 29 where hopefully the team will be able to deliver on its potential.