Davide Rigon won one of the main races and also the €100,000 superfinal as Superleague visited Assen – but it was Tottenham Hotspur's Craig Dolby who came away from the Netherlands with an extended championship lead.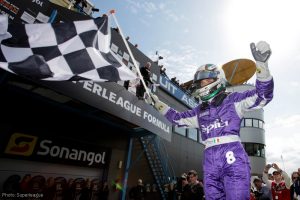 Rigon, driving for Belgian club Anderlecht, turned his pole position in the first race into a victory by fending off a spirited challenge from Bordeaux's Franck Montagny that lasted until the Frenchman's gearbox failed.
In the second race, run with a grid based on reversing the finishing positions of the first race, Dutch / New Zealand driver Chris van der Drift took the win for Olympiacos ahead of Dolby, who had raced through from 10th at the start.
The six-car, five lap superfinal saw Dolby on pole with Rigon beside him, and it was the Anderlecht driver who made the better start while his rival was forced to defend against AC Milan's Yelmer Buurman, swapping places back and forth with the Dutchman for the entire contest before finally taking second.
Rigon, like many Superleague drivers, has seen his career held back by a lack of funding. Reacting to winning the weekend's €100,000 top prize for the Azerti Motorsport that manages the Anderlecht car, he said: "I've never seen so much money in all my life.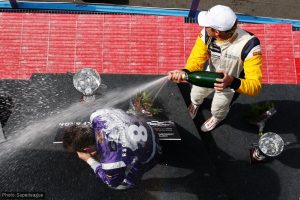 "It has been a fantastic weekend and not one that we expected after Silverstone. We have learned a lot since then and for me the season has started here. We'll push for the championship, even though it will be difficult because everyone is fast, but I can't wait for Magny-Cours next weekend where I'm hoping to be fighting for the podium again."
Dolby endured a disappointing qualifying that curtailed his chances in the first race, in which he finished seventh after losing a place to James Walker in the Liverpool car. He was rather happier after the superfinal.
He said: "I need to thank all the guys at Alan Docking Racing because they worked so hard last night after our disappointing qualifying. I made a few mistakes on Saturday but I've paid the boys back today and this is a fantastic result for Tottenham Hotspur Football Club. I know the circuit at Magny-Cours quite well so I'm hoping for even better next weekend."
The first Assen race saw Rigon defend from Montagny at the start, and the pair then pulled away from pursuers led by Franck Perera in the Flamengo car. Max Wissel moved from ninth to sixth before the pitstops, and then up to third during them as one of the drivers who benefited from Montagny's retirement.
The first driver out of the race – and therefore the polesitter for the second race – was Sporting Lisbon's Borja Garcia who retired on the first lap, while Sebastien Bourdais lasted barely a lap further before his race ended in a collision with Alvaro Parente of FC Porto.
That should have left Bourdais well-placed to deliver a big haul of points for Olympic Lyonnais, but a gearbox failure left him unable to start the race. Parente, John Martin for Beijing Guoan and Corinthians' Robert Doornbos also managed to knock each other out on the opening lap.
Garcia lost the lead to van der Drift in the pitstops and dropped down the field on worn tyres before finding his level in fifth, successfully defending the place against Walker.
Tottenham's lead in the championship is now 48 points, with 50 available for winning each of the main races at an event and another six up for grabs in the superfinal. Wissel is second for FC Basel, with Flamengo four points behind him and AC Milan, Anderlecht and Olympiacos all close. Defending champions Liverpool are 16th of 18 after scoring no points in the opening event at Silverstone.
Round three of the 2010 Superleague Formula championship takes place next weekend at Magny-Cours in France.