British racer Pippa Mann has taken a step closer to securing an IndyCar Series drive with the successful completion of her maiden test at the Texas Motor Speedway.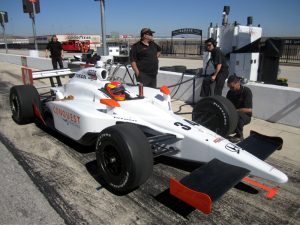 The Indy Lights race-winner shrugged off a 24-hour delay caused by poor weather to impress Conquest Racing boss Eric Bachelart with how quickly she came up to speed on her first outing in the more powerful car used in the main series.
Last season Mann was team-mates with Indy Lights champion JK Vernay at Sam Schmidt Racing, and the Frenchman also tested with Conquest over the winter in the hopes of putting together a deal to run in IndyCars this year.
Some commentators suggested the team might allow them to share the car, Mann driving on ovals and Vernay on road courses, but yesterday Vernay announced he had lost his funding and no longer believed he would be able to make the step up.
Mann, however, is very much still in the game after her test.
She said: "Overall I'm not only pleased, but excited by how the test went. I loved everything about driving an IndyCar, and I'm excited about the prospects for the coming season. We're still working very hard to put together a full oval program for 2011, and I hope to be able to provide an update on that shortly."
The test was originally scheduled for Monday this week, but bad weather forced the teams that had come to Texas to delay until the following day. In better conditions on Tuesday, Mann breezed through her official IndyCar Series rookie test and set to work on coaxing the maximum performance from the car.
She said: "It was the first time I had driven an IndyCar, as well as my first run at Texas Motor Speedway, so before we got started I really didn't know what to expect.
"I was able to get comfortable and up to speed very quickly, which meant we were able to get on with our testing plan. We ran some competitive lap times, both on new and used tyres, and although we lost some track time during the middle of the day with a fuel pump issue, the team's hard work ensured we were able to get back out again."
Bachelart said: "Pippa quickly got up to speed and was setting competitive lap times early on – and that isn't always the case for someone turning their first laps in an Indycar. She did a really great job and provided really good feedback to the team, which helped us to make some changes and make the car even better balanced and faster. Overall I'm very pleased with how the day went and with what we were able to accomplish."