Spurs and Liverpool are tied in second place of the new Superleague Formula championship following the first two races of the season at Donington Park.
Both Tottenham's Duncan Tappy and the Reds' Adrian Valles posted third- and fifth-place finishes, demonstrating a consistency unmatched by most of their rivals. The day was less successful for Ryan Daziel in the Rangers car, with an eighth place and a retirement.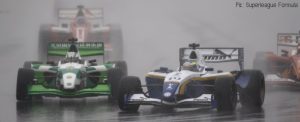 A win and a sixth place for Beijing Guoan's Davide Rigon were enough to give the Chinese club – whose car is operated by German racing team Zakspeed – the championship lead.
In race one Rigon led from pole to flag, surviving early but short-lived challenges from AC Milan's Robert Doornbos and Kasper Andersen for Olympiacos.
Enrico Toccacelo was a clear second for AS Roma, while Tappy squeezed out PSV Eindhoven's Yelmer Buurman for third.
There were seven retirements from the field of 17 – six for mechanical reasons, including Doornbos and Andersen, underlining the rush with which the cars were prepared.
Valles, though, overcame an almost total lack of running time for the Liverpool entry and a back row start on the way to fifth place.
Race two, run with a completely reversed grid in dreadful weather, saw a victory for Borja García in the Sevilla FC machine. He started from row three but was able to pick his way past rivals who faltered or crashed in the heavy rain.
Tuka Rocha, driving for Flamengo, hung onto second, and Valles made a late pass on Borussia Dortmund's Nelson Philippe for third. Tappy took fifth.
Mechanical problems were again a factor, with Doornbos unable to make the starting grid and Anderlecht's Craig Dolby wheeled off it, unable to start his engine.
Valles said: "I am really pleased because we had an alternator problem in qualifying but this morning I was able to move to fifth from the back of the grid. In the reverse grid race, I had to go towards the back of the grid again, but it wasn't a problem – I was still able to make the podium.
"I am really happy for my team and the Liverpool fans who came to watch today. I have to thank the club for the opportunity to drive their car – I have really enjoyed it and am looking forward to hopefully being their driver for a long time."
For Tappy – who recently lost his Formula Renault 3.5 drive because of sponsorship problems – it was all a bit of a dream: "It is a great feeling to get up on the podium because I woke up on Wednesday morning and didn't think I was going to be doing anything this weekend.
"Then I got the call about Spurs and I didn't hesitate for one second. It is all a bit of a fairytale at the moment and it is great to represent Tottenham Hotspur and hopefully this will be the first of many podiums."
Spurs executive director Paul Barber added: "It's been a great weekend with a third and a fifth. Duncan's driven really well. I'm pleased that he's fitted into the team so well and we're delighted with the results."
Race results
Race one
Beijing Guoan, (Davide Rigon)
AS Roma, (Enrico Toccacelo)
Tottenham Hotspur, (Duncan Tappy)
PSV Eindhoven, (Yelmer Buurman)
Liverpool, (Adrian Valles)
Al Ain, (Andi Zuber)
FC Porto, (Tristan Gommendy)
Rangers, (Ryan Dalziel)
FC Basel, (Max Wissel)
Sevilla FC, (Borja García)
Did not finish:
Corinthians, (Andy Soucek)
Olympiacos, (Kasper Andersen)
Galatasaray, (Alessandro Pier Guidi)
Anderlecht, (Craig Dolby)
Borussia Dortmund, (Nelson Philippe)
Flamengo, (Tuka Rocha)
AC Milan, (Robert Doornbos)
Race two
Sevilla FC, (Borja Garcia)
Flamengo, (Tuka Rocha)
Liverpool, (Adrian Valles)
Borussia Dortmund, (Nelson Philippe)
Tottenham Hotspur, (Duncan Tappy)
Beijing Guoan, (Davide Rigon)
FC Basel, (Max Wissel)
PSV Eindhoven, (Yelmer Buurman)
FC Porto, (Tristan Gommendy)
AS Roma, (Enrico Toccacelo)
Olympiacos, (Kasper Andersen)
Did not finish:
Corinthians, (Andy Soucek)
Galatasaray, (Alessandro Pier Guidi)
Rangers, (Ryan Dalziel)
Al Ain, (Andreas Zuber)
Did not start:
Anderlecht, (Craig Dolby)
AC Milan, (Robert Doornbos)
Championship standings
Beijing Gouan – 79
Tottenham Hotspur – 72
Liverpool – 72
Sevilla – 68
AS Roma – 63
PSV Eindhoven – 59
Flamengo – 52
FC Basel – 46
FC Porto – 46
Borussia Dortmund – 44
Al-Ain – 37
Rangers – 33
Olympiacos – 30
Corinthians – 30
Galatasaray – 24
Anderlecht – 17
AC Milan – 6
Next races: Nürburgring, Germany, September 20/21