Lewis Hamilton has confirmed his appearance at December's Race of Champions event at Wembley – but rather than take on the likes of Michael Schumacher, Sebastien Loeb and Matthias Ekstrom he'll be going head to head with a man on a bike.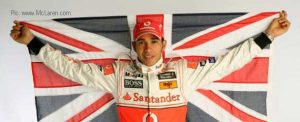 The McLaren driver is to race in a special event against triple Olympic gold medallist Chris Hoy – far better known for his performance on two wheels – largely due to the fact he is unavailable to take part in the entire competition.
Hoy and Hamilton are, of course, both leading contenders in the BBC Sports Personality of the Year competition, which is set to be decided by public vote on the same day. They will depart from Wembley during the afternoon to travel to Liverpool for the evening awards ceremony.
Hamilton will line up on one side of the specially-built parallel track (no jokes about slot cars, now) in a Mercedes road car while Hoy takes to the other side on his bike. As the organisers point out, neither machine will exactly be in its natural habitat on the tight and twisting course.
According to those organisers, "Hamilton and Hoy's head-to-head chase will be the highlight of the pre-show entertainment, running before The ROC Nations Cup begins.
"Hamilton will also perform a demonstration run in his championship-winning Vodafone McLaren Mercedes." Well, that's something, we suppose.
We're reminded of the recent remarks made by David Coulthard in a press conference for the event.
Coulthard, who perhaps understands the McLaren mindset better than most of us, asked what his old team had to gain by putting their newly-minted champion up against other drivers, in order to get beaten before the ink's properly dry on his winner's certificate?
At least this way the fans will get to see him in action, if perhaps not in the thrilling duel with Schumacher that's top of most people's wish list.
Organiser Fredrik Johnsson, who has been dropping hints about a Hamilton appearance since the curtain fell on the 2007 event, said: "Ever since we created The Race of Champions 20 years ago, we've been putting the greatest racers in the world against each other.
"With Britain's fantastic performance in Beijing, especially in cycling, we thought about how we could include that in the event and when Lewis won the F1 World Championship it was just perfect."
Hamilton added, with typical enthusiasm: "This is going to be something very special. I've done F1 demonstration runs away from race tracks before, but Wembley Stadium's completely different, the atmosphere is going to be crazy.
"It's going to be a great way to end a fantastic year, and I'm really looking forward to putting on a show to thank the fans from all over the world and my fantastic British fans for all their support.
"I get so much from the fans and this is a great opportunity for me to give something back. I will be leaving Wembley prior to the actual Race of Champions final in order to make it to the BBC Sports Personality of the Year, but putting on the demonstration is a great opportunity."
Hoy said: "I'm a big motor racing fan anyway, and I've seen The Race of Champions on TV, so to be there in the flesh is going to be great and to be actually able to compete and take part in it is fantastic.
"I can kick out about two and a half brake horsepower so that's not going to quite match his car but I think they'll make the race as close as possible and I'll be giving it absolutely everything; I'm really looking forward to it."
Tickets for The Race of Champions on December 14 are on sale now by calling 0844 412 1743, or online at http://www.raceofchampions.com. Adult prices start at £18 and child tickets at £9.