Darren Manning has lost his Indycar drive at Foyt Racing to Vitor Meira, the Brazilian who found himself suddenly out of work when Brit Dan Wheldon jumped from Target Chip Ganassi.
Meira takes over immediately at veteran Texan racer AJ Foyt's team, meaning that Manning will not drive at the exhibition race in Australia next month.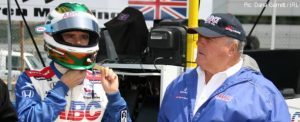 Foyt said: "I appreciate everything Darren did with our team. It was time for a change and I was the one who needed to make the change, as hard as it was."
Manning said: "There's no hard feelings. We had a good couple of years of improvements. Getting me on board was part of making his team better and I think we did that. I wish him well. We had a good relationship and I expect that to continue no matter what I end up doing."
Talking to Brits on Pole 10 days ago, the Yorkshireman had seemed hopeful of being offered another season by Foyt, but wasn't certain he would sign up if that happened.
He told us: "If they make an offer then there's other decisions to be made, and some of them are here [the Le Mans Series] and some of them are hopefully gonna be – are going to be in IRL, you know so…"
Now he seems to have fallen victim to the knock-on effects of Ganassi's failed attempt to sign Tony Kanaan, which prompted Wheldon to look elsewhere. The Englishman struck a deal to return to his former team, Panther Racing, which dropped Meira to make room for him.
After that, it was simply a question of which team would snap up the popular and talented – but so far winless – Meira.
Foyt said: "I've always admired him because he's a hard racer who charges all day long. He should have won a lot of races but he hasn't had the best luck. I believe we can change that and I'm looking forward to working with him."
Manning recorded seven top 10 finishes during 2008, including second place at Watkins Glen, but his relationship with Foyt came under scrutiny following his retirement from the Iowa Corn Indy 250 with exhaustion caused by a poor car set-up.
Foyt said at the time he'd been unhappy with Manning and had "said some things in anger about his fitness". He also spoke darkly of the driver "making some adjustments" – and the incident triggered a run of top 10 finishes, including the Watkins Glen podium.
But even then, pitlane photos taken after the race suggest an owner whose mind was more on the win that had been lost than on the second place gained.
Reaction to the decision from the fans has generally been sympathetic to Manning and pleased for Meira. One commented on the Indianapolis Star website: "Happy for Vitor and Foyt, but a little sad for Manning. He turned in some fantastic work for AJ on the road courses and street parades (of which there are way too many). Wish ol Super-Tex could run two cars year round."
Another, on trackforum.com, said: "Vitor is unlikely to ever get that win, each move has been down-tier, but at least he still gets to race. I like Darren and wish there was a seat open for him somewhere."