It had to happen, ever since the announcement in November that Mercedes had bought a controlling stake in Brawn GP.
But then came more than two months during which the Brawn website stayed black, white and acid yellow. During which the team continued to appear on social networking site Twitter as Brawn GP.
During which Brawn-branded world championship merchandise was on offer and during which fans and journalists continued to refer to the Brackley-based double world championship-winning entity using the name engraved on both the F1 drivers' and constructors' trophies.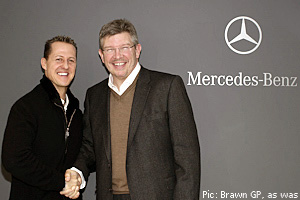 But any chance for fans to remain in denial any longer about the corporate German takeover of our plucky British privateers went out of the window on Monday with the official launch of the 2010 Mercedes Grand Prix team, livery and drivers – the returning seven-time world champion Michael Schumacher and Nico Rosberg, a young man going into 2010 with high expectations and much to prove.
The event took place at the Mercedes Benz museum in Stuttgart and featured Dieter Zetsche, Daimler chairman and head of Mercedes-Benz cars. Actually, despite the fact that Ross Brawn will retain operational control of the team he led to such success in 2009, Dr Zetsche referred to the creation of a "Deutsche nationalmannschaft" – or German national team.
And, of course, the livery is a deliberate throw-back to the days when countries went racing in national colours – even though the story of how the earliest Silver Arrows came about as mechanics scraped their cars down to bare metal in search of aerodynamic perfection might actually be a little on the fanciful side.
The national team concept appears to be becoming increasingly popular in F1, at least at a superficial level, with USF1, Malaysian-backed Lotus F1, Dr Vijay Mallya's Force India squad, the British-based McLaren with its driver pairing of Lewis Hamilton and Jenson Button – and, of course, Ferrari in Italy's traditional red.
But, at a deeper level, top-flight motor racing and the business interests that support it are so utterly global that it's really very hard to take such national branding seriously – as we have argued before.
McLaren, founded by an American and a New Zealander, can hardly be described as archetypally British when the Bahraini sovereign investment fund and the French-Saudi Arabian Mansour Ojjeh are significant investors, and it has built its reputation partly on the skills of Finnish drivers. And it is, thankfully, showing no signs of adopting British Racing Green.
Force India is based at Silverstone, Lotus is based in Norfolk for the present, and USF1 is relying on British expertise in the form of Peter Windsor and has had to expand its concept to something more akin to "Americas F1" with the signing of Argentinian driver José Maria Lopez.
And Mercedes Grand Prix itself is still based at the epicentre of performance motorsport, Northamptonshire. Crucially for its future prospects, it's still run by Ross Brawn and Nick Fry and staffed by the people that caught fans' imagination so strongly last year – the engineers like Peter Bonnington and Andrew Shovlin.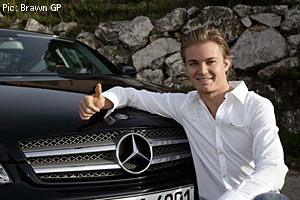 Rosberg also talked up the England versus Germany rivalry, saying: "It's a fantastic thing, and we are a little bit up against an English team…" (And Schumacher revealed that Brawn had been chasing him since his team principal days at Honda, but that's another story entirely.)
But were we really the only observers who were a bit dismayed to see the double world champions, with Schumacher at their head, lining themselves up as a kind of Dick Dastardly and the Vulture Squadron complete with cartoon Fokker Dreidecker?
And does anyone really want to see the level of back-page journalistic sophistication generally served up with international football coverage also being applied to motorsport? Yes, we're a site supporting British drivers and the British motorsport industry – but that's a place we really don't want to go, even with a ready-made 'enemy' supplied for us.
Brawn's passage in less than a year from a team without an owner, running out of options and faced with the prospect of making hundreds of staff redundant, to double world champions, was nothing short of a fairytale. And, like all fairytales, it has come to an end. We have had to put the book aside and come back to the real world.
Large-scale corporate backing from a car manufacturer does, of course, provide the funding for the former Brawn GP to maintain its staffing levels and continue to challenge for championships. And those are both causes for major fan optimism. But still, sports fans love a fairytale. They really do.
Luckily, at least for those that enjoy the Schumacher legend, the cold light of day was maybe tempered a little on Monday by the possibility of a magical comeback season for the 41-year-old former World Champion in the manner of cyclist Lance Armstrong.
We'll have to wait and see what happens in the coming weeks and months to find out whether the team formerly known as Brawn GP is going to have a second, if very different, fairytale season courtesy of Schumi.
To finish, it's worth just mentioning one person who is presumably very pleased to have avoided the Groundhog Day scenario currently unfolding at Brackley.
That would be Rubens Barrichello – installed about 35 miles to the south west of the new village of Stuttgart-am-Northants in what his fans hope will be a productive and fulfilling season with Williams.
We saw last season just how passionately the veteran Brazilian wanted to win, and how bitterly disappointed he was at the suggestion that team orders could have been invoked to favour Jenson Button's prospects over his own.
For him the resurrected Brawn-Schumacher axis could have been a long way from a fairytale. More of a nightmare, in fact.
And how he'll enjoy beating it, if he can.