British Indy Lights drivers Pippa Mann and Martin Plowman have been getting to grips with their new teams by taking part in winter testing in Florida.
Former Panther team-mates Mann, who has signed for 2010 with Sam Schmidt Motorsports, and Plowman, racing with Andretti Autosport, both participated in sessions at the Miami-Homestead Speedway and Palm Beach International Raceway last week.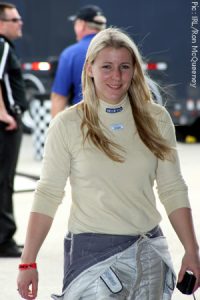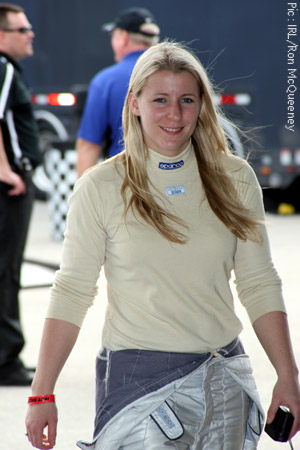 Mann's pre-season preparation saw her back on an oval for the first time this year, recording the fastest lap of the morning on her first day but also struggling for overall grip. She spent time working on different set-ups to overcome the problem.
Ending the day with plenty of data, she said she was pleased with the ground covered: "I understand where and how we can go quicker, and that's often the hardest part to get right.
"At least if we can pinpoint where there's room for improvement, we're much more likely to make progress, so all in all, today was hugely worthwhile and something to build on."
At the Palm Beach road course she completed more than 200 miles on the first day of a two-day test, but running on the second day was curtailed by the windy conditions.
Speaking after the test, she said: "I feel both these last two days and earlier at Homestead have been really positive tests for me."
A spell of running on Saturday morning led to a setback, however, after the windy conditions persisted. Mann got caught out and hit the wall but her reaction was stoical: "These things happen. I think despite today I'll have a lot more confidence going into the next test, and am looking forward to getting back in the car."
Meanwhile Plowman used the testing time at Homestead-Miami to get used to his new car, after making the switch from Panther Racing to Andretti Autosport, and to collect data to act as a baseline on race weekends.
His new team reported that his speeds were comparable with last year's winner, Mario Romancini, who beat the two Andretti cars to the line by less than half a second.
Moving on to Palm Beach he managed to break the unofficial Indy Lights lap record during one session as the team worked on improvements to the car's balance and consistency over long runs.
He said of the test: "It felt good to be back out on an oval on Monday. I'm starting to develop a liking for turning left. I love racing on ovals, but it took some time last year to finally master that, as ovals are not something I ever raced on back in Europe.
"2009 was a steep learning curve for me. This year I feel I am stronger and have a much better understanding of what it takes to succeed on an oval. I still have a long way to go, but I can't wait for our first oval race of the year at the Indianapolis Motor Speedway.
"As for our test at Palm Beach on Thursday, I just wish that everyday in the car was like that. Sometimes you have days where nothing you try works out and other times things just click between the driver, team and car.
"Obviously I was happy with our step forward in performance, but I was more pleased about the understanding that I am developing with my engineers about what I need from the car and what I need to do to go faster."