By Caron Lindsay
Ten months ago, Honda F1 stood on the brink of extinction. Today, its successor, Brawn GP stands on the brink of winning not just the Formula One constructors' championship, but also the drivers' title for either Jenson Button or Rubens Barrichello. There has to be a movie script in this incredible story of rescue and recovery.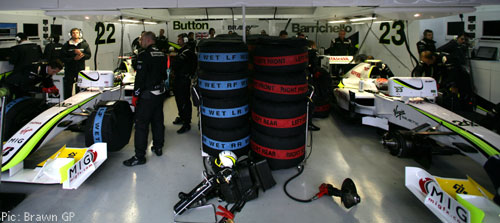 This year's Formula One season has been one of the most exciting I've ever enjoyed. It's had high drama, scandal, tears and tantrums both on and off the track. Whether it's been for the showdown between the FIA and FOTA and a threatened breakaway season, the continuing uncertainty over the venue of next year's British Grand Prix or the crashgate scandal which saw the end of Flavio Briatore's motorsport career, the sport has rarely been out of the headlines.
The season is now about to end in the most thrilling way possible – a championship showdown between the two Brawn drivers which will either be decided later today in Brazil or in the desert heat of the shiny new Yas Marina circuit in Abu Dhabi over Hallowe'en. While most British fans want to see Jenson Button wrap it all up today, I expect Bernie Ecclestone will be jumping up and down with glee at the thought of the title decider going to the last race again.
Coming into the Interlagos race, it looked like the drivers' championship had reignited as a three way fight between the man who's led from the start of the season, Jenson Button, his team-mate, for the first time given a decent shot at going for the title, Rubens Barrichello, and a young, blond, risk taking, exciting German, Sebastian Vettel. The Red Bull driver's victory in Suzuka where he drove a flawless qualifying session and race, had brought him to within 16 points of Jenson Button with 20 up for grabs – a margin, as he was quick to point out, that was less than that between Lewis Hamilton and Felipe Massa last year.
Yesterday's qualifying session was going to be crucial. What the contenders needed was for this race to take place at a circuit where the weather could be relied upon to be dry and warm. Fortunately for those who like their nerves being ripped to shreds, many of the sport's best tracks, Spa, Silverstone and Interlagos among them, come with their own bizarre microclimates, maximising the potential for mayhem.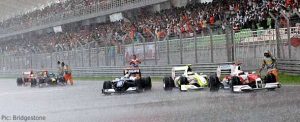 Do you remember the torrential rain that halted the Malaysian Grand Prix earlier this year? Well, that was just a tiny little shower in comparison to the thunderstorms that hit the Sao Paolo area at just the wrong time yesterday. Just to add an extra little frisson of unpredictability, lightening knocked out the weather radar that the teams use.
Formula One teams spend hundreds of millions between them on their cars and their drivers every single year, yet entire championships can be decided on the timing of a qualifying session. Andy has already reported on the dramatic turmoil which resulted in Vettel's championship hopes being downgraded to at best "unlikely", Button languishing in 14th position and Rubens Barrichello storming to his first pole position in five years. All I would add is that Rubens' race engineer Jock Clear won't be winning any prizes for diplomacy after his triumphalist comments over the team radio as the pole position was confirmed for his driver. Addressing Rubens as "dude", he proceeded to give the relative positions of the championship contenders with a strong undercurrent of "na na na na na". An entirely understandable bit of motivational gloating but more suited to a private chat than a publicly available radio transmission.
Given the unpredictability of the weather, I'm not brave enough to take a guess at how the race will unfold today. All things being equal, Rubens should, on fuel weights, finish second or higher if the weather is nice and dry. If that happens, Jenson will have to fight his way up to within five points of him, which he's more than capable of doing, to take the title. If Jenson doesn't keep Rubens at least 10 points behind him, then the title quest continues. It's that simple.
As a Brawn fan, it doesn't really get much better than your team being within touching distance of the constructors' championship and both its drivers being the main contenders for the drivers' title. I don't want to jinx the team, in true Murray Walker style by suggesting for a second that winning either title is inevitable, but at the moment they are in a very strong position.
The team totally deserves to take home some serious silverware from Brazil. Their car has won more than half the races so far, a remarkable achievement by any standards. What is more outstanding is the fact that they've continued to develop the car and get respectable results including race victories in the second half of the season when they'd shed a third of their staff and been up against high spending development from rivals Red Bull, McLaren and Ferrari. The team left Suzuka two weeks ago only a tantalising half point away from the title. For it to be taken away from them requires a Red Bull 1-2 in the final 2 races and for Brawn not to score at all. That's an unlikely scenario, but the race ain't over until Ross Brawn performs his promised karaoke with Eddie Jordan.
Either Jenson or Rubens would be a worthy, credible winner of the drivers' title. Ross Brawn had provided a fabulous car, but there was huge pressure on the drivers' shoulders to make sure they delivered its potential. Both drivers rose to that challenge but it was Jenson who came out on top in that early part of the season.
When the car's performance faltered, it was Rubens who was able to get the best results out of it, delivering much needed podiums and points, with his own wins in Valencia and Monza. He has totally justified his place at the team. It's been Rubens' experience in setting up the car which has proved vital all the way through the season for the team.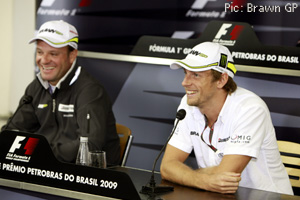 I am absolutely thrilled to bits that Ross Brawn has given his drivers free rein to race for the driver's title. This may yet be something that will cost him dear. I wonder if Jenson feels that the team should have put their eggs in his basket and whether that will influence his decision on what he's going to do next year. If Rubens were to pip him at the post, he might well decide to pursue big money elsewhere in a fit of pique. I think that would be unwise on his part but it's not impossible.
I watched Ross talk about the drivers' race on the BBC Red Button forum after Suzuka. He acknowledged that it could go wrong and both of his drivers could lose out, but said that in the end of the day it was the right thing to do. You have to applaud him for taking that view. To have held Rubens back would have in my view been unjustifiable.
Rumours are rife that Rubens is off to Williams for at least next season, swapping seats with talented German driver Nico Rosberg to please Mercedes who are reported to have bought a controlling interest in the team. I am completely distraught at the thought that a driver who has performed so well and delivered in so many ways for the team could be shown the door. My emotions are in conflict with my long held general default position that Ross Brawn can do no wrong. In fairness to him, he has to consider the long term future of the team and Mercedes' money brings potential for better development and makes the jobs of the 450 Brackley employees a lot more secure. In his position, I would go with the interests of the team, although I would definitely put up a fight to keep Rubens and his experience for another year.
In a few hours' time, we could witness a British team and a British driver take all the rewards of an amazing and unforgettable season. However events unfold, though, the team can be proud of its achievements and be sure of as secure a future as you can get in today's economic climate – and if the championships are not decided today, we're guaranteed a nail biting finale in two weeks' time.