When Roy Hulsbergen got in touch recently, to tell us about his project to produce an online archive of video, pictures, anecdotes and memories celebrating nearly 80 years of grand prix racing in Monaco, we knew an interview with him would be the perfect way to celebrate the build-up to this year's event.
His site, The Monaco Grand Prix Library, has information on every single race since 1929. In that year, for instance, the only British driver was squarely on the grid's second row.
But Charles Grover-Williams, in a Bugatti painted in British racing green, went on to win the race despite a missed practice session in which the correct parts for his car didn't turn up, leaving him having to sneak in a lap or two early on the Saturday morning.
The only flaw with that plan was the noise made by his racing car's powerful engine…
If this is the kind of anecdote you love then the site, which covers the entire period from 1929 to the present day, will thrill you. Or maybe the adrenaline-fuelled battles of the 1980s and 1990s between famous names like Prost, Senna, Rosberg, Piquet and Mansell are more your thing. Whatever aspect of the race you've enjoyed, there's something here for you.
The site grew out of a book and a CD-ROM on the subject both produced by Hulsbergen, a Monaco resident for 25 years, who decided to expand onto the internet in a bid to create a permanent, collaborative and inclusive record which might even outlast the race itself.
And he also gave us a great insight into what it's like to live in the Principality when the F1 circus comes to town.
You can read the complete interview with him underneath the site link and banner, below. But, if you would like to contribute information to the Monaco Grand Prix Library, offer sponsorship or simply to find out more about the project, you can contact Roy here.

1. All motor racing fans know instinctively that the Monaco Grand Prix is special – but can you put into words what it is about it that has inspired you?
I have lived in Monaco for 25 years and have always been a fan of motor-sports. (I did some Formula Ford in the 70s at Zandvoort.) Being a multimedia designer and author, in 1994 I embarked upon a fascinating and original creation of a CD-ROM 'The History of the Grand Prix of Monaco'. It was something no one had done, it was a passion. I like history and I was confident that many people would be interested.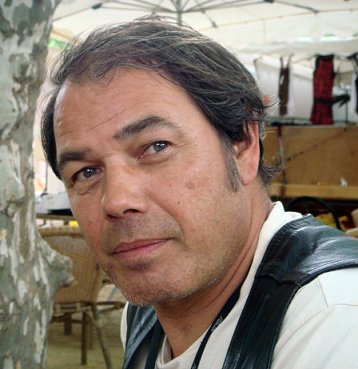 2. What have been the most satisfying and frustrating aspects of the project so far?
It was a great project to get your teeth into, the more I advanced the more interesting it became. You are looking into the lives of amazing people who managed to do extraordinary things out of nothing, people like Bugatti, Maserati, Cooper, Chapman, Brabham, McLaren, Ferrari, Farina, Caracciola, Moss, Fangio, Senna… so many things to tell.
At the time when the CD-ROM came out in 1996 the package was ahead of its time. People were not equipped. On the research side, I was stunned that hardly any archive material was kept in Monaco, almost everything had disappeared. A major frustration was also that Bernie Ecclestone 'owned' all rights of the GP as from 1984, so I could not go on. Or like in Monopoly: pay $25 million to get out of jail.
3. What was the most exciting, humorous or touching piece of material that you have come across?
Very sad and shocking was finding the footage of the terrible accident of Bandini. I had noticed that Ayrton Senna always just touched a paper Shell poster without tearing it, at the exit curve of the swimming-pool. Doing a lap with Senna (in a Ford Escort) I asked him how and why. Laconic answer: taking that corner tightly makes me gain 1/100th of a second per lap. Graham Hill's story of his car on fire and extinguishing the fire himself, because he needed the car for the next race.
The interviews I did with Claude Fin, the Commissaire de Course in the 60s. Meeting Jody Scheckter at a Monaco hotel for an interview, and Jody arrived dripping, straight from the shower in a bathrobe. "Where you want to do the interview, Roy? Oh, you are videotaping this. Maybe I better change?" A very touching interview by Jackie Stewart of Princess Grace.
4. You talk of a community of fans who can exchange information and add to the site. How do you see this developing?
I am only one voice with limited research possibilities. Out there are many people with knowledge, information, old magazines, books, pictures, film, you name it, who could add information, pictures, video and anecdotes. I already received some emails with corrections and additions from viewers. I believe it can go on forever, to make the information richer and more complete. That is also why I added a forum for fans to discuss directly with each other.
5. What do you think about racing on the new specially-designed circuits like Istanbul, Sepang or Bahrain? How do you feel Monaco stands up to these new additions to the calendar?
There is no comparison. Monaco is a street circuit in the middle of a village. The streets cannot be modified in any way. (Some modifications have been done, but they are slight in comparison.) F1 in Monaco is complicated, difficult, different and speeds are quite low. Monaco has been there for so long, it has a special atmosphere, it's mundane, there is big money. Any driver would like to win Monaco. Thus I think it stands on its own. The new circuits are much better for the current hi-tech machinery, better viewing possibilities for spectators, good video angles, wide run off for safety.
The future will tell. Maybe one day Monaco will disappear as a F1 circuit, but it is one of the three legendary events: Monaco, Indy 500 and Le Mans 24h. In the 60s they would fly helicopters in Monaco between the buildings to follow the cars with 35mm film cameras! Imagine one crashing into a building. Now we are nearly there to follow the cars with satellite cameras.
6. Would you like to see more street racing, or do you think F1 will be better-served if Monaco is the only street circuit?
I don't think street racing is the answer (sic Bernie). The cars are too powerful and the F1 circus too big and important. Michael Schumacher once told me, when he was participating in the Monaco Karting Championship: "I am probably faster in Monaco with a go-kart than in a F1 car. The circuit is really too narrow and curvy for today's formula cars."
I think they have enough headaches solving problems every year arising from new regulations in Monaco. Many safety features have been invented in Monaco, because of the special reduced space situation. Even the chequered flag was invented in Monaco in 1931 to make sure every one understood the race was finished. Too many accidents happened, when drivers continued racing not knowing the race had ended. (And even though in 1931 Chiron did an extra lap, just to make sure he had won)
The other problem is city dwellers. Monaco life and business comes to a grinding halt for four days. I am not allowed to drive my scooter to my street. It is a mess for the locals. Here people are used to it (after 65 GPs) and most residents leave for the weekend. To introduce that on an unaware city will be very tough. There was talk about a GP on the Champs Elysees in Paris, closing down Paris for traffic, I think it would provoke a 1968-type revolution.
7. Has the project, as these things so often do, turned into a much bigger endeavour than you first imagined? This certainly happened to us with Brits on Pole!
When I started it seemed simple, get the text and the info, digitise the films and photos and put it together; a couple of months' work. No such thing. Digging, searching and negotiating usage fees became a huge thing, two years and seven days a week. And the more you dig the more you find, and the more you find the more there still is to find. It's like an archaeology dig.
8. Are there any particular gaps in the material you've found so far that you're looking to fill and that our readers might be able to help with?
Loads of gaps. I have no decent video material for 1963, 1966, 1968 or 1973. Can always do with more photos of drivers, cars, VIPs. Anecdotes about drivers is high on the list. The idea is to end up with a really complete library for posterity. When GP racing does not exist any more, and they race with UFOs, it will be there to consult.
9. Do you have a favourite Monaco race? We always smile at the 2001 F1 GP where Enrique Bernoldi held up then-McLaren driver David Coulthard for innumerable laps in order to get rare TV exposure for his Arrows car's sponsors. But that was hardly a classic…
What about the two Candy cars knocking each other out in lap 0 in Ste-Devote, that was kind of hilarious? I favour the 70s and 80s races. It seemed so much more real racing, taking enormous risks, pushing to win. The cars seemed to go faster, skidding in every corner, hitting each other and the barriers. The races were more lively for spectators and I think a lot tougher for drivers. (Senna sometimes needed to be lifted out of the car.) The period 1987 to 1993 Senna – Prost was a very exciting time with amazing races and great winners.
For me personally after 1997 it became less exciting, very technical, pit strategy wins, always the same guys, no real fighting. I think they will need to change something because it looks more and more like a computer video game, Playstation for grown ups.
10. Have you attended the live race? And have you had any feedback on the site from within F1?
Many races as spectator and as photographer. In 1996 we also shot a 59′ documentary on the history and safety measures of the circuit for French TV. That was the last time non-FOCA cameras were on a circuit! No feedback yet from within F1, but quite some from historic GP people. Historic GP racing is becoming quite big these days. A lot of people having lots of fun and the public can walk the paddocks again and talk to drivers and mechanics. Just like in the old days.
11. This year the Monaco Grand Prix takes place on the same weekend as the Indy500 – two of the world's most famous open-wheel racing events. Is Monaco better? Or just different?
These are two of the main events. In 1929 Chiron participated in the Indy500 and could not race 'his own' grand prix at home. In terms of spectators at the circuit the Indy500 beats Monaco by probably a hundred times. Each race has its historical merits and fans. Indy500 is a big American affair like hamburgers, the Monaco GP is a private race for the Prince, residents and invited VIPs.
12. We know that there have been massive increases in safety over the last few years in F1, and also that Monaco represents a powerful test of driver skill, with even the very experienced ending up in the wall. Was increased safety a theme that developed while you were working on the site?
Driver and public safety has been practically invented in Monaco. (At Zandvoort they did a lot, but it's of the schedule.) Luckily there were very few casualties in Monaco (four in total), otherwise I think it would have been stopped by the Prince. For ACM safety was and is an obsession. It starts with marshal training (they are the best trained crew in the world), the invention of the chequered flag, using of motorway guard rail with rubber protection, water-filled plastic containers, tied-up car tires, start sequence with a traffic light, strategically placed cranes to take crashed cars away in seconds, special trained medical assistance every 100 meters, wire netting against flying pieces…
In Monaco in some places the public is a couple of metres away from the screaming cars. You name it, it probably has been invented in Monaco. In 1996 we made a TV documentary on the subject, because it was so particular. Then there is the car safety, which has been developed by the industry and the teams and has tremendously added to the driver safety deployed on the circuit. Cars don't burn any more (this was the drivers' nightmare), legs don't get amputated any more, necks hardly ever break. Many drivers have paid with their lives to get better safety levels and many fought for safety. (Jackie Stewart even called a driver strike for safety). That is also why the site's base line is 'In memory of all who have given their lives to the sport'.
13. What did you think of Michael Schumacher's controversial decision to park up at Rascasse in 2006 qualifying?
A bit cheeky. Similar things happen often, but less ostentatious.
14. And finally… who are you tipping to win this year, and what are your plans for watching the race?
Hamilton has a good chance to be the Brit on pole, in that case he'll win the race. The only way to watch the race is on the tube. On the track you have no idea what is going on. The big screens in front of the stands are a big help though.