Tony Kanaan took his first victory of the season by surviving a demolition derby at the Richmond International Raceway that wiped out more than half the field.
The Brazilian, who last week apologised to his crew after losing control of his car and crashing out from a strong third place, looked untroubled as all around him cars span into the wall – and each other.
Although the final 71 laps of the floodlit SunTrust Indy Challenge were trouble-free, no fewer than 103 of the preceding 229 had been run under caution, with the field running slow and banned from overtaking.
Just 10 of the 26 cars completed the race. Restarts wreaked havoc among the field, while unforced errors put out drivers of all experience levels, from young rookies like Graham Rahal to grizzled veterans like Buddy Rice.
Three more cars, including Darren Manning's, were patched up in the pits after accidents and sent out again for long enough to put in enough laps to be classified ahead of later-retiring drivers.
Manning criticised the trouble-filled restarts – one of which had sent him into the pits with a damaged suspension – as "pathetic". Danica Patrick, who finished sixth, called it a "carnage fest" and Justin Wilson, one place behind her, declared it had been a "crazy race".

Justin Wilson (#02) and Danica Patrick race wheel-to-wheel under the floodlights
Helio Castroneves worked his way through the field from a shockingly-bad qualification position of 18th to come second. Behind him, Dan Wheldon looked good for third until his car failed on the final lap and he lost out to team-mate Scott Dixon.
"The car shut off on the last lap for some reason, and that's not what we need when we're trying to close the points gap," he said. "I was trying to be aggressive while trying to finish the race. It was difficult behind the other cars, and we knew there would be more than a few wrecks tonight."
Fifth was taken by the impressive Oriol Servia, then came Patrick, Wilson and Townsend Bell who spent the last third of the race locked in a three-car battle. Marco Andretti and E.J. Viso were the final finishers.
"What a crazy race – there was some really good driving and some really bad driving out there. I was just trying not to get caught out and stay out of trouble and bring the car home," said Wilson, who had qualified at the back of the field.
"The McDonald's car wasn't the quickest car out there today, but we managed to salvage some good points, and hopefully that will help us out in the championship.
"I had a bit of a moment with E.J. at the end. I thought I had crashed and was going to cross the finish line with no wheels on the car. I thought 'I've come through all this only to crash at the very end.' Fortunately we were able to keep all four corners on it and bring it home."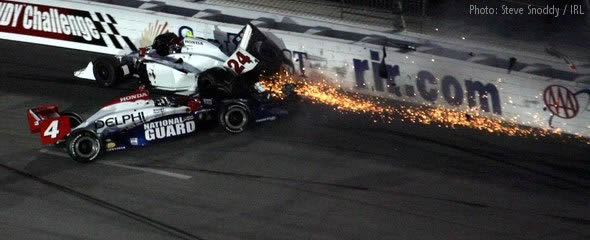 John Andretti (#24) later apologised for this incident that took out Vitor Meira
Ed Carpenter and the under-pressure Manning were classified 11th and 12th in cars repaired in the pitlane and sent back into the race. Ryan Briscoe took 15th under similar cirumstances.
Manning, heavily criticised by his team for his retirement from the previous race, was caught out when the field bunched during a restart on lap 79, braking to avoid Dixon and being hit by Vitor Meira.
"It was a real shame to be knocked out early after we made some good calls strategy-wise," he said. "It was a concertina effect on that restart. The restarts were pathetic."
There were no signs of discord in the Foyt Enterprises team as crew and driver worked together to salvage something from the day, picking up some 11 places by returning to the race.
Manning said: "My guys did a great job to get the ABC Supply car back out so we could pick up positions. I think the pace we had with the repaired car, even though we weren't pushing it, showed we had competitive lap times. By going back out we got some good info, which is important for next year."
Kanaan owed his victory partly to team-mate Andretti's bad luck. The youngster looked unassailable in the lead until low fuel forced him to pit under a green flag, while the field was racing properly.
This left him a lap down, which he would have recovered if everyone else had also pitted under green. But another crash brought out the yellow flag, and that was the end of his hopes.
"I am incredibly disappointed," he said. "The Blockbuster car was the best car on the track today."
Another disappointed driver was was Conquest's Jaime Camara, who qualified poorly but scythed through the field with panache, making the most unlikely overtakes stick.
He forced his way into the top 10 then led for 44 laps after other cars pitting put him to the front, holding off his far more experienced mentor Kanaan, and retained a top-three position even after pitting.
But on lap 217, with his car light and his tyres worn, he span into the wall. "The car was getting lighter and lighter and I was more neutral as we went on," he said. "Traffic was really hard today. It's a real shame for the Sangari Conquest team. That was going to be a good result for us. We needed it and now it is all gone."
Kanaan said: "That's what happens when you teach someone too much – Jaime gave me the run of my life. He impressed a lot of people with the car that he had and how much he was able to hang on to the front."
Dixon still leads the championship, with Castroneves five points closer in second than he was. Wheldon slips back slightly but retains third, with Kanaan still some way distant in fourth. Patrick climbs back into fifth.