Kieren Clark, the 21-year-old Formula Renault BARC champion, is among the latest young drivers to become a member of the British Racing Drivers' Club's Rising Stars scheme.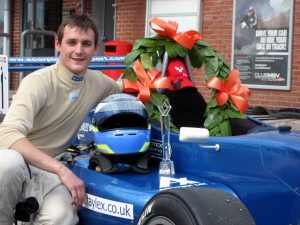 Aiming to assist the very best up-and-coming British and Commonwealth talent succeed in top-level motorsport, the scheme is open to drivers aged 24 and under. Its members are working towards a professional racing career and competing in national events.
In order to join, they are first scouted by a member of the BRDC's Rising Stars Panel then invited to visit the club at its Silverstone base for an interview.
Once a member of the scheme, a driver is eligible to remain until his or her 24th birthday, so long as their career maintains what the BRDC calls "upward momentum".
Kieren, who hails from Cambridgeshire and who has also recently won the BARC President's Trophy for excellence during the 2009 season, said of the award: "Obviously I'm delighted and would like to thank the BRDC for this opportunity.
"It's an honour to have my performances noted by one of motorsport's most regarded clubs, and I consider it a real privilege to be part of the BRDC Rising Star programme."
"We're working very hard to attract more commercial partners and sponsors to continue marking our success in motor racing, and being a Rising Star of the British Racing Drivers' Club will definitely help improve my profile."