Imagine that Heikki Kovalainen has just lost his McLaren seat for 2009, not in favour of some talented young driver like Rosberg or Vettel, but to make way for Yuji Ide on the promise of a hefty cheque.
You'd be outraged, right? Well, something like that appears to have happened to Justin Wilson in the IndyCar Racing League in the States.
While fan favourites, big names and former Indy 500 winners like Wilson, Paul Tracey, Tomas Scheckter, Oriol Servia, Darren Manning, Buddy Rice, Bruno Junqueira and Ryan Hunter-Reay are scrabbling around to avoid a year on the sidelines, arguably one of the worst drivers in recent IRL history may have just bought a place at the top table.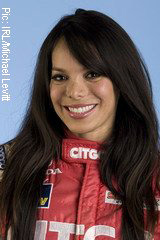 That driver is Milka Duno – a 35-year-old Venezualan who enjoys considerable financial backing from that country's businesses. She drove last year for Dreyer & Reinbold Racing in her second year in the series, the highlight of which was a 19th-place finish in the Indy 500.
If rumours linking her with Newman/Haas/Lanigan come off, it would be the first time the team has signed a pay driver in its 20-year history, during which it established itself as one of the marquee names in American open-wheel racing.
The dominant team in the late years of the rival Champ Car series, where Sebastien Bourdais won the final four titles, N/H/L merged into the IRL last year and won two races despite having little time to familiarise itself with the new equipment used for years by its rivals.
But the economic crisis saw it in danger of shrinking to a one-car outfit as the team let Sheffield's Justin Wilson know it could not raise the sponsorship to keep him on, leaving him driveless for the 2009 season.
That's when the approaches from people able to pay their way started to come in – and from a one-car team N/H/L is rumoured to be close to entering three. Along with the returning Graham Rahal and Duno, the third would be the talented and well-funded Dutchman Robert Doornbos.
It's a big leap to imagine Duno driving for a top team. However, the on-track aspect maybe isn't the whole story. If it happens, N/H/L will be running her car solely thanks to the money she brings, so it's not fair to say she has directly displaced Wilson.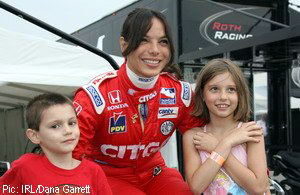 Duno's sportscar record includes a second-place in the prestigious 24 Hours of Daytona, partnering Manning, Ryan Dalziel and Patrick Carpentier, but her IRL record has been considerably poorer.
But while her driving skills don't garner her much respect, and her pitlane contretemps with Danica Patrick last season raises questions about her temperament, she has much to offer the team in other areas.
The holder of multiple masters degrees in heavyweight subjects such as marine biology, and a former model, she's usually personable, smart, incredibly media-friendly and known for her fan appearances and charity work.
If she could crack the whole 'driving very fast in competitive situations' thing, she's be an ideal catch for any team. At Dreyer & Reinbold, when Larry Curry arrived as director of competiton part-way through last season, her performances noticeably improved.
As the 'My name is IRL' blog very reasonably writes:
The outrage expressed is not unexpected, but let's get one thing clear: Despite the fact Wilson, Hunter-Reay, Servia, et al are all better drivers, Milka with her fistful of Hugo Bucks isn't taking a job from any of them. To the contrary – she's got money and she's shopping for value just like any other ride buyer. If that means that she can get a third car for a team like N/H/L that has shown they can win races in the IndyCar series, well, you can't fault a girl for buying quality.

Ask anyone who's ever met Duno and they'll tell you she's as fan-friendly as they come, and now despite her on-track struggles she appears on the cusp of having a car and a team completely capable of putting her in the Top 10 on any track. Her only obstacle would be her driving ability, so the question isn't just if she's ready to improve to being a Top 10 driver, it's also if we're ready accept her on the off chance she does.
Is it possible that, when given a race-winning car with a championship-winning team, she will be able to raise her game accordingly?
It would be nice to think so.
These are still only rumours, although strong ones – it's still possible that N/H/L will field only Rahal when the season begins. But if it happens, even if Duno improves dramatically, there will still be drivers sitting unemployed who could turn in a better performance week-in, week-out.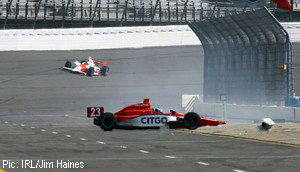 So what's new?
Drivers have never been recruited solely on ability. Factors ranging from marketability to family ties to nationality have always played a part.
At Brits on Pole, we obviously want to see Wilson, Manning and Jay Howard back in the IRL, and Mike Conway, Dario Franchitti and Dan Wheldon running strongly.
And, although we're strong supporters of women in motorsport in general, we've never particularly rated Duno. So we don't have any particular brief to defend her.
It's a big ask for the 5'4″ Duno to fill the gap left by the 6'3″ Wilson – chances are, she'll be cruelly revealed as being out of her depth if she does line up for N/H/L this season. The idea when we first heard it struck us as comically preposterous.
But if she tries it, and if she can make it work – well, that would be something to write home about. One of things we've learned since we started publishing this site is that we love to see people being given a chance and taking it.
Milka Duno to Newman/Haas/Lanigan? It's a ridiculous idea – but it might just work.