Reigning IndyCar champion Dario Franchitti is to return to the series next year, driving for former rival Target Chip Ganassi Racing at the expense of Dan Wheldon who moves to Panther Racing.
The shock news means that Franchitti will race in 2009 as the team-mate of Scott Dixon, who he beat to the title when the New Zealander ran out of petrol as the pair raced side-by-side around the season's final bend.
Wheldon, meanwhile, steps down to the team where he began his IRL career in 2002 and where he will replace Vitor Meira.
Franchitti left the IRL for Chip Ganassi's NASCAR operation at the end of last year, but found himself in need of a drive when a lack of sponsorship forced the closure of his team mid-season.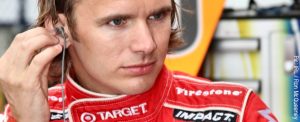 Wheldon and Chip Ganassi had been in negotiations about the Englishman's 2009 contract, with reports suggesting he was being asked to take a pay cut and that the team had tried to sign Tony Kanaan to replace him.
Now it looks like those negotiations must have broken down – with Franchitti the obvious choice to fill the gap.
Ganassi said: "When there was a possibility of an opening on our IndyCar team, the only person I thought about was Dario. This is going to be a great move for Dario and for our team.
"It is going to be very exciting to have Dario in one of our IndyCars next year, I have always admired his competitive spirit when he raced against us and have really grown to see more of what he is about this season while he raced in NASCAR."
Wheldon initially stayed tight-lipped about his 2009 plans, describing them only as "a very exciting opportunity".
He said: "I have enjoyed these last three seasons with Target Chip Ganassi Racing but will be moving on to pursue a very exciting opportunity for 2009. In the meantime, I want to focus my efforts on winning the last race of the season."
Later he added: "I'm very excited to be joining the entire Panther Racing crew. This is the place where I started my career in 2002 and with the personnel and leadership that John Barnes has put together, I know that we'll be fighting for outright victories, the Indianapolis 500 title and the league championship.
"I'm looking forward to when my obligations with my current team have been honoured, so I can get with the entire Panther family and start moving towards all of our goals of winning races and championships together. It's great to be back."
Barnes, the Panther CEO, said: "It's hard to describe the level of excitement and emotions all of us at Panther have knowing that Dan has come back to drive for us. I remember watching him drive for the first time in the Indy Lights series years ago, and I knew he was going to be a special talent.
"Since then he's become one of the best open-wheel drivers in the world, and for him to make his return to our team at the height of his racing career is a tremendous compliment to our team."
Wheldon's first race for the team will be the exhibition contest in Australia next month.
Ganassi was full of praise for him: "Dan Wheldon has done everything this organisation has asked of him.
"He was competitive from the moment that he stepped into the car for us back in 2006 and has provided Target Chip Ganassi Racing many highlights over his three years with the team. Dan is a class act both on and off the track and we wish him nothing but the best."
Speaking in a joint Q&A for the IRL website, Dixon and Franchitti both said they weren't privy to the details of the break with Wheldon.
Franchitti confirmed the offer to him was made when he visited the team at last weekend's race in Detroit, but said he didn't know whether Wheldon was already committed to leaving at that point.
Dixon said he'd seen no evidence of problems between driver and team boss: "They always seemed to be getting on very well whenever I've been around them. I didn't see anything coming, that's for sure."
Wheldon won the Indy 500 and the series championship in 2005, but in 2006 he missed defending his title after finishing level on points with Sam Hornish Jr and losing a tie-break based on number of races won. Since then, his form has failed to hit the same heights.
At the end of last season he was briefly linked with a drive in his team's NASCAR programme but that went to Franchitti instead, the departing champion leaving Andretti Green Racing to join the Ganassi stable.
Funding problems forced Ganassi to close Franchitti's team mid-season, but the veteran racing boss said he could easily find the sponsorship to run a third car if the Scot wanted to return to the IRL.
But Franchitti said he had unfinished business in NASCAR, and the likeliest options seemed to be that he would either replace the departing Reed Sorenson or move to ALMS with his former team, Andretti Green.
However, the chance to race on a variety of circuits in a unified series has tempted him back: "With unification and the new schedule having more road and street courses, it made me think about this more and more. I have really enjoyed this last season in stock cars and have not completely closed that chapter of my professional career, but the opportunity that arose was just something I could not pass up.
"Part of the reason that I signed with Ganassi last year was because of how many options that Chip has at his disposal for a driver. You can do almost any form of racing that you want.
"I am really looking forward to getting behind the wheel of one of those Target cars and being a teammate to Scott Dixon. Target is a tremendous sponsor and they and Chip always give you everything you need to win."
Dixon leads this season's standings by 30 points going into the weekend's Indy 300 at the Chicagoland Speedway and needs only to finish eighth to guarantee that Ganassi will field the two most recent champions in 2009.
To add to the complications, Ganassi has the 2007 Indy Lights champion Alex Lloyd under contract and the team confirmed before the Belle Isle race that they hoped to run a third car for him next year.
Panther still hopes to field a second car next year, but if it finds the funding to do so it will be Meira who is invited to drive it and not Anthony Davidson or Mike Conway who were both in the frame at the weekend.
Unless Meira – who is popular and talented but seemingly doomed to never finish higher than second in a race – finds a drive elsewhere.