Lewis Hamilton outclassed his rivals in the Chinese Grand Prix to win a race that was short of action but full of significance for both the drivers' and constructors' championships.
The 23-year-old now stands on the brink of winning the world title in just his second season in the top flight, needing only to finish in the top five of the season-ending Brazilian Grand Prix to ensure victory.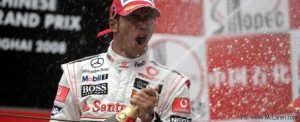 He said: "I've got a seven-point lead in the world championship, but that doesn't allow me to take anything for granted. It might be another step towards my dream but we've still got to stay calm and keep our heads. I just hope we can pull through."
The McLaren driver led Ferrari's Kimi Raikkonen and Felipe Massa from the start in China, navigating the first corner safely in a complete contrast to the previous race in Japan, then building a solid lead that endured throughout the race.
"Everything just went right this weekend," said Hamilton. "Our car has been simply phenomenal, I made one of my best-ever starts and had perfect balance during the race. I owe so much of that to the guys in the team – both at the track and back home; they did an amazing job so a big thanks to them."
Mercedes Motorsport's Norbert Haug said: "A more convincing win is hardly possible. What an excellent victory for Lewis and the team, and what a well deserved one. Pole, win and fastest lap, Lewis demonstrated his skills and was clearly the man of the race and the whole weekend."
Behind Hamilton, the Ferrari pair experimented with different tyre strategies from the rest of the field and from each other, but neither could make any impression on the lead.
Raikkonen ran most of the race in second, but eventually gave up the place to his team-mate to minimise the damage to Massa's dimming championship hopes. The Brazilian will go into his home race seven points adrift.
But Ferrari increased their lead in the constructors' title hunt, despite Hamilton's win, as Heikki Kovalainen suffered a puncture that sent him to the back of the field, then retired with engine problems.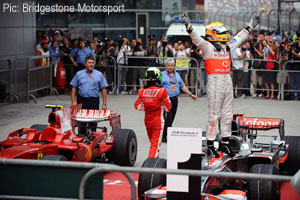 Massa said: "This is a great result for the team, less so for me. Today's race was a difficult one: we were not quick enough to fight against Hamilton. Losing two points does not mean that I have lost hope. I will continue to fight right to the very end and I can't wait to race in Interlagos in front of my home crowd."
McLaren's Ron Dennis said: "Heikki's first stint was compromised by the fitting of a set of mismatched tyres, which caused his car to understeer. After his first stop, a punctured tyre then forced an unscheduled pitstop before an air pressure problem with his engine caused us to retire him in order to avoid risking an engine failure."
Fernando Alonso's pre-race prediction of being unable to challenge the three front-runners proved correct, but after beating off an early challenge from Kovalainen he was comfortably the best of the rest and brought his Renault home fourth to sustain his late-season charge.
Robert Kubica's slim chances of winning the title had realistically been ended by his poor qualifying performance, and the lack of rain, safety cars or wholesale chaos among the leaders meant he could only fight back as high as sixth, behind team-mate Nick Heidfeld.
The final two points places went to Toyota's Timo Glock in seventh and Renault's Nelson Piquet in eighth. Red Bull's David Coulthard recovered from his poor qualifying to finish 10, behind Sebastian Vettel, while Jenson Button could only manage 16th – last but one among those who finished.
Coulthard said: "I had a reasonable start and thereafter was trying to manage tyre degeneration on the option and the prime. I tried to keep out of racing too much with the two stoppers so I wouldn't lose time, but ultimately I don't think there was much more I could have done from our grid position than 10th."
Button struggled with his car all weekend and was outperformed by Barrichello, who finished 11th. The Englishman said: "The race today was more exciting than the last couple have been at least and I had some fun overtaking Sutil and Nakajima into the hairpin at the start.
"From then I really struggled with the car and from being stuck behind Coulthard for much of the race. After my final pitstop I had a clear stint on the option tyre and the car balance felt reasonable, but I had very poor traction and corner apex understeer.
"So overall a frustrating race as I wasn't able to find out my true pace on the prime tyre in clean air."
Joining Kovalainen among the retirements were Jarno Trulli, victim of a first-corner tangle with Sebastien Bourdais that also wrecked the Frenchman's race, and Adrian Sutil, who lost the ability to select gears and coasted to a halt on lap 13.