The Indy Racing League's 2009 schedule will feature 10 ovals, three permanent road courses, five temporary street or airport circuits – and a lot of grumbles from fans who reckon the IRL's got it completely wrong.
When the league absorbed the Champ Car World Series before the current season began, it suggested its first post-merger schedule would be based on a "blank piece of paper" – but there is much that is familiar in what has been announced.
Only one of this year's venues has been dropped – Nashville, where the rough concrete oval quickly develops a single safe line so marked that slower drivers dare not pull out to be lapped and leaders consequently find their races compromised.
Two traditional Champ Car venues have been added with the official adoption of the Long Beach race and the addition of Toronto – but there was no room for other fan favourites from the old series such as Road America, Portland or Cleveland.
And IndyCar traditionalists unhappy with the schedue have complained about the increased proportion of road and street circuits and the failure to include oval race tracks in New Hampshire and Las Vegas.
Potentially worst of all, some long-standing events have been reshuffled to new dates, creating a very real possibility that interest in the season could fizzle out towards its end, with the title settled away from fans at a race outside North America, or at a poorly promoted and attended final event.
Apart from the traditional month-long build-up to the Indy 500 on May 24th, there will be three or four races every month from April, giving fans a regular diet of action while avoiding this year's punishing run of six consecutve weekends.
But after the visit to Belle Isle on September 6th, the schedule falters to a halt in much the same way that Champ Car's final season did.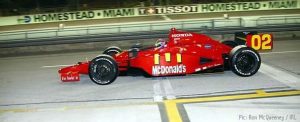 The Japanese race at Twin Ring Motegi is shifted from early in the season to September 19th, where organisers hope for better weather. And talks are continuing to bring Australia's Surfers Paradise onto the schedule – presumably in the gap between Motegi and the season finale, which is set for October 11th.
This means the series championship may well be decided on the other side of the world from the IRL's fanbase in the United States, during a period of more than a month when the league is far away from the hearts and minds of sports fans.
And if that doesn't make it difficult enough to carry momentum and excitement into the final race of the season, this last contest will now be at Homestead-Miami Speedway, which is a circuit owned and promoted by the International Speedway Corporation – owners of the IRL's arch rivals NASCAR, on a date that puts it head-to-head with a University of Miami college football match.
"Half road/street, half oval, no sense," was the verdict of the My Name Is IRL blog, while journalist and commentator Chris Estrada wrote: "To think, just five years ago, there were no twisty tracks on the schedule. Now, we may see the oval majority go away by 2010. It's one thing to undergo an evolution. It's another to go about it in a bad fashion. And I think the IRL is definitely going about their evolution in a bad fashion."
IRL commercial president Terry Angstadt defended the new schedule as "three-dimensional chess" that had been extremely difficult to develop: "It has been a challenge, but a wonderful one to have because of the number of venues that are capable of hosting our races.
"When unification was announced earlier this year, we talked about the opportunity of developing future schedules on a blank piece of paper and with today's announcement we have a solid foundation for developing a consistent, long-term schedule for the IndyCar Series."
And IRL chief Brian Barnhart said: "Looking ahead to 2009, and with one season of unification under our belts, we know that the IndyCar Series continues to offer the most diverse schedule in all of motorsports.
"As our schedule has evolved in the past few years, the race for the IndyCar Series championship has become one that demands the ability of both drivers and teams to master a variety of venues and the challenges each one brings with the end result being a true champion."
2009 IndyCar schedule
Sunday April 5: Streets of St. Petersburg – 1.8-mile street course
Sunday April 19: Streets of Long Beach – 1.9-mile street course
Sunday April 28: Kansas Speedway – 1.5-mile oval
Sunday May 24: Indianapolis Motor Speedway (The Indy 500) – 2.5-mile oval
Sunday May 31: The Milwaukee Mile – 1-mile oval
Saturday June 6: Texas Motor Speedway – 1.5-mile oval
Sunday June 21: Iowa Speedway – 0.875-mile oval
Saturday June 27: Richmond International Raceway – 0.75-mile oval
Sunday July 5: Watkins Glen International – 3.4-mile road course
Sunday July 12: Streets of Toronto – 1.721-mile street course
Sunday July 26: Edmonton City Centre Airport – 1.973-mile airport course
Saturday August 1: Kentucky Speedway – 1.5-mile oval
Sunday August 9: Mid-Ohio Sports Car Course – 2.258-mile road course
Saturday August 23 Infineon Raceway – 2.245-mile road course
Saturday August 29: Chicagoland Speedway – 1.5-mile oval
Sunday September 6: The Raceway at Belle Isle Park – 2.096-mile street course
Saturday September 19: Twin Ring Motegi – 1.5-mile oval
Sunday October 11: Homestead-Miami Speedway – 1.5-mile oval