Dario Franchitti took pole for the Honda Indy in Toronto as his championship rivals all failed to make the cut to join the shoot-out that decided the top six qualifiers.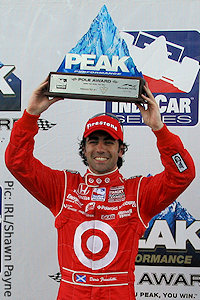 Instead of the Ganassi driver's team-mate Scott Dixon and their Penske rivals Helio Castroneves and Ryan Briscoe, he will line up beside Penske reserve driver Will Power and ahead of a mix from up-and-coming and midfield teams.
Sheffield's Justin Wilson, who broke Dale Coyne's 25-year wait for a winner in the last race at Watkins Glen, starts fourth, while his former team-mate Graham Rahal is one place ahead of him.
Wilson said: "I thought it was a reasonable day, things went quite well – but we weren't just quite quick enough. We started out quite loose, struggling to get the power down, struggling for grip. We kept working on it, kept making improvements.
"Quite pleased with what we managed to do on the used reds. Unfortunately it wasn't enough to beat Dario. He was on good form as well as Graham and Will. I'm pretty pleased with fourth. Hopefully we'll have a trouble-free race and we'll move forward."
Rahal's father Bobby shunted Franchitti out of contention in Toronto at the first corner back in 1997, when the Scot had earned his first North American pole. "Looking at the grid, I think Graham is third. In 1997 when I got my first pole, his dad qualified third and took me out in the first corner. So I'm going to have a word with the next generation and talk to Graham and work things out for tomorrow morning so we can get through Turn 1." he laughed.
"The car was good out of the box," he added. "The lap that I did in the Fast Six, I came in afterwards and said basically, That's it. That was a helluva lap. That was as good of a lap as I've driven around here. If they can go quicker, let them have it, because that's all she's got. I was very happy with the car and the job I did today."
The final two places in the Firestone Fast Six shoot-out were taken by Canadian driver Alex Tagliani and British rookie Mike Conway, who followed up his excellent finish at the Glen with a strong showing in the first two qualification sessions.
He was unhappy not to have performed better in the pole shoot-out, however: "I'm pretty disappointed, really. We were top six, obviously that's good, but I thought we would have been able to stay at least fourth or something. But we really didn't have the grip at the end there. Still a good job from the Valspar guys, the No. 24 car."
Although qualifying proved harder than expected for some stars – none of the four Andretti Green drivers or local hero Paul Tracy made it out of the first session – it was considerably easier than it had appeared it might be during the morning, when practice was cut short by a thunderstorm on the circuit and several drivers span on the wet track.
Among them was AGR's Tony Kanaan, who said: "Obviously, it's been a frustrating day for me and for the whole team. I was going 65 mph when I hit the wall this morning. I'd only done a few corners and it was like I hit ice. You feel like such a wanker because I wasn't trying to go fast. "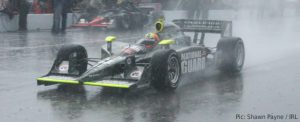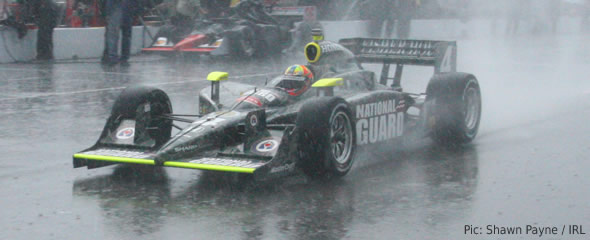 Dan Wheldon's problems came in qualifying itself, however, when he found himself stranded in the first session with one of the slowest times. He will start 21st of 23. "We're a ways off, and obviously we're missing something fundamentally that we're going to continue to work hard to find," he said.
"As you could see at Watkins Glen, Marco [Andretti] and [E.J.] Viso came back from basically a lap down to score a good result. We'll stay positive and look at the data and try to work and get a good result for the National Guard Panther Racing No. 4 car tomorrow."
Honda Indy starting line-up
Dario Franchitti, Ganassi
Will Power, Team Penske
Graham Rahal, Newman/Haas/Lanigan
Justin Wilson, Dale Coyne
Alex Tagliani, Conquest
Mike Conway, Dreyer & Reinbold
Robert Doornbos, Newman/Haas/Lanigan
Scott Dixon, Ganassi
Raphael Matos, Luczo Dragon
Helio Castroneves, Team Penske
Ryan Briscoe, Team Penske
Ryan Hunter-Reay, Foyt
Mario Moraes, KV
Tomas Scheckter, Dreyer & Reinbold
Paul Tracy, KV
EJ Viso, HVM
Marco Andretti, Andretti Green
Danica Patrick, Andretti Green
Ed Carpenter, Vision
Tony Kanaan, Andretti Green
Dan Wheldon, Panther
Hideki Mutoh, Andretti Green
Richard Antinucci, 3G