Dario Franchitti rode his luck, a fast car and some controversial decisions by race control to take victory in Toronto and regain the lead of the IndyCar Series championship.
An action-packed race saw a mix of teams hit the front and home favourites Paul Tracy and Alex Tagliani feature strongly, but in the end the top four were all drawn from front-runner outfits Target Chip Ganassi Racing and Team Penske.
Behind Franchitti came Penske's two Australian drivers, the full-time Ryan Briscoe and his part-time colleague Will Power, followed by Franchitti's Ganassi team-mate Scott Dixon. Watkins Glen winner Justin Wilson and Andretti Green Racing's Danica Patrick rounded out the top six.
The Penske pair both recovered after being forced into the pits with cut tyres on lap one. Power, who is running a partial schedule for Team Penske after being hired as insurance in case Helio Castroneves lost his tax evasion case, said: "That's what I call a race."
Franchitti said: "It's great to be back in Canada and bring the Target car to Victory Lane. It was a tough race – through good strategy, a fast car and pushing like hell, we got there.
"I guess we timed it right with strategy. We really struggled in that first stint, towards the end. Then I got stuck by some really slow cars in the middle stint – Moraes in particular didn't do the same thing twice in any corner, so I just stayed out of his way, but I couldn't get past him.
"Then we came in [to the pits] just as it went yellow, and it helped me get close to the front. I passed a couple cars and then, on the restarts, I was able to take off. The Target car was fast on the restarts and we were really able to take off. It's 10 years since my first win here and it feels good."
Like Power, Tracy and Tagliani both underlined their claims to full-time IRL drives by racing at the front for much of the day – but neither was able to stay there to the end.
Tracy scythed through the field from a 15th-place start to run second, then slipped back in the pitstops. Battling back, he locked wheels with Castroneves while trying to pass him to regain second and was forced into the wall, eliminating both cars. The two drivers have a long and turbulent rivalry, but each agreed it was a blameless racing incident.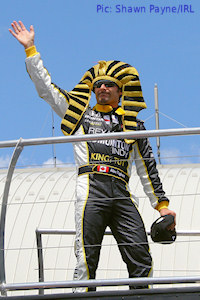 Tagliani finished ninth after losing ground due to the caution period that helped Franchitti, and a three-way tangle with Tomas Scheckter and Mario Moraes after the latter lost his front wing hitting EJ Viso.
The increasingly-unpopular Moraes managed to hit EJ Viso a second time after the race had finished. He claimed afterwards that the Venezuelan was obstructing him as he tried to lap him, but Viso said: "The race was over. I already had my visor open, I was drinking water – you can see it in the video – and he came once more. He just hit me and spun me in the back straight. I can't understand what he was thinking."
Scheckter was also unhappy with Tagliani after being dumped out of a race that he, too, had led, throwing his gloves at the Canadian's car when he came round on his next lap following the incident: "I passed him and then I got a hit from behind. Just uncalled for, people racing with no brains."
Franchitti now leads the title race by two points over Dixon after talking the maximum score from the weekend, including the bonuses for pole position and leading the most laps – but his victory was not without controversy.
Coming into the pits on lap 59, the Scot arrived just as a caution flag came out for an accident, which would normally result in the pitlane being closed. Drivers with no option but to pit for fuel are allowed the minimum necessary to continue but must come in again when the pitlane reopens to properly refuel and do any other necessary work such as changing tyres – a rule that cost Franchitti victory two races ago in Richmond.
But, in Toronto, race control ruled he was sufficiently committed to entering the pitlane for him to be allowed to have a proper stop, then instructed Tracy to let him through into second place on his exit.
He said: "It went full course yellow when I was about a third of the way down pit lane for my second stop, which helped us get back up towards the front. We came out of the pits and, according to electronic data, I was ahead. As I understand it, the guys on the timing stand were arguing about it and they hadn't told Paul about it.
"As soon as they told Paul, Paul let me through there into the position. That definitely helped. When P.T. actually wrecked and was getting out of his car, I went by and he gave me kind of a 'get on with it' signal. That was a bit of motivation, nice to see."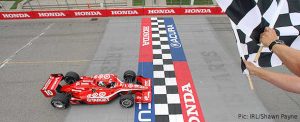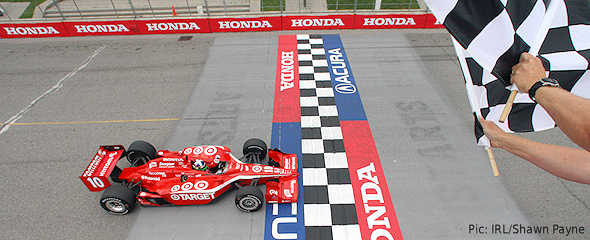 Tracy said enough afterwards to suggest Franchitti may have misinterpreted the gesture: "I'm baffled that we weren't the theoretical leader on the track. I passed Dario while he was in the pit lane and they reversed the position. I've never seen that happen in all my days of racing where you beat a guy out on the track while he's still in the pit and you change positions."
His team's co-owner Jimmy Vasser added: "Dario went in the pits on yellow, and we went by him. I'm flabbergasted, and I've never seen such a rule like that. I guess because timing and scoring was frozen, it let him back by. By that thought, anyone who stops on track gets their spot back."
And Briscoe said. "I think Dario got a bit lucky on that yellow; if it was me, I'd hit the pit closed and have to pit twice."
Wilson's fifth place was one worse than his younger brother Stefan had managed in the Indy Lights race the day before. After his vctory the previous week, and racing on a circuit where he had won in Champ Car, he had been hoping for more.
He said: "It was ok, not too bad. Thats how it goes some days. We just had to survive and it was pretty tough out there. I think it got us some good points, but that's racing, you just have to keep working at it and sometimes things go your way and sometimes they don't.
"I think Will [Power] got a run on me to get position, and then he was just plain blocking, so since that last restart he slowed right down and let the leaders pull away and then did his own restart. It's just how it goes. We beat up on Penske and Ganassi last week and they got their own back this week."
Mike Conway, who finished sixth last week at the Glen, ran as high as third at Toronto but crashed out immediately after pitting. Interviewed on live radio afterwards he said he hit the wall after running onto "lots of shit and dirt" and losing control.
Dan Wheldon's race-wrecking accident came earlier, on lap eight, when an optimistic attempted pass by Richard Antinucci sent him into the wall. He restarted the car and went on to finish 14th of the 15 finishers from the 23-strong field.
He said: "I must say it was a difficult weekend for all of us on the National Guard Panther Racing team. We all worked extremely hard, especially during the race, but we all know that we can do better. Some of the best cars I've driven this year have been on the road and street courses, so we're all looking forward to a break next weekend and then we'll all bounce back in Edmonton. It's times like these that you grow stronger as a group, and in the long run we'll learn from experiences like this."
Honda Indy Toronto 2009 results
Dario Franchitti, Ganassi
Ryan Briscoe, Penske
Will Power, Penske
Scott Dixon, Ganassi
Justin Wilson, Dale Coyne
Danica Patrick, Andretti Green
Ryan Hunter-Reay, Foyt
Marco Andretti, Andretti Green
Alex Tagliani, Conquest
Raphael Matos, Luczo Dragon
Mario Moraes, KV
Hideki Mutoh, Andretti Green
EJ Viso, HVM
Dan Wheldon, Panther
Ed Carpenter, Vision
Tomas Scheckter, Dreyer & Reinbold
Tony Kanaan, Andretti Green
Helio Castroneves, Penske
Paul Tracy, KV
Graham Rahal, Newman/Haas/Lanigan
Richard Antinucci, 3G
Mike Conway, Dreyer & Reinbold
Robert Doornbos, Newman/Haas/Lanigan