Scott Dixon's seemingly-unstoppable march to this year's IRL championship continued in Kentucky with a last lap overtake of the luckless Helio Castroneves to take victory in the Meijer Indy 300.
The Brazilian had been nursing home a car short of fuel, hoping to win by taking one fewer pit stops – but he had to sacrifice so much speed to keep the car running that Dixon was able to sweep past on the final corner.
The Target Chip Ganassi driver has now won six races this season, tying the record set by his team-mate Dan Wheldon when the Englishman was at Andretti Green Racing.
By contrast, Castroneves has finished runner-up seven times this year, including the last three races, and seems unable to take the chequered flag first for love nor money. He now trails Dixon by 78 points, with just three races left.
Dixon started from pole and led 151 of the 200 laps, but his victory was far from inevitable at any point in the race.
Drivers realised early in the weekend that tyre manufacturers Firestone had provided a grippy compound that would allow exceptionally close racing – and so it proved, with cars racing wheel-to-wheel, or glued to each others' bumpers, for much of the contest.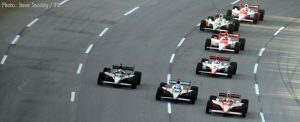 Dixon first had to fight off the challenge of Panther Racing's Vitor Meira, who started from second and eventually passed the New Zealander on lap 45. Five laps later the first round of pitstops began and Dixon was out in front again.
Marco Andretti was the next challenger after a charge to the front took him past Wheldon into second on lap 90. He was soon racing side-by-side with Dixon, but it took until lap 122 for him to make the pass – and only then because Dixon, on the inside line, was briefly caught behind another car that was slowing to enter the pits and fell to third.
A Milka Duno crash on lap 134 brought out the yellow flag and the field took the chance to pit, Dixon emerging into the lead with Andretti again locked to his wing in second. But as he battled to overtake, Castroneves and his Team Penske strategists were making the decision that would ultimately decide the race.
The Brazilian had spent the afternoon running anonymously, so on lap 143 he pitted to refuel in the hope that he could now last to the end of the race without coming in again. Everybody else, the team knew, would likely need to make a quick splash-and-dash towards the end.
Andretti again managed to grab the lead when Dixon found himself obstructed, but as the race neared its end events seemed to be unfolding in the direction of Castroneves. Andretti pitted on lap 189, Dixon on 194, and the Penske driver now held an advantage of more than six seconds over the championship leader.
Unfortunately for his hopes, he was by now running on fumes and having to reduce power to conserve fuel. By the start of the final lap Dixon had cut the lead to just over half a second, and on the exit of the last corner he breezed past to take the win.
Castroneves just held off Andretti to secure second, with Meira fourth, Wheldon fifth and Ed Carpenter sixth for Vision Racing.
Afterwards, Castroneves said: "We took a chance – I can't believe how close we were. Coming out of the last turn, the fuel pressure went on and I started to lift. I was just a few hundred yards short. I have to thank Tim Cindric and Team Penske for the great strategy. We did not have the car, unfortunately, so I'm extremely happy with second."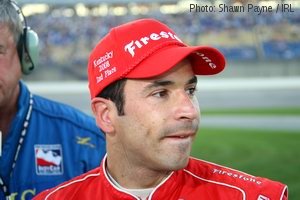 But the stunned look on his face as he wandered alone away from his car afterwards suggested otherwise.
Dixon, who lost the championship last year to Dario Franchitti on the final corner of the final race in similar circumstances, said: "What a day. It was strategy in the end, it was crazy. There was no way we were going to catch him. He was half the track ahead of us. I knew our car was probably quicker than his, but not 20 miles per hour faster.
"I think we tried to play it kind of safe and just be conservative. Even in traffic we really didn't rush things. The car was fantastic. We didn't have as much speed, actually, as we thought we did, especially in practice and qualifying. The car was super fast. We had a couple of guys that definitely sped up, with Meira and Marco toward the end, their cars were very fast."
Andretti agreed, saying "we have got to start capitalising on these cars that can win these races", while Meira was just happy with one of his best results of the season: "We gained points, and we gained everything else, so we are happy that we had an overall good day even though we would have liked to see the win."
Wheldon, who ran in the black Polaroid-sponsored livery that he had crashed in Texas practice, clearly enjoyed the close racing, but recognised he had been slightly off the pace: "I didn't seem to quite have enough. It was a very competitive race, and I am really happy for Scott Dixon and all the guys at Target Chip Ganassi.
"I was having trouble finding speed, and Tony Kanaan just wasn't going to let me have it easy, but that's good racing. It was a good race. We lost a lot of spots in the pits on that last one, and it is difficult to get them back.
"It seemed I had it going pretty good in the draft, but when I got outside I wasn't quite quick enough. It was a competitive race, and it seemed like we rode pretty well, just a little bit short."
Elswhere in the field, Sarah Fisher looked set for a creditable 11th-place finish in her new team's first race since the Indy 500, but a last-lap right rear bearing failure sent her plunging down the field to an eventual 15th.
She said: "It started vibrating and slowing down. I was just hoping that it would make it to the end, but it didn't. At least we kept it out of the fence and came home. But it was a good showing for Sarah Fisher Racing – we had a really good race and a really good race car tonight."
She will next compete in the season finale at Chicago.
Darren Manning retired after 147 laps in a car that lacked straight line speed and was classified 19th. He said: "The car was good – I was able to race with them and was really quick in the corners. We thought we had too much drag because it was slower on the straightaway but then we lost power. Maybe something else was going on. It's really disappointing for everyone."
The AJ Foyt Racing driver was blamed by fellow Englishman Justin Wilson for his bad start: "I was held up at the start by the guy in front of me. He couldn't make his mind up if he wanted to go on the green flag or if he wanted the bottom lane or the high lane. I think I was about second-to-last by the time I came out of the back straight. It was a frustrating start, but then we just picked them off one by one and worked our way back up."
But the best start in the world would not have saved his race, as both he and fellow Newman/Haas/Lanigan driver Graham Rahal were both felled by gearbox problems.
Wilson said: "I saw that Graham got a great start, and I was five or six places behind him. I was feeling comfortable and was catching the pack, but then I saw Graham have his problem, and I didn't know what had happened.
"About 10 or 15 laps later I couldn't keep up with the pack I had caught, and I was slowly dropping back. I guess that was the first sign, but I didn't realise it at the time. I was hoping that everyone else had picked up some speed, but we were actually getting slower. Eventually we were coming into the pits on the yellow and I was in Turn 2 and downshifted from sixth to fifth and got neutral and couldn't get a gear after that, and that was the end."