Justin Wilson won the Detroit Indy Grand Prix at Belle Isle to score his first IRL victory – but only after Helio Castroneves was ordered to surrender the lead for blocking the Englishman's overtaking attempts.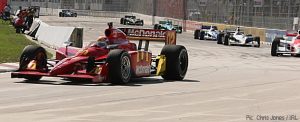 The Brazilian, who needs every available point to stand a chance of seizing the championship from Scott Dixon, had been in control of the race but saw a commanding lead evaporate when Dixon's team-mate Dan Wheldon crashed and caused a full-course yellow safety period.
On the restart he was challenged hard by Newman/Haas/Lanigan's Wilson but seemed to have successfully defended his lead. However a couple of laps later, on lap 73, race officials gave their verdict – Castroneves had unfairly blocked Wilson and would have to surrender the lead to him.
Brian Barnhart, IndyCar Series president of competition and operations, said: "We did what we did because it was a pretty easy call. He had a tremendous run out of Turn 12, and Helio crossed over almost the entire width of the track to impede the progress of the car behind him."
Once clear of the Penske driver, Wilson set the fastest lap of the race while building a winning lead.
Afterwards he said: "It was long tough day but we managed to stay clean. This means a lot – the most important race of my career.
"The first time, he was racing hard – it was just how it goes. The second time I had the inside, he came across and I had to lift off or we would both have crashed. I was a bit cross at the time, but relieved when the officials made their decision."
After the race Castroneves leaped from his car in a manic parody of his normal good humour, congratulating his crew as if he'd won.
He said: "I will not comment on anything that happened because I haven't anything clever to say. I was pushing hard, I was having a lot of fun. I'm going to shut up."
By the time the podium presentations took place he had regained his trademark smile, congratulating Wilson, ironically acknowledging his eighth runner-up spot of the season, and joining third placed Tony Kanaan in encouraging the famously tall Englishman to sit down on the top step in order not to dwarf the two Brazilians.
Castroneves' boss, Roger Penske, praised Wilson's driving – but expressed his disbelief in the decision, which dramatically cut the amount of points his driver had been able to shave off Dixon's championship lead ahead of the final race.
Dixon, who finished fifth behind Oriol Servia, had little sympathy for the Penske protests: "It was pretty obvious, I don't know what they're moaning about. He was blocking really hard."
The championship battle remains alive going into the final race, which will be held at the 1.5-mile Chicagoland Speedway oval on September 7 – but even if Castroneves takes maximum points from the race, Dixon's 30-point lead means he is still hot favourite take the title.