Sebastian Vettel served notice that he doesn't plan to concede the World Championship battle to Jenson Button just yet by seizing pole position for the Turkish Grand Prix from the Englishman at the last gasp.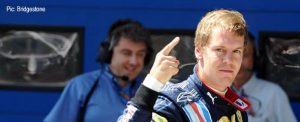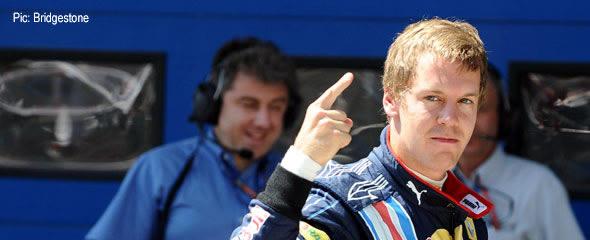 A frantic final few moments saw Vettel's team-mate Mark Webber briefly set the fastest time, only for Button and Brawn GP colleague Rubens Barrichello to both top him. Vettel than snuck in with the fastest lap of all.
But the publication of the weights of the qualifying cars revealed that the championship leader will likely be able to run a couple of laps further than the German, with Vettel predicted to come in on lap 15, Barrichello on 16, and Webber and Button both on 17.
Row three on the grid will be Jarno Trulli and Kimi Raikkonen, with Felipe Massa and Fernando Alonso behind them. Nico Rosberg and Robert Kubica round out the top 10.
McLaren struggled again, with Lewis Hamilton failing to advance from the first qualifying session and ending up 16th, sharing row eight with Adrian Sutil who took his Force India into session two for the second race in a row. Heikki Kovalainen starts 14th.
Button said after the session: "With the changes to the set-up that we made overnight, the car felt much better today and we were really able to get to grips with improving the pace. It's great to be starting on the front row, although of course I would prefer to be on pole, but Sebastian did a great job.
"It was quite difficult to choose between the tyres today as their performance was quite similar. The prime was a little too twitchy for my liking so I continued to run the option tyre for Q3 which had a more gradual and rolling feel.
"It should be a good race tomorrow as I really enjoy this circuit and you can overtake here so there will hopefully be some good battles out on the track. We will be trying very hard to change the statistic that everyone who has started from pole here has won the race."
Team principal Ross Brawn added: "A real team performance today to turn around what was an uncharacteristically challenging Friday for us.
"A lot of hard work overnight from the drivers, engineers and technicians, both here and at the factory in Brackley, resolved the issues that we faced and gave us the pace to that we needed to compete at the front in qualifying.
"Jenson and Rubens had different preferences for the tyres today so we adopted two very different strategies for Q3, both of which paid off with top three grid positions. We know that the car performs well with fuel so that gives us confidence for the race tomorrow."
According to McLaren, Hamilton initially reported that the front of his car felt well-balanced but that he struggled to get the rear end working for him or to find any grip on either the prime or the option tyre.
He said: "The car felt great this morning. It was very well-balanced at the front but we still had to work to get the rear working properly. We anticipated this weekend would be a bit like Barcelona and that looks like being the case.
"Our car seems to have got slower relative to the others as the grip has gone down on the track. I pushed as hard as I could today but I just had no grip out there.
"We now need to make sure we don't rush into making too many changes to the car for the forthcoming races: we'll take our time, refine things and sort out the problem with our car.
"The team has done a fantastic job though: they really have been working night and day with the same determination and drive as ever. This is clearly going to be a challenging year for us, but I have no doubts that we'll bounce back."
Team principal Martin Whitmarsh added: "At the risk of stating the obvious, today's qualifying session was a pretty disappointing one for us.
"Having said that, we didn't allow our pace yesterday to cause us to be unduly optimistic about our prospects for today and tomorrow, simply because we'd been aware for some time that our car wouldn't perform particularly well on the Istanbul Park circuit's higher-speed corners.
"The fact is that, such is the level of competitiveness all through the field in modern-day Formula 1, it's very difficult to get into Q3 if your car is in any way sub-optimal."
The grid for Istanbul Park
Sebastian Vettel, Red Bull: 1:28.316 (649.5 kg)
Jenson Button, Brawn: 1:28.421 (655.5 kg)
Rubens Barrichello. Brawn: 1:28.579 (652.5 kg)
Mark Webber, Red Bull: 1:28.613 (656 kg)
Jarno Trulli, Toyota: 1:28.666 (652 kg)
Kimi Raikkonen, Ferrari: 1:28.815 (658 kg)
Felipe Massa, Ferrari: 1:28.858 (654 kg)
Fernando Alonso, Renault: 1:29.075 (644.5 kg)
Nico Rosberg, Williams: 1:29.191 (660 kg)
Robert Kubica, BMW Sauber: 1:29.357 (664 kg)
Nick Heidfeld, BMW Sauber: 1:27.521 (681.5 kg)
Kazuki Nakajima, Williams: 1:27.629 (680.4 kg)
Timo Glock, Toyota: 1:27.795 (689 kg)
Heikki Kovalainen, McLaren: 1:28.207 (665 kg)
Adrian Sutil, Force India: 1:28.391 (668.5 kg)
Lewis Hamilton, McLaren: 1:28.318 (696.5 kg)
Nelson A Piquet, Renault: 1:28.582 (689.6 kg)
Sebastien Buemi, Toro Rosso: 1:28.708 (686.5 kg)
Giancarlo Fisichella, Force India: 1:28.717 (688.5 kg)
Sebastien Bourdais, Toro Rosso: 1:28.918 (701 kg)