Indianapolis 500 champion Dan Wheldon has been killed in a 220mph multi-car accident as the IndyCar Series' season-ending celebration turned to heartbreak and disaster.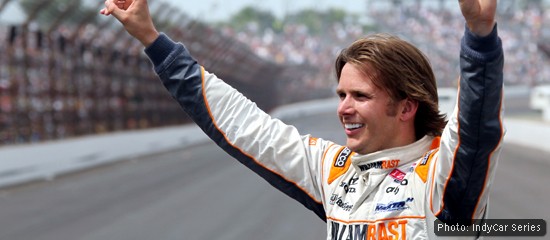 The 33-year-old from Emberton in Buckinghamshire was one of 15 drivers caught up in a lap 12 crash that saw cars flying through the air and bursting into flames as they hit the wall of the 220mph Las Vegas Motor Speedway.
Series CEO Randy Barnard confirmed the news two hours after the race was red-flagged, announcing that the drivers with undamaged cars would do five laps of the circuit as a salute to their fallen rival and comrade.
New series champion Dario Franchitti sat sobbing in his car as he prepared for the tribute, as news emerged that he and Tony Kanaan – two of Wheldon's closest friends in the series – had taken on the heavy task of breaking the news of his death to the other drivers.
Barnard's announcement to the press that Wheldon had "passed away from unsurvivable injuries" came after a period when the mood at the circuit had grown grimmer and grimmer as the silence from the University Medical Centre continued.
In the immediate aftermath, veteran racer Davey Hamilton, who survived a serious accident in the series a decade ago, told American television: "All I could see was cars flying and going upside down. It's without a doubt the worst thing I've seen in my racing career. It's sad, man. It's sad."
Tomas Schekter, another driver caught in the crash, said on Twitter immediately after: "Leaving track, don't want to hear news, seen enough. Walked past something I pray never to see again."
Injured drivers included Britain's Pippa Mann, who was driven to University Medical Centre after struggling to stand unaided when helped from her car, and championship contender Will Power who suffered back pain.
But by far the most serious fears were over Wheldon, who was competing for a $5m purse that he would share with a randomly chosen fan if he could win the race despite starting on the back row.
He had already gained 10 places in the first dozen laps when disaster struck. An impact further up the field triggered a chain reaction that sent Wheldon, Power and one other driver – reported by some to be Mann – flying high into the catch fence.
Several cars erupted into flames as the high-speed oval was reduced to what many drivers later described as looking like a scene from a war movie.
One-by-one the affected drivers climbed – or were helped – from the wreckage of their cars, eventually leaving the focus of everyone's fears as Wheldon, who was airlifted to University Medical Centre with his family following by road.
Although Franchitti's wife Ashley Judd raised hopes by tweeting how her husband had been told his vital signs were strong, his injuries proved too great.
Power's retirement handed Franchitti his fourth series championship, but the Target Chip Ganassi driver was one of many who criticised the decision to hold the race at all.
He told American television: "Within five laps people were starting to do crazy stuff. I love hard racing, but that, to me, is not really what it's about.
"I said before we tested here, having driven a stock car here, this is not a suitable track. We've seen it today. You can't get away from anybody. People get frustrated and go four-wide. You saw what happens."
Wheldon started his career in England but crossed the Atlantic in 1999, moving up to the IndyCar Series in 2002. He won the 2005 championship and that year's Indianapolis 500, but was pipped to the following year's title on a tiebreak.
In recent years he found drives harder to come by, but he won this year's Indy 500 as a one-shot entry for Bryan Herta Autosports when leader JR Hildebrand crashed on the final corner.
That led to the idea of his entering the Las Vegas season finale from the back of the field – a gamble aimed at promoting the IndyCar Series that instead lead to the most tragic of outcomes.