With season four of A1GP done and dusted, the self-styled World Cup of Motorsport increasingly looks like the hero of an action movie, crossing a bottomless chasm on a bridge that collapses behind him as he runs.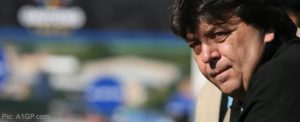 Ahead lies the real possibility it might be about to establish itself in the top flight of racing series. But its chances of surviving the global financial crisis to reach that goal are on a knife-edge.
Without a doubt, this year has seen A1GP attract partners, competitors and races that vastly increase its credibility.
Ferrari came on board early, providing engines, design inspiration for the new-style cars, and evidence that A1GP's desire to play with the grown-ups was not just a pipe dream.
The quality of drivers improved, with Robert Doornbos, Marco Andretti and Vitantonio Liuzzi proving that the series could attract racers who still had unfinished business in Formula One and the Indy Racing League.
And momentum was further built by a series of coups such as attracting IndyCar aristocracy Andretti Green Racing to run the American team, seeing series leader (and eventual winner) Adam Carroll invited to take part in the Race of Champions, and picking up the iconic Surfers Paradise race on Australia's Gold Coast when the IRL failed to come to agreement over dates with the organisers.
In short, with the series already well-embedded in Europe, Australasia and the Far East, and now hopeful of cracking North America through Andretti Green, all the signs are in place that A1GP is on the verge of arriving as perhaps the only properly global open-wheel racing contest.
But this will only happen if it can survive to put its cars on track for season five – something that even its most ardent supporters fear might be beyond it.
Troubled teams, points problems
Here in the UK we have seen the British team effectively cease to exist, with its parent company in administration and the red, white and blue car with the Union Flag decoration sent out on track with the help of the series itself.
But it's not just the Brits that have suffered.
Previous champions Germany ran only the second half of the season after they, too, were rescued with the help of A1GP boss Tony Teixeira. Canada was listed on the series website all year as a contender, but never seen on track. South Korea, one of the two new entrants this year, ran at the first couple of events and disappeared, never to be seen again.
Adam Khan's Team Pakistan barely managed to put a wheel on track all year, competing in no races, running an ill-fated pre-season test that demonstrated how he was too tall to fit in the car, then managing one sole testing session in South Africa in what appeared a half-hearted bid to pick up the season part-way through. The team's fans are well on the way to losing patience with him.
The points system had to be rapidly amended to take into account the debacle of the first race weekend of the season, when several teams were unable to compete because their cars had not yet been delivered to them. Defending champions Switzerland were only able to take part by borrowing Team Pakistan's machine.
Even by the South African race, with the season half completed, production problems in the centrally-produced cars had not been fully ironed out – the series decided its cars would need special parts in their fuel systems to cope with the high-altitude Kyalami circuit, but then couldn't supply enough in time for the early practice sessions.
Cancelled races and sceptical fans
But at least the South African races took place. No fewer than four weekends of the 11 originally planned failed to happen – the Italian round because of car delays, Indonesia because the circuit failed its FIA check, a 'venue to be announced' race on March 29 that never materialised, and finally the Mexico City races were cancelled twice, once for a rock concert and once for swine flu.
A brutal editorial in the New Zealand Herald by Eric Thompson – a self-confessed fan – painted a picture of a cash-strapped series lurching from crisis to crisis, barely able to scrape together the money to transport its cars to New Zealand and South Africa and clutching at the swine flu pandemic as an excuse to save the cost of racing in Mexico.
He wrote: "The less-than-full truth coming out of A1 headquarters, along with the lame excuses for cancelling various rounds, doesn't help the scepticism abounding about the series' future.
"The once-mighty 11-round series has staggered, lurched, stumbled and fizzled to a dismal seven-round event fraught with money worries and impounded cars.
"Consequently, I would probably hazard a guess nobody will be getting a visit next year."
He did, however, end by hoping a "white knight" was out there somewhere, ready to ride to A1GP's rescue.
Seatholders open the escape hatch
If the series doesn't come back, some team seat-holders are already making plans for what to do next. Team Ireland's Mark Gallagher, the proud possessor of both the championship trophy and an ambitious, talented driver in the form of Adam Carroll, has spoken of his hopes of extending his outfit's scope to other race series – up to and including the F1 feeder championships, GP2 and F2.
But not every seatholder is doubtful about the future. Australia team boss, and former F1 champion, Alan Jones says the series will be financially sound for at least the next couple of years.
He said: "According to Tony Teixeira he has just undertaken a deal that will financially secure A1 the next season and the season after. I can guarantee we will be on the grid in Surfers Paradise. He has assured me he has secured funding and is very bullish about the future of it."
Teixeira himself said 12 races were secure for next season, with eight of them paying fees to the series in order to host the event.
He told the Express: "The fact is that Mexico is a great fan base for us but, as a race, at the moment it costs us money. So Britain is the ideal place to finish off a season which has seen great racing but, frankly, was a bit disappointing.
"The great thing is that we have restructured the series. Next season we will be much fitter financially, leaner and with some great sponsors earning value. Our Ferrari link-up with their cars has been fantastic and next season we will have 12 races, eight of them paying fees — our best ever.
"In four seasons we have become established in all the places who cannot afford F1 and we have shown that our racing is as competitive and exciting as they provide. F1 is talking about a budget of £40million, although you can double that if you take in drivers' salaries and marketing. We run our teams, all-in, for £5million each."
But… can Teixeira pull it off?
He makes a convincing case – and his credibility is increased by his track record of staging four seasons of racing without a title sponsor, lucrative TV deal, or any other visible major source of income.
A1GP gains credibility on the track with each year it competes. But, if it is to maintain that growth, it can't afford another season like the one that's just finished, with races and teams dropping like flies.
All it needs is enough money committed to the series itself and to the teams for it to muddle through until the global economy improves. From what Teixeira says, that money has been found.
But in the present climate, no deal is safe until the cheque has been cashed – as Donington Park's Simon Gillett, grappling with the loss of bank support, is all too aware.
And because of that, no fan of the series will feel happy with relaxing just yet.