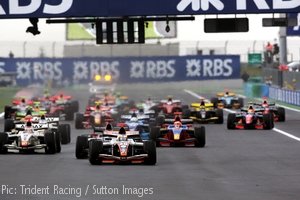 Fun while it lasted: Mike Conway leads the field away from pole.
Mike Conway's hopes of a second victory from pole position were dashed at a wet and slippery Magny-Cours, where success went to the teams that made the right tyre choices and the drivers who were best at sticking to the track.
Overnight rain ended just before the race began, leaving everyone with the difficult choice of whether to gamble on slicks or play safe with wet tyres.
In the end the slicks, though treacherous at first, proved to be the winning choice, with all three podium drivers opting for them.
Arden's Sébastien Buemi and Yelmer Buurman quietly worked their way through the field to score a one-two finish as series front-runners such as Romain Grosjean and Giorgio Pantano came to grief.
Buemi said: "We started in P21 – it's just unbelievable! I didn't think it was possible. I was hoping for the rain maybe to make things a little bit harder, maybe to have possibility to come back, but I didn't think we had the possibility to do so much."
Luca Filippe of ART took third, with Lucas di Grassi behind him. Bruno Senna was on a charge for much of the race but suffered mechanical problems and slipped back to fifth, with Conway in sixth.
The Trident driver started on wet tyres from pole and maintained his lead until being forced in for a change to slicks. In the end, he beat all but one of the cars that had started on wets.
He said: "My race was – of course – conditioned by the track's conditions, as the choice to start on slicks proved to be the right one. All the top starters elected to take off on rain tires, and it would have been dangerous to differ while starting on pole.
"I managed to stay in the lead in the initial laps, until a pit-stop became necessary. I'm glad to have made it to the points zone, as I'm looking forward to my home race at Silverstone, hoping to have a good weekend there."
Ben Hanley, no longer with Campos and subbing at Durango for the injured Davide Valsecchi, started 22nd and fought his way up to 10th place at one point before ending up in the gravel with just three laps remaining.
Team manager Luca Zerbini said: "For us this has been a very difficult weekend. Now we must carefully plan the next races in Silverstone where the return of Davide Valsecchi is planned."
Race positions:
S̩bastien Buemi РTrust Team Arden
Yelmer Buurman – Trust Team Arden
Luca Filippi – ART Grand Prix
Lucas di Grassi – Barwa Int. Campos Team
Bruno Senna – iSport International
Mike Conway – Trident Racing
Pastor Maldonado – Piquet Sports
Andreas Zuber – Piquet Sports
Kamui Kobayashi – Dams
Javier Villa – Racing Engineering
Marko Asmer – Fisichella Motor Sport Int.
AdrianValles – BCN Competicion
Carlos Iaconelli – BCN Competicion
Ho-Pin Tung – Trident Racing
Michael Herck – DPR
Roldan Rodriguez – Fisichella Motor Sport Int.
Alberto Valerio – Durango
Vitaly Petrov – Barwa Int. Campos Team
Not classified:
Alvaro Parente – Super Nova Racing
Ben Hanley – Durango
Diego Nunes – DPR
Giorgio Pantano – Racing Engineering
Karun Chandhok – iSport International
Romain Grosjean – ART Grand Prix
Andy Soucek – Super Nova Racing
Jérôme d'Ambrosio – Dams