Mark Webber and Rubens Barrichello outshone their team-mates in qualifying for the German Grand Prix, the Australian scoring his first-ever pole position as rain and equipment upgrades produced an exciting battle behind them.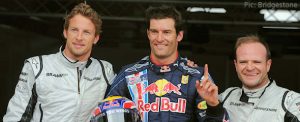 Webber had consistently looked fastest, but the changeable weather made choosing the right type of tyre as much a gamble as a challenge – and Barrichello jumped to the front of the second qualifying session by more than three seconds when he gambled on slicks as the rain was dying down.
He called the second session "crazy", Button said it was "madness, but it was good fun", and Webber reckoned he'd gone so far off the track in the last corner that he'd almost ended up in his hotel room.
By the time the third session was through, Webber had regained the upper hand despite being fuelled more heavily, but the two Brawn GP drivers split the Red Bull team-mates, forcing Silverstone winner Sebastian Vettel to start from fourth in front of his home fans.
Behind them was one of the surprise packages of the weekend – the reigning world champion Lewis Hamilton.
His fifth place tied his best qualifying performance of the season and demonstrated the success of McLaren's new approach to improving their underperforming car, described by team boss Martin Whitmarsh as "'What is it? Don't know how it works, but it's on another car, let's take it and put it on ours.'"
Hamilton said: "The car behaves really well – it feels great to have a car that you can really push into the corners." He will line up next to team-mate Heikki Kovaainen, who wasn't given the full car upgrade that Hamilton received but still managed sixth.
Possibly even more surprising than the sudden resurgence of the McLaren's was the seventh place taken by Force India's Adrian Sutil, who used the rainy confusion of Q2 to set the third-fastest time, then beat the Ferraris in Q3: "I'm really happy, for sure one of F1's happiest guys today," he said.
The first qualifying session had been cold, with Webber fastest and Fernando Alonso faster still until blocked by Toyota's Timo Glock. The German would later be penalised for obstruction, but it made little difference as he had only set the 19th-fastest time anyway.
The rain began during the final few minutes of the session, preventing Glock, Robert Kubica or Sebastien Bourdais from challenging the under-threat Nelson Piquet Jr for the final place in Q2. All three missed out, along with Sebastien Buemi and Giancarlo Fisichella – while Piquet went on to set the second-fastest time in Q2 and make it through to the pole shoot-out.
Q2 saw rain at the beginning, rain at the end, and a dry patch in the middle that allowed Barrichello, Sutil and Piquet to book their places Q3. Others, caught in the pits at the wrong time had to work harder. Hamilton and Button put in late laps to scramble through, while Alonso spun at the chicane and missed out.
In the final session, Hamilton put himself on provisional pole late in the session, but both Brawns and both Red Bulls still had laps in hand, and they used them to lock out the front two rows. Vettel was later penalised for an unsafe that led to a pitlane collision – but the punishment took the form of a fine and not a grid penalty.
Once the fuel weights were published it emerged that the Red Bulls are both fuelled more heavily than the Brawns, with Sutil also fuelled to stop later and Kovalainen running much heavier than Hamilton.
Button said: "Just getting into the final qualifying session was an achievement today so I'm really pleased to have qualified in third. It was a pretty eventful hour and Q2 in particular was madness but it was good fun. I thought it was too wet for slicks but Rubens made it work and we were able to switch tyres with just enough time to make my timed lap count.
"The race is going to be interesting as the forecast looks like it's going to be a mix of wet and dry conditions. We've improved the car since practice yesterday but it's still going to be tough to keep the tyres warm and you'll need a bit of luck with the weather. Congratulations to Mark on his first pole position today. We'll be doing everything possible to ensure that it doesn't become his first win tomorrow."
Ross Brawn said: "Both drivers were superb today. Rubens made an inspired call in Q2 to come in early for dry tyres and his direction was crucial in getting Jenson in and back onto slicks with enough time to complete his timed lap, which he did under great pressure as the rain fell again. Q3 was quite calm in comparison and both drivers were able to take full advantage of their well-balanced cars to get us into the top three."
McLaren boss Martin Whitmarsh joined Brawn in congratulating Mercedes on supplying engines to seven of the top 10 qualifiers, adding: "Everybody in this team has worked incredibly hard to bring these performance upgrades to the car and it's hugely gratifying for everyone that we can begin to see the results of all their efforts. Lewis and Heikki did a fantastic job in extremely difficult circumstances and Heikki's pace, in particular, was outstanding."
Hamilton said: "Unfortunately, the track got a bit better after I set my fastest lap, when it was a bit greasy, but for Heikki and me to line up sixth and fifth tomorrow is a great result for us. We're definitely in a position to fight for a podium, but trying to beat the Brawns and the Red Bulls will be difficult.
"The car is still a work-in-progress and there's a way to go – but this is really encouraging. I don't mind if it rains tomorrow but I'd just like a nice, smooth race."
The German Grand Prix grid and fuel weights
Times show the fastest lap in the latest session completed.
Mark Webber, Red Bull: 1:32.230 (Q3) 661kg
Rubens Barrichello, Brawn GP: 1:31.482 (Q3) 647kg
Jenson Button, Brawn GP: 1:32.473 (Q3) 644kg
Sebastian Vettel, Red Bull: 1:32.480 (Q3) 661kg
Lewis Hamilton, McLaren: 1:32.616 (Q3) 654.5kg
Heikki Kovalainen, McLaren: 1:33.859 (Q3) 664kg
Adrian Sutil, Force India: 1:34.316 (Q3) 678.5kg
Felipe Massa, Ferrari: 1:34.574 (Q3) 673.5kg
Kimi Räikkönen, Ferrari: 1:34.710 (Q3) 674kg
Nelson A Piquet, Renault: 1:34.803 (Q3) 676kg
Nick Heidfeld, BMW Sauber: 1:42.310 (Q2) 681kg
Fernando Alonso, Renault: 1:42.318 (Q2) 668.2kg
Kazuki Nakajima, Williams: 1:42.500 (Q2) 683.6kg
Jarno Trulli, Toyota: 1:42.771 (Q2) 683.7kg
Nico Rosberg, Williams: 1:42.859 (Q2) 689.6kg
Robert Kubica, BMW Sauber: 1:32.190 (Q1) 673.5kg
Sebastien Buemi, Toro Rosso: 1:32.251 (Q1) 674.5kg
Giancarlo Fisichella, Force India: 1:32.402 (Q1) 662.5kg
Timo Glock, Toyota: 1:32.423 (Q1) 689.5kg (demoted to 20th thanks to penalty)
Sebastien Bourdais, Toro Rosso: 1:33.559 (Q1) 689.5kg (promoted to 19th thanks to Glock's penalty)