Lewis Hamilton topped the timesheets on Friday as rain and cold weather at the Nurburgring caused problems for teams hoping to understand how their two types of tyres would function during the German Grand Prix weekend.
Unlike his team-mate Heikki Kovalainen, Hamilton had been given an upgraded car to try his luck with – and the team said this was the reason for his improved performance rather than a desire to show off at the home race of engine suppliers Mercedes.
Behind Hamilton, Red Bull had slightly the better of Brawn in the battle between the season's two top teams. Mark Webber beat Jenson Button to the fastest time of the first session while Sebastian Vettel was Hamilton's closest challenger in the second.
As might be expected from Silverstone, where Brawn saw a fall-off in performance caused by lower temperatures affecting their tyres, it was Red Bull that seemed better able to cope with the German weather.
"That was a pretty good day for us. We expected changeable and cool conditions, which are so typical of the Nurburgring, so there were no surprises with that," said Webber.
McLaren's notably detailed team statement said: "Lewis' first session was devoted to understanding and evaluating new aerodynamic components for the MP4-24 – principally a substantially revised floor section and matching top body.
"With modifications to the car carrying on into the first session, and with the morning's running briefly interrupted by a rain shower, Lewis completed just two runs and ended P1 in 13th position."
It went on to explain that Hamilton felt the car still lacked downforce after the session but noted a "definite improvement" from the new parts.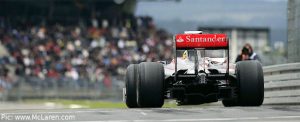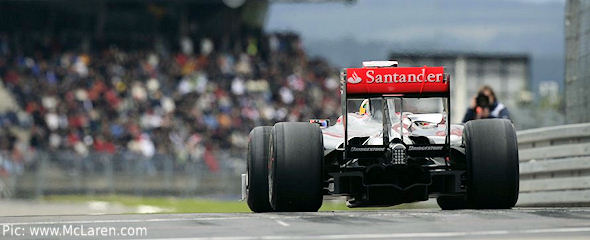 In an afternoon session briefly delayed by rain, he completed three runs, with a new FW5 front wing, which was checked by engineers against the performance of the old one, and the new package refined overall.
Hamilton said: "We've still got a long way to go but, most importantly, these new upgrades are pushing us in the right direction. It's a work in progress, but the guys back at the factory have done an incredible job to get these parts to the circuit.
"I've even heard of one guy working a 36-hour non-stop shift to build these parts, which is incredible. Hopefully we'll now do our job at the track and try to keep everything moving forward.
"It's still early days, and we shouldn't get ahead of ourselves, but I'm hopeful of being able to get into Q3 tomorrow and look at scoring a couple of points on Sunday afternoon."
Team principal Martin Whitmarsh added: "Although it is still early days, and I'm sure we've yet to see the strongest efforts from Red Bull Racing and Brawn GP, I think there are good signs of an improvement.
"It was a more difficult day for Heikki, who regrettably didn't have the new aerodynamic package upgrade, encountered traffic on his laps and generally had a much tougher afternoon. But he is a fighter, and I'm sure he'll have a strong weekend nonetheless."
Mercedes-Benz Motorsport boss Norbert Haug said: "This looked quite encouraging, I have to say, and definitely better than I'd anticipated before the sessions today.
"We certainly did not post 'show times' four our home race; our speed was genuine and quite a bit better than in the last races. I certainly don't expect us to be fastest tomorrow, but if everything comes together we probably will be in a position to deliver a solid job on race day."
With the company's top brass present at the stadium, and Brawn GP stealing the spotlight, McLaren will doubtless continue their recent hard work in the service of making his prediction come true.
Brawn GP, contending with a damp track and what it called "unseasonably chilly" temperatures, was concentrating on solving its recent problems with getting heat into its tyres.
It said that both its drivers focused on tyre evaluation in addition to developing the set-up of the car and "combating the lack of front end grip suffered in the first session" – ominous words for all who remember what happened at Silverstone.
Button said: "We had a reasonable day and were able to make good progress on the set-up of the car. We are still lacking in a few areas that we need to look at overnight and make improvements but overall today was a pretty good start to the weekend.
"The main problem is the cold conditions. The air temperature is almost what you would expect in winter testing and the low track temperatures are causing problems with the harder prime tyre so we will struggle with that tyre if it stays like this."
Team principal Ross Brawn added: "We made some useful progress today using our experience at previous events where the cold and damp conditions have proved more difficult for us.
"We do still have several areas of the car's performance to develop overnight to ensure that we have the best package for the rest of the weekend.
"The weather forecast suggests that conditions may be a little more favourable tomorrow, which combined with some work on the set-up overnight, should put us in a good position for qualifying."
Session two times
Lewis Hamilton, McLaren: 1:32.149 (23 laps)
Sebastian Vettel, Red Bull: 1:32.331 (31 laps)
Jenson Button, Brawn GP: 1:32.369 (32 laps)
Mark Webber, Red Bull: 1:32.480 (28 laps)
Jarno Trulli, Toyota: 1:32.511 (32 laps)
Adrian Sutil, Force India: 1:32.585 (32 laps)
Rubens Barrichello, Brawn GP: 1:32.664 (26 laps)
Fernando Alonso, Renault: 1:32.774 (24 laps)
Kazuki Nakajima, Williams-Toyota: 1:32.872 (32 laps)
Nelson A Piquet, Renault: 1:32.992 (29 laps)
Nick Heidfeld, BMW Sauber: 1:33.012 (36 laps)
Felipe Massa, Ferrari: 1:33.052 (34 laps)
Nico Rosberg, Williams: 1:33.128 (34 laps)
Robert Kubica, BMW Sauber: 1:33.161 (28 laps)
Timo Glock, Toyota: 1:33.172 (34 laps)
Kimi Raikkonen, Ferrari: 1:33.182 (29 laps)
Heikki Kovalainen, McLaren: 1:33.724 (27 laps)
Sebastien Buemi, Toro Rosso: 1:33.903 (30 laps)
Sebastien Bourdais, Toro Rosso: 1:34.025 (30 laps)
Giancarlo Fisichella, Force India: 1:38.877 (3 laps)
Session one times
Mark Webber, Red Bull: 1:33.082 (19 laps)
Jenson Button, Brawn GP: 1:33.463 (18 laps)
Felipe Massa, Ferrari: 1:33.745 (21 laps)
Jarno Trulli, Toyota: 1:33.795 (23 laps)
Giancarlo Fisichella, Force India: 1:33.839 (26 laps)
Kimi Raikkonen, Ferrari: 1:33.840 (23 laps)
Nico Rosberg, Williams: 1:33.902 (26 laps
Sebastian Vettel, Red Bull: 1:33.909 (13 laps)
Kazuki Nakajima, Williams: 1:33.952 (25 laps)
Fernando Alonso, Renault: 1:34.148 (16 laps)
Nick Heidfeld, BMW Sauber: 1:34.221 (25 laps)
Rubens Barrichello, Brawn: 1:34.227 (17 laps)
Lewis Hamilton, McLaren: 1:34.483 (14 laps)
Robert Kubica, BMW Sauber: 1:34.694 (23 laps)
Nelson A Piquet, Renault: 1:34.738 (24 laps)
Sebastien Bourdais, Toro Rosso: 1:34.827 (27 laps)
Sebastien Buemi, Toro Rosso: 1:34.878 (28 laps)
Heikki Kovalainen, McLaren: 1:34.893 (26 laps)
Timo Glock, Toyota: 1:34.911 (23 laps)
Adrian Sutil, Force India: 1:35.092 (6 laps)