Lewis Hamilton won a rain-hit Monaco Grand Prix after an early puncture forced his McLaren team to redesign his race strategy – transforming it into exactly the right plan for victory.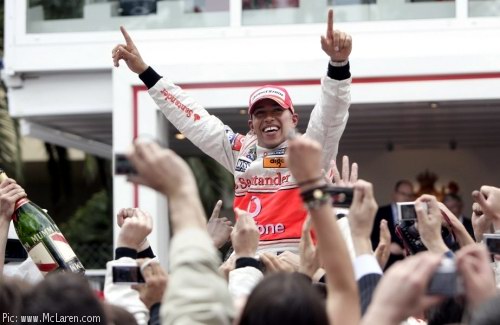 In contrast Ferrari proved less tactically astute, sending their drivers out on the wrong tyres in anticipation of a second spell of rain late in the race that failed to materialise.
The red cars had locked up the front row of the grid, with the McLarens in formation behind them, but that arrangement didn't even last to the start as Heikki Kovalainen stalled before the parade lap and had to begin his race from the pitlane.
Felipe Massa made a good start, but Kimi Raikkonen hesitated and Hamilton struck to make the leap up to second. Robert Kubica kept pace with the leaders, but the rest of the field rapidly strung out along the track as drivers gingerly experiemented with the available grip.
Most of the field made errors at some point in the race, and Hamilton was the first of the leading group to do so when he clipped a barrier on lap seven and wrecked a rear tyre.
Crucially, he was able to re-join in fifth, fuelled for a one-stop race. No-one knew it at the time, but he had just put himself onto exactly the right schedule to pit when the track would later improve enough to take dry tyres.
As the race continued, it became increasingly clear that Massa was having the better day of the two Ferrari drivers. True, he lost the lead to Kubica by overshooting Sainte Devote – but he recovered the car neatly and later regained the place via pit strategy. By contrast, Raikkonen suffered damage to his front wing in a similar incident, and also had to take a drive-through penalty for not having his tyres on the car in time before the race.
Further back in the field, drivers such as Sebastian Vettel, Kazuki Nakajima and Adrian Sutil were quietly and carefully moving up the field at the expense of more flamboyant rivals who came unstuck.
Timo Glock spun his car on three occasions, Jenson Button clipped Nick Heidfeld and was later hit by Kovalainen, while Nico Rosberg caught Fernando Alonso.
The Renault driver survived that incident, but soon after took out a tyre on a barrier and pitted for a set of full wets. This hyper-agressive strategy saw him attack the field – but he came unstuck on the Loews Hairpin when he rammed the side of Heidfeld and the German ran over his nose while recovering.
The first safety car period came on lap nine when first David Coulthard and then Sebastien Bourdais misjudged the amount of water on the track approaching Massenet. Coulthard hit the barrier and, moments later, Bourdais hit Coulthard.
As the race developed, the question looming in the minds of all the teams was which tyres to switch to – and when. A second burst of rain was forecast, but the track was visibly drying. Alonso, Nelson Piquet Jr and Mark Webber were among the drivers to switch to dries too early – in Webber's case because he had to pit at that point come what may.
McLaren used Kovalainen, outside the points at that stage, as a guinea pig to confirm it would be safe to switch Hamilton over when he finally pitted. The tactics worked perfectly, and he began to build an unassailable-looking lead.
Ferrari gambled on rain, as did Toyota, and both teams suffered badly as a result – Massa losing second to Kubica when he had to come in for dries. Force India, by contrast, ran long and pitted at exactly the right time to help Sutil hold an unlikely fourth place entirely on merit.
By lap 62 it was clear that the race would be cut short to fit in its two-hour maximum length, but it looked as if most of the on-track action was over as the circuit had dried considerably in most – not all – places and the race was starting adopt some of the processional aspects of a normal outing in Monte Carlo.
But then Nico Rosberg destroyed his car hitting several barriers at the swimming pool, spreading carbon fibre shards across the track, and the resulting safety car period wiped out Hamilton's ever-growing lead.
It also left the Englishman with a slow puncture – but that wasn't discovered until after the race had finished.
The most vulnerable driver at the re-start was Sutil, sandwiched between Massa in third and Raikkonen in fifth and warned by his pit that he was racing them both. Cementing his growing reputation as a wet weather maestro even further, he held off the world champion comfortably and looked certain to achieve what would have surely been the most popular shock result since Mark Webber's fifth place on his Minardi debut.
But disaster struck as the field emerged from the tunnel, Raikkonen making his final mistake of the day by losing it on wet track and ploughing straight on. He might have crashed straight on into the run-off area, as Coulthard had in qualifying – but instead he rammed into the back of the Force India car and both headed for the pits.
Raikkonen emerged in ninth place and continued to the end of the race. Sutil's mechanics took one look at the wrecked back of his car and waved the young German into the garage, where he was later seen head-in-hands, sobbing.
At the front, there were no more fireworks and Hamilton took the chequered flag on a race full of incident, where smart strategy was rewarded just as much as courageous driving. Kubica took second and Massa third, with Webber, Vettel, Barrichello, Nakajima and Kovalainen rounding out the points.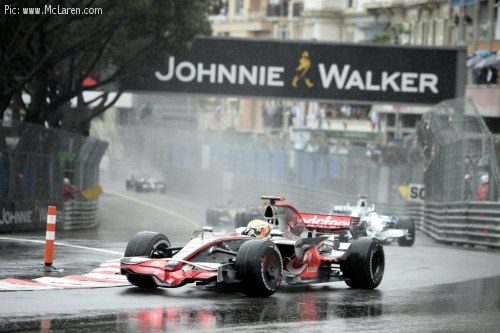 Afterwards Hamilton said this was his best race ever, and the most fun he'd ever had on track: "The last 20 laps were very emotional and I was just trying to keep emotions in and keep the car on the track and just believing I can do it, I can do it. No more safety cars and just bring it home.
"As I have already said time and time again I have got a lot of belief in myself and the team but here you just need to have things going the right way and today it went my way, so I am very, very fortunate."
His early accident came during a point in the race when he had minimum visibility but was confident of competing for the win: "I was able to get a good start and felt comfortable at the beginning.
"I knew that I had a good car underneath me and I knew that I would be able to challenge Felipe at some point. I could not really see anything, so I just stayed in second because there was so much spray, so you can't see if it is raining more or less.
"Through turn 12, Tabac, there was a sort of river coming through and as I was catching Felipe I hit this river and just oversteered and just slid across into the barrier.
"I couldn't believe it and I knew I had only just touched it and I had a rear puncture and fortunately I was able to tell the team quickly and they were able to react as quickly as possible and get out. They did a fantastic job and without them I wouldn't have been able to do it today."
Jenson Button might normally have enjoyed a rainy Monaco Grand Prix because of the opportunities it offers a confident mid-field driver. But it didn't work out that way for him at all. From losing a promising qualifying lap because of Coulthard's accident, to a series of race mishaps, he had a depressing weekend.
He said: "My race today was really disappointing. I had a bad start and dropped a couple of places after getting caught on the inside of turn one. I got round the outside of Rubens in the hairpin and Webber after the tunnel going into the chicane.
"I was alongside Heidfeld through the Swimming Pool when he overshot the corner. On the exit, I thought there was enough space for me to go down the inside but there wasn't and I touched his rear wheel with my nose, breaking my front wing and damaging the bargeboards. So unfortunately that was my race compromised on the first lap.
"Later in the race, I got hit from behind by Kovalainen which damaged the rear and spun me off at the chicane. So it was a messy race and I'm disappointed as we should have come away from here with some points given the pace of the car. However Rubens had a good drive and stayed out of trouble to bring points home for the team, so well done to him."
Coulthard had a bruising weekend, commenting after his qualifying accident that "maybe it doesn't look much from the outside, but it fucking hurts when you hit the barrier". His race-ending accident was less brutal, but no less dispiriting.
He said: "It was always going to be a race where you had to be very careful at the beginning. I was having difficulty with my downshifts and got caught out on the entry to Casino – I corrected, corrected and corrected, but then ran out of road.
"It looked like Sebastien had a similar event and then found me in an area where he was about to have his crash.
"I'm extremely disappointed as this is a race where keeping out of trouble gives you a good chance of getting points. But, that said, the boys did a great job to recover the car after the qualifying accident and I'm obviously very happy that they scored a fourth place with Mark."