Felipe Massa put his Hungarian disappointment behind him by beating Lewis Hamilton to pole for the European Grand Prix in a qualification session that had threatened to turn the established order on its head.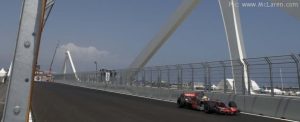 For the first two sessions the pace had been set by Sebastian Vettel and Jarno Trulli, with Massa and Hamilton battling to mix it with them, and the likes of Kimi Raikkonen and Robert Kubica trailing.
But it was business as usual in the final session, with Massa more than a fifth of a second ahead of Hamilton, followed by Kubica, Raikkonen and Heikki Kovalainen.
Vettel and Trulli took sixth and seventh, with Nick Heidfeld, Nico Rosberg and Sebastien Bourdais rounding out the top 10.
Home favourite Fernando Alonso failed to make it into the top 10 and will start 12th, while Force India's hopes of an improvement with their new seamless shift gearbox were not realised as their cars qualified 18th and 20th.
"To take pole for the first time here is very nice," said Massa. "The surface is a little bit slippery and to make the perfect lap is very difficult. A big, big shower yesterday didn't help the grip. But it's a nice track and let's hope we can have a good race, we will do our best."
Hamilton was full of praise for Massa's lap and realistic about what it meant for Ferrari's prospects: "In sector one he destroyed everyone, so they will be hard to beat tomorrow – but we will push hard to do so."
He was pleased with his time, despite feeling he had left some speed out on the circuit: "The first one wasn't a great lap, I lost about a second compared to the second. The second one was quite good. For sure there is some time there, but it's a solid position to be in for tomorrow.
"I was a tenth down at the first corner, at Turn 1 or Turn 2/3 – and Turn 4 and 5 didn't seem to be as strong, so that is probably where the time went. It wasn't a shocking lap. I was happy with it."
Less pleased were David Coulthard and Jenson Button, who will start 16th and 17th after a flurry of late fast laps by other drivers sent them plunging down the session one ranking and into the drop zone.
Coulthard had been hit with a fine during practice for speeding in the pit lane – but there was no danger of his going too fast during qualifying. He said: "I expected to be able to make it through that first part of qualifying. On my last run, I ran wide in Turn Five and dropped about four tenths, although I pulled two tenths back, the net loss over the whole lap meant it wasn't enough to go through.
"It's just the way these qualifying sessions go. That was probably one my messiest sessions and I'm disappointed."
Button had set the third-fastest time in Friday practice and had hoped for better today: "It was a really disappointing qualifying today, particularly as we have been quick all weekend. My first run on the prime tyres was good but we simply chose the wrong tyre for my final run in Q1.
"I had no grip with the option and it just wasn't very competitive for us. My final run was slower than my prime run, which shouldn't happen on a circuit which is improving all the time. I'm really disappointed as we have improved the car but today we didn't make the most of that."
How they qualified
Felipe Massa, Ferrari
Lewis Hamilton, McLaren-Mercedes
Robert Kubica, BMW Sauber
Kimi Raikkonen, Ferrari
Heikki Kovalainen, McLaren-Mercedes
Sebastian Vettel, Toro Rosso
Jarno Trulli, Toyota
Nick Heidfeld, BMW Sauber
Nico Rosberg, Williams
Sebastien Bourdais, Toro Rosso
Kazuki Nakajima, Williams
Fernando Alonso, Renault
Timo Glock, Toyota
Mark Webber, Red Bull
Nelson Piquet, Renault
Jenson Button, Honda
David Coulthard, Red Bull
Giancarlo Fisichella, Force India
Rubens Barrichello, Honda
Adrian Sutil, Force India