McLaren signalled their recent return to form was no fluke by dominating qualifying on the Valencia street circuit to lock out the front row for the European Grand Prix.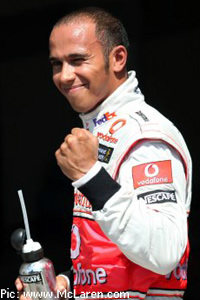 Lewis Hamilton set what would turn out to be the pole lap early in the third qualifying session and then waited to see if anyone could challenge it. Only team-mate Heikki Kovalainen came close, but a wobble on the final corner of his best lap consigned him to second place.
And even if the Finn had gone top Hamilton was out on the circuit and close on his tail, ready to snatch the position straight back again, instead diving into the pits to abort the lap when it became clear a last effort wouldn't be needed.
Hamilton said: "We've got the front row to ourselves, and that's something we've all wanted for a very long time. We haven't seen this level of performance for a long time – after winning in Hungary, we came here not knowing if the others would have closed the gap: clearly, we're still competitive."
"I managed a couple of very good laps today, so we'll start the race from a very competitive position – but a lot will depend on strategy and how the start goes. Congratulations to Heikki, he did a fantastic job. It's been very close between us all weekend, so this is great to see."
Kovalainen – who had been warned improvement was needed if he hoped to retain his seat – said: "I decided to really go for it today. As a result I pushed just a little too hard – but it was a calculated risk and I lost only one place and, even better, I lost it to Lewis. So we nailed the front row anyway."
A gushing Martin Whitmarsh added: "A truly brilliant result for the entire team – well done, everyone! As for Lewis and Heikki, well, they were both brilliant, too. Heikki was totally on it today and Lewis did a fantastic job, too."
Much more of this and the Woking team will be eyeing the championship leaders and dreaming of what might have been, had the start to their season been merely bad instead of abysmal.
As it is, the battle between those leaders swung back somewhat towards Brawn over Red Bull, Rubens Barrichello and Jenson Button qualifying third and fifth against the fourth and ninth achieved by Sebastian Vettel and Mark Webber.
Button only ran once in the third qualifying session, one of several drivers who attempted to save their tyres on a circuit where graining was proving a problem. He said an error cost him a qualification position up with his team-mate.
He said: "It was a pretty good qualifying session for the team today and the car felt strong throughout. Unfortunately I made a mistake at turn four on my quick lap which compromised my position as I had just the one flying lap on my final run in Q3.
"It's a shame as the potential was there for more but fifth on the grid is not bad at all. The car is feeling pretty good with fuel so we will see what the race will bring tomorrow.
"It's not a great circuit for overtaking but I'll be giving it everything for a good result."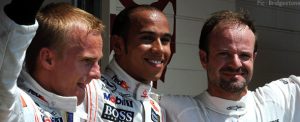 Renault debutant Romain Grosjean performed respectably, advancing from the first session but proving unable to follow team-mate Fernando Alonso into the pole shoot-out. By contrast, Ferrari test driver Luca Badoer raised eyebrows at how spectacularly adrift he was at the back of the field, one and a half seconds behind next-slowest driver Jaime Alguersuari and two and a half shy of team-mate Kimi Raikkonen who ended up sixth.
Force India brought improvements with them but didn't get the results they'd hoped for, Giancarlo Fisichello just falling short of reaching the second session and Adrian Sutil managing only 12th despite having been fastest in the final practice session.
BMW recovered slightly from their recent run of poor form, Robert Kubica qualifying 10th and Nick Heidfeld 11th. By contrast, Toyota's slump continued with Jarno Trulli eliminated in the first session and Timo Glock languishing in 13th. Home favourite Alonso took eighth, a place behind Nico Rosberg for Williams.
European Grand Prix grid positions
Times show the fastest lap in the last session completed.
Lewis Hamilton, McLaren: 1:39.498 (Q1) 653kg
Heikki Kovalainen, McLaren: 1:39.532 (Q1) 655kg
Rubens Barrichello, Brawn GP: 1:39.563 (Q1) 662.5kg
Sebastian Vettel, Red Bull: 1:39.789 (Q1) 654kg
Jenson Button, Brawn GP: 1:39.821 (Q1) 661.5kg
Kimi Raikkonen. Ferrari: 1:40.144 (Q1) 661.5kg
Nico Rosberg, Williams: 1:40.185 (Q1) 665kg
Fernando Alonso, Renault: 1:40.236 (Q1) 656.5kg
Mark Webber, Red Bull: 1:40.239 (Q1) 664.5kg
Robert Kubica, BMW Sauber: 1:40.512 (Q1) 657.5 kg
Nick Heidfeld, BMW Sauber: 1.38.826 (Q2) 677kg
Adrian Sutil, Force India: 1.38.846 (Q2) 672.5kg
Timo Glock, Toyota: 1.38.991 (Q2) 694.7kg
Romain Grosjean, Renault: 1.39.040 (Q2) 677.7kg
Sebastien Buemi, Toro Rosso: 1.39.514 (Q2) 688.5kg
Giancarlo Fisichella, Force India: 1.39.531 (Q3) 692.5kg
Kazuki Nakajima, Williams: 1.39.795 (Q3) 702kg
Jarno Trulli, Toyota: 1:39.807 (Q3) 707.3kg
Jaime Alguersuari, Toro Rosso: 1:39.925 (Q3) 678.5kg
Luca Badoer, Ferrari: 1.41.413 (Q3) 690.5kg