Jenson Button turned around a weekend spent struggling for pace by seizing a dramatic pole position in the dying seconds of qualifying for the Spanish Grand Prix.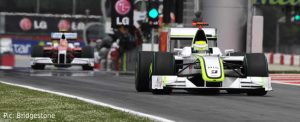 Until he launched into his final qualifying lap with barely a second left in the session, the Englishman had been making heavy going of the new package of aerodynamic components introduced by Brawn GP for the Barcelona race and seemed doomed to the third row at best.
Team mate Rubens Barrichello, by contrast, was clearly finding the changes to his liking and seemed set for his first pole since 2004 – until Red Bull's Sebastian Vettel snatched the position away by a tenth of a second with one of the last laps of the day.
But then Button stunned everyone – including his team – by finding the pace to better Vettel's time with a 1min 20.527 lap and take his third pole position of the season so far.
"It was by far the best lap I've had all weekend," he said. "It was a bit of a surprise so when I realised, it felt very good. It's going to be a tough race but I am excited and didn't think I would be sat in this position."
He said it was "more by luck than judgement" that he'd been able to attempt the lap at all, as he had come perilously close to not starting it before time ran out on the session.
"It could have gone very, very wrong. We timed it quite well, I think, but then I had Robert Kubica and had to let him past because I thought he was on a timed lap.
"That caught me out, and then the guys said 'you have four seconds in the last sector, not much slower than a proper lap time, to get across the line'. I only had a couple of seconds to spare."
Barrichello still hopes to compete for the win, despite the shock of being beaten: "Once again I was very, very happy with the car in Q2, and to be honest it came to me as a surprise. I think it was a great effort from Jenson and he is doing a really good job and he deserves to be there, but it came as a surprise in Q3."
Behind the top three came Ferrari's Felipe Massa as the top KERS car – but his team-mate Kimi Raikkonen failed to advance from the first qualifying session after their team was once again caught out by overcondfidence and left him in the garage while rivals improved their times.
Raikkonen will start 16th, two places ahead of his countryman Heikki Kovalainen who could find no pace in his McLaren. Team-mate Lewis Hamilton could manage only 14th and afterwards again admitted McLaren's new aerodynamic package had brought no benefits.
He said: "It wasn't a bad lap, but there was still too much understeer through turns three and nine. We did the best we could today.
"My lap was not fantastic but the car was not fast enough either – I didn't have the grip to go any faster. However, it will be quite a long and tough race for everyone tomorrow and we'll try and make up as many places as possible and hope to score some points."
Team boss Martin Whitmarsh pointed out the improvements the team had made since pre-season testing at the same circuit: "Let's not forget that only eight weeks ago we were more than 2.5s off the pace – during qualifying today, Lewis was only three tenths off second place in Q1 and eight tenths off the front in Q2.
"While that's still disappointing, it's nonetheless a significant step up from where we were back in early March – and at a track that we knew would challenge the deficiencies in our car."
Spanish Grand Prix provisional starting grid and fuel weights
Jenson Button, Brawn GP, 646kg
Sebastian Vettel, Red Bull, 651.5kg
Rubens Barrichello, Brawn GP, 649.5kg
Felipe Massa, Ferrari, 655kg
Mark Webber, Red Bull, 651.5kg
Timo Glock, Toyota, 646.5kg
Jarno Trulli, Toyota, 655.5kg
Fernando Alonso, Renault, 645kg
Nico Rosberg, Williams, 668kg
Robert Kubica, BMW Sauber, 660kg
Kazuki Nakajima, Williams, 676.6kg
Nelson A. Piquet, Renault, 677.4kg
Nick Heidfeld, BMW Sauber, 676.3kg
Lewis Hamilton, McLaren, 683kg
Sebastien Buemi, Toro Rosso, 678kg
Kimi Raikkonen, Ferrari, 673kg
Sebastien Bourdais, Toro Rosso, 669kg
Heikki Kovalainen, McLaren, 657kg
Adrian Sutil, Force India, 675kg
Giancarlo Fisichella, Force India, 656kg