Heikki Kovalainen took his debut Formula One win in Hungary after a spectacular engine failure stopped Felipe Massa in his tracks just three laps from victory.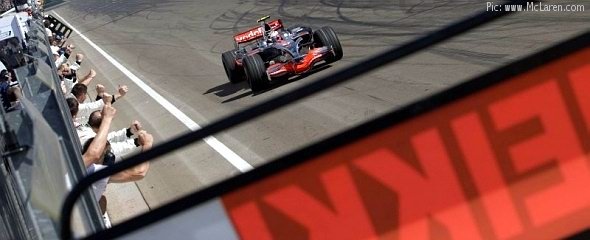 The Ferrari driver had made a stunning start to leap ahead of both McLaren rivals in the first corners, then remorselessly strangled the life from the contest with a series of fast laps that steadily built a likely race-winning lead.
In second place, Lewis Hamilton was pinning his hopes of a third consecutive victory on staying out longer during the middle stint, but Massa's lead was already looking sufficient to hang on when the McLaren suffered a sudden puncture on lap 41.
Hamilton limped back to the pits, emerged fuelled to the end but out of the points, and picked up sufficient places as other cars pitted to move up to fifth at the flag.
It was left to Kovalainen to mount a challenge to Massa, but he was some way down the road and in no position to think about winning when fate delivered a swift kick to the Brazilian's teeth.
The Ferrari engine, nearing the end of its second race, began billowing smoke on the start-finish straight and Massa came to a halt so suddenly that he didn't even have time to pull to the side of the track.
Seconds later, Kovalainen swept past on his way to becoming the 100th driver to win a Formula One race.
Afterwards, he said: "This is a great moment, it feels fantastic. This is a moment I have been targeting for many years now and to achieve this goal is pleasing. I hope this is the first of many.
"Today Lewis and Massa were fastest in the race, but I tried to push Massa hoping he would have a mechanical failure and it seemed to have worked."
Massa said: "When you just hear something and have a strange feeling in the car as the engine breaks down, for sure it is not a great feeling. I feel really bad, and not happy for what has happened.
"I made a great start and we showed incredible pace afterwards. The pit stops were great and everything was perfect, and then… the end we know."
Hamilton said: "I think I salvaged the best of the worst, I guess. What can you do when you have a puncture? Last year I lost the championship on punctures, so it's nothing new to me."
The cruel blow to Massa represented a stroke of good fortune for Toyota's Timo Glock, who was defending an unlikely, but thoroughly deserved, third place from Kimi Raikkonen. The Finn had looked sluggish all weekend, but had appeared to suddenly wake from a deep sleep after his second pitstop finally allowed him to regain the place he had lost to Fernando Alonso at the start.
Not only did Massa's disaster promote Glock to second, it also took all the pressure off him from Raikkonen as the Ferrari driver immediately eased off to nurse his engine over the last few laps.
Glock – who ended the previous race in hospital after a mechanical failure led him to crash heavily – said: "What an incredible feeling. I couldn't believe it when I saw Felipe's engine go and I was P2. To get such a good result in my first year is fantastic."
Raikkonen's third place helped him close on Hamilton in the championship, and the pair moved ahead of Massa. Alonso held off Hamilton to take fourth place, with Nelson Piquet Jr, Jarno Trulli and a disappointing Robert Kubica rounding out the points.
Hamilton retains the championship lead with 62 points, Raikkonen advances to 57, and Felipe Massa remains stuck on 54. Kovalainen remains in sixth despite his win.
Apart from the drama on the track, there was unwelcome excitement in the pitlane as Rubens Barrichello, Nico Rosberg and Sebastien Bourdais all suffered minor fires during refuelling. The Toro Rosso driver was hit twice by the problem and ended up having to make an extra pitstop to have fire extinguisher foam wiped from the inside of his helmet visor.
Honda's Nick Fry speculated that the searing heat of race day might have caused the fuel to expand and remain in the nozzle of the rigs as they were withdrawn from the cars.
Honda's other driver, Jenson Button, was not affected by the problem and battled back from a poor start on the dirty side of the track to take 12th place. For him, the main benefit from the race was that it confirmed the car had improved with its new aerodynamic parts.
He said: "Looking at the weekend as a whole, we have made good progress and can take a lot away from here. Unfortunately the race was frustrating.
"I made it tough for myself with a poor start, which dropped me down to P14 after the first couple of corners.
"I was able to get past Rubens on lap three, which was fun, but after that I quickly came up to the back of Heidfeld. He was very strong on the last two corners so I had no chance to overtake on the track and he was on a one-stop strategy.
"However in clean air, our pace was good, so this weekend is a definite step forward and I am reasonably happy with the outcome."
Red Bull were off the pace all race and slipped back to sixth in the constructors championship. Mark Webber finished ninth, while David Coulthard reckoned 11th was almost as good as was available to him: "Unfortunately I got some traffic before my last stop, which allowed Nick [Heidfeld] to pass me – otherwise I couldn't do any more today. The car has a lot of oversteer and rear sliding. Now we'll just focus on the next race and see that we can do there."