What terrible, heinous, unforgiveable sins did Jenson Button commit in a previous life that mean nothing – bar nothing – seems to go right for him in this one?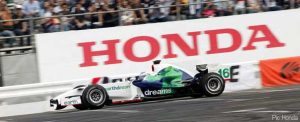 Word is tonight that Honda is on the verge of announcing its complete withdrawal from F1, which means the dream pairing with Ross Brawn and the promises of great things on the back of the changed regulations for 2009 are all crumbling to dust.
The news also means F1 itself is in trouble.
If Honda cannot find a buyer then only nine out of 12 available slots on the grid will be filled – and that figure also includes Toro Rosso, likely to be put up for sale by Red Bull.
And exactly how likely are Toyota (who supply Williams with engines) to hang about once Honda have gone?
Four grands prix – France, Canada, China and Germany – cancelled or under threat. The British Grand Prix set to celebrate its 61st year either as an awayday in India because the venue is a building site or as an upscale bit of corporate hospitality that sees race fans priced clean out of the market.
This would appear to be that situation known, in the popular parlance of Americans, as "well and truly in the crapper".
Vacancies on the grid are as rare as hen's teeth by now, with only the two teams under most threat still in the market. Jense will have his fingers crossed for a miracle buyer – if not, his hopes may be restricted to begging calls to former employers Renault and Williams.
Here's James Allen:
Honda to pull out of F1

Honda will announce tomorrow morning that it is withdrawing from Formula 1. It is putting its team up for sale and will continue to fund the team for three months, but if no buyer is found by March then the team will be closed down.

The entire team was addressed by team principal Ross Brawn at 6pm this evening and he explained the situation to the workforce. Today there was a FOTA meeting in Geneva and the other teams were informed.

[…]

The news is still a major shock, because Honda is one of the most profitable of the car makers currently engaged in F1. If they can make this decision, so can the others.
Over on the fan site RealHondaF1.com, supporters began by hoping for the best: "Leaking a dramatic story like this just before crucial negotiations is more than likely mostly political posturing," wrote one poster. But it wasn't long before gloom descended: "Is this a bad dream, or what? Do I have a nightmare? Could anybody wake me up please?."
Our Jense may be thinking much the same tonight.
Links
The entire team was addressed by team principal Ross Brawn at 6pm this evening and he explained the situation to the workforce. Today there was a FOTA meeting in Geneva and the other teams were informed.
There is no confirmation from any Honda company officials, but teams across Europe are reporting that they have received a rush of applications from Honda F1 personnel in the course of the day.
Honda claims to have two prospective buyers, however, there is a further complication with the news that Honda's withdrawal is total, it will not continue as an engine manufacturer.
The loss of another team could reduce the F1 entry to nine teams and 18 cars. That is understood to be below the minimum number of cars F1 is contractually required to bring to each round, raising the possibility of some teams being asked to field three cars.
Honestly, I dont think that's true. I mean, Honda's got s**tloads of money and racing is in their blood. they wouldn't pull out of it without at least a couple of race wins."