The history of the high-speed Monza circuit and the fanatical supporters that flock there are very much at the front of Jenson Button's and Lewis Hamilton's minds as they prepare for the Italian Grand Prix this weekend.
Both say they are looking forward to sampling the atmosphere and racing in front of the passionate Tifosi – and never mind that red Ferrari flags will be waving everywhere among the spectators.
Button, whose Honda team will likely be under threat from the Ferrari-powered Force Indias in a battle to avoid last place, said: "I always look forward to racing at Monza and the Italian fans are really passionate about motor racing.
"Although you're so focused over the weekend on improving your car, you can still sense the atmosphere and excitement around the circuit.
"Monza also has a real history about it. I've walked around the old banking part of the track and have so much respect for the guys who used to race on there."
Hamilton is unlikely to feel much love from the crowd after the controversial finish to the Belgian Grand Prix and its aftermath, but his McLaren team focuses on other things in its preview.
It says: "The gradual loss of the original high-speed Silverstone, Österreichring and Hockenheim tracks has made Monza something of a welcome anachronism, an uncompromising flat-out racetrack that simply cannot forget its past and whose passionate spectators continue to revel to the noise and spectacle of the racing car."
Hamilton himself restricts his comments to the circuit: "People say Monza is just about power and top speed – but it's also a driver's track, which is why I like it.
"It's not as straightforward as it seems because you run with very low downforce, which means you rely heavily on the tyres and the car's mechanical grip – but you're also attacking the kerbs, which requires a softer set-up.
"You also need plenty of stability under braking and as much grip as possible for the corners. The key is to run the car as low to the track as possible without having it bottom out."
Button also focused on the downforce: "Monza is very different from most of the circuits that we race on during the year. It's quick and you have to run such low downforce to get the straightline speed that is needed to take advantage of the straights.
"Ascari is probably my favourite part of the track and you can have a lot of fun through there. Parabolica is also good, particularly in qualifying when you're trying to get the most out of the car and brake as late as possible whilst you are turning in.
"If you brake a little late, you're off into the gravel and probably the wall. But if you get it right and have a good qualifying lap, then it's an amazing buzz because you know that you've worked so hard for it. The first corner is always interesting with 20 cars slowing from 290kph (180mph) to 80kph (50mph) and fighting for position on a slippery circuit with cold tyres."
For Hamilton, the best shot at overtaking lies in using the final corner of a lap to lay the groundwork for a pass at the first turn of the next lap.
He said: "If you're trying to pass somebody, you have to stay as close as possible through the last corner. If you can get a good tow out of Parabolica, then you can slipstream down the straight and have a look up the inside at Turn One.
"That's your best chance of making a move on someone. You can also try if you get a good exit from the first chicane and have look up the inside into the second chicane – but that's not so easy."
Although Hamilton's official statements were moderate, he was quoted on BBC Online in more strident mode: "Everyone in the team thinks we've won the race on moral grounds. We just have to try our best to stay squeaky clean, stay out of trouble for the rest of the season, and not let them have any opportunity to put us in that position."
He dismissed suggestions that Kimi Raikkonen had suffered from less grip and had therefore been forced to brake earlier, sending Hamilton off at the chicane that he was penalised for cutting: "We had the same amount of grip. That's the way he drives. If you don't have the balls to brake late, that's your problem. I'm great in those conditions, and I felt the grip more than he did."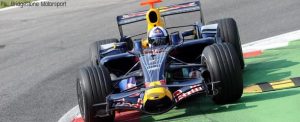 * Red Bull's preview says nothing of what David Coulthard is thinking about the race, instead contenting itself with endless off-colour caricatures of the countries F1 will visit after leaving Europe.
The driver has, however, spoken to reporters about the Hamilton chicane incident, saying the sport needed to move on – and to have clear rules that are enforced and followed properly.
He said: "You can do two things in life – you can dwell on the past or you can try and get clarification on things and move forward. That is the way I live my life. In the drivers' briefing tomorrow we will try and get clarification about the conditions we are racing under and we will move forward.
"In any sport and in any walk of life you are controlled by certain rules and regulations and you will not always appreciate them, or agree with them, but as long as they are applied consistently then that is the world in which we live.
"Whether you like it, whether I like it, whether Lewis likes it, whether thousands of fans like it, they are the stewards, they are the police of our sport, and they have to be consistent in their behaviour.
"The race track is defined by the white lines. In Monaco you don't cut corners, you hit barriers. Lewis knew there was no barrier so he cut the corner. From a driving point of view you have to look at the white lines as barriers."