Fernando Alonso won his second race in a row after Lewis Hamilton's rash start to the Japanese Grand Prix re-opened all of last season's questions about the McLaren driver's ability to stand the pressure of the championship battle.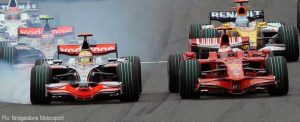 Hamilton had qualified on pole but lost the lead to Ferrari's Kimi Raikkonen during the long approach to the first corner. Once there, he swung out from behind the Finn – forcing his team-mate Heikki Kovalainen to take evasive action – and tried to lunge past on the inside under braking.
Instead he locked up, badly damaging his tyres and running wide, forcing Raikkonen off the track with him. The pair fell behind fifth-place Felipe Massa, while at the front BMW's Robert Kubica and Alonso made good their getaway, pursued by a recovering Kovalainen and Jarno Trulli.
Further back, Kazuki Nakajima parted company with his front wing and began the slow limp back to the pits for a raplacement, while David Coulthard was sent hurtling into the tyre wall after a first-corner contact that broke his suspension.
Worse was to come for the two championship contenders, as on lap two Massa misjudged his defence against a pass by Hamilton, ran off, and hit the McLaren driver as he came back on track. Hamilton span, and was unable to resume the race until everyone but Nakajima was past.
Stewards investigated both incidents and eventually decided both Hamilton and Massa should serve drive-through penalties that, when combined with a pitstop each, left them propping up the field.
Hamilton, his car slightly damaged by his adventures, was unable to recover and finished 12th, but Massa was able to fight back and take the flag in eighth place, earning a vital world championship point.
After the race was over he was gifted a second by the stewards' bizarre decision to penalise Sebastien Bourdais for a lap 51 incident in which he emerged carefully from the pitlane, only find Massa cutting into his path. Contact was inevitable, and the Ferrari driver span to a stop while Bourdais continued to take the flag sixth.
A post-race investigation was announced, and it was the blameless Frenchman who was slapped with a 25-second penalty that dropped him to 10th. Sebastian Vettel, Massa and Mark Webber were promoted to sixth, seventh and eighth.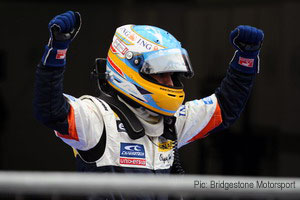 Up at the front, Alonso breezed to a relatively uncomplicated victory after overtaking Kubica during the first round of pit stops. The BMW-Sauber driver came under intense pressure from Raikkonen late in the race, but held on to second place.
Behind them came Nelson Piquet, who drove strongly to see off fifth-place Trulli and briefly challenge Raikkonen.
Kovalainen had looked well-placed to challenge for a win, but coasted to the side of the road when his engine failed him on lap 17. He joined both Force Indias, Coulthard and Toyota's Timo Glock as non-finishers.
Hamilton's championship lead over Massa is now cut to five points, with Kubica 12 points off the lead. Alonso's charge over the last two races leaves him in seventh, breathing down Kovalainen's neck.
"It's still difficult to believe what we have done today," said the two-time world champion. "Winning in Singapore was unexpected, but we benefited from special conditions. Today we won again on a circuit that was not supposed to suit us. It's unbelievable and I am extremely happy this evening."
Massa sounded more puzzled than pleased by the outcome, given his misadventures: "A strange race, with everything that happened on track. In the end, seventh place is definitely not a disaster given that my closest rival failed to score points."
He blamed Bourdais for their collision, but the Frenchman was having none of it: "I did everything I could not to run into him and he just squeezed and turned and behaved like I didn't exist, like I wasn't there. What am I supposed to do? I could have unrolled the red carpet and given him the corner. That is the only thing I could have done."
Another unhappy driver, predictably, was Hamilton. In interviews after the race he admitted to a mistake at the first corner – but by the time the team's post-race briefing emerged he seemed to have back-tracked somewhat: "Obviously, I'm not happy after a result like today's – but I'm already getting over it and tomorrow will be another day.
"Disappointingly, I didn't make a great start, but I slipstreamed Kimi and went up the inside. I braked a bit late – but so did everybody. A lot of cars went wide at Turn One – and I just went a bit wider than everyone else. But you can't undo the penalty or change today's result. On lap two, Felipe went wide and I went up the inside, giving him room, but he tapped me quite hard into a spin.
"There are positives to take from today; I've only lost two points to Felipe in the drivers' championship, so it's definitely not over. Now I'll forget today ever happened and move forward; we've got two more races to go and my target is still to win both of them."
Jenson Button got off well from 18th on the grid, but could not sustain it and finished 14th of the 15 cars that took the flag. He said: "The race began really well for me and I was running inside the top ten at the first corner after making a great start.
"Unfortunately going with the option for my first stint didn't work well and I really suffered from this in the early laps. I was passed by a few cars around the first lap and from then on had graining on the front and rear tyres which meant I was slow through the corners and we couldn't compete on straightline speed, particularly with a heavy fuel load.
"Once we put the prime tyre on for the second stint, the balance was much better, but by then it was impossible to catch up and make progress."
But at least he had a better day than the luckless Coulthard: "It's disappointing to go out. I was trying to go down the inside of Bourdais' car into turn one and naturally he came back across a little bit towards the apex. Piquet was in front of us both and I found myself between the two of them.
"There was a little bit of bumping and grinding as we went through the apex of turn one and then, as I accelerated out of turn two, whatever damage was done in the apex of Turn one let go and the car had a tank slapper and I went into the barrier.
"I guess it was suspension damage rather than a tyre as normally you'd feel it if a tyre was going down. We'll need a new chassis for the next race."