Paul di Resta has come to the end of his DTM title hunt after a battering in the last race of the season which saw Audi triumph against his Mercedes team.
But it's the 22-year-old Scotsman's future drive rather than his present one that's been making headlines recently, with a clutch of press stories suggesting he's on the verge of clinching a Mercedes-backed F1 deal.
They have centred around the possibility of di Resta, the cousin of Scots-Italian IRL star Dario Franchitti, being placed at Force India as part of an engine and technical supply deal between Mercedes and that team.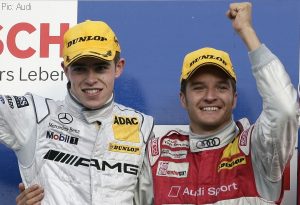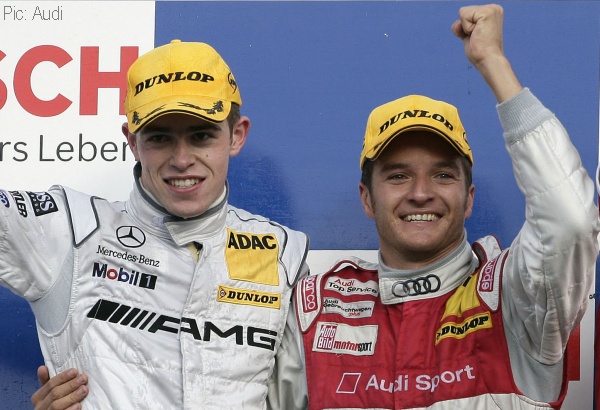 This in turn raises questions about the engine supplier's relationship with McLaren. Would Force India benefit from some kind of B-team set-up, if that could be accommodated under the present regulations? Certainly McLaren has been down this road before with the abortive Direxiv project.
Or does the engine supplier have its eye on a longer-term separation with McLaren and a team acquisition of its own – in the manner of BMW when it split with Williams to take over Sauber, very successfully indeed?
All in all, things have got pretty damn complicated and we're none the wiser at the end of it. So perhaps we should start with what we do know, beginning with di Resta's DTM drive.
Audi team orders
A season finale at Hockenheim at the weekend in front of 135,000 passionate German fans saw di Resta lose out to Audi's Timo Scheider despite starting out a place ahead of him on the grid.
Audi pole-sitter Matthias Ekstrom, who was not in a position to secure the championship for himself, let Scheider past and then briefly held up di Resta so his team-mate could forge a race-winning lead.
Ekstrom was subsequently given a three-second stop-go penalty for lining up outside his grid box at the start.
Di Resta managed to hang onto second place despite several contenders catching him towards the end of the race. Afterwards he said: "First of all we have to congratulate Timo, he's had a great season.
"He did a great job today. I'm a bit disappointed with Mattias Ekstrom, but I'm happy with second. It's been a strong season in my first year with the top team at Mercedes."
However, in a season where Audi have swept all before them with a mix of dominant and unexpected victories at 24 Hours of Le Mans and the European and American Le Mans series, it seems inevitable that they would find a way to win the DTM title as well.
Testing for McLaren
So, no championship for di Resta in DTM this year – but his links with engine supplier Mercedes could land the 2004 McLaren Autosport BRDC award winner the mother of all consolation prizes in the shape of an F1 drive.
He's a contemporary of Hamilton, Vettel and Rosberg and raced competitively against them in junior formulas. And he has very recently tested with McLaren in the MP4-23 at Silverstone, where he is said to have worked on maximising the car's potential in the run-in to Brazil.
This seems like a scary responsibility for a rookie – unless you happen to know that the team has grabbed a few extra days' testing allowance on the strength of using a complete newcomer, as the regulations allow.
He's won praise from both Ron Dennis and Norbert Haug, with the former saying: "We have a policy of trying to promote young drivers into Formula One and Paul did a great job when he was evaluated in our simulator a few months ago.
"It was agreed that, as and when he gets over the DTM season, we would evaluate the possibility of integrating him into Formula One.
"That may not necessarily be with McLaren or any specific team. But obviously to put your weight behind someone you have to have a clear perspective of what they can do, so that is why we are going through this process."
Success the Hamilton way
The Daily Record newspaper has gone as far as describing this as "Scottish speedster Paul di Resta… being groomed to follow in the illustrious Formula One tyreprints of World champion-elect Lewis Hamilton."
And, according to the Press Association, di Resta is also reportedly receiving management help from Anthony Hamilton, which helps to take that statement to another dimension of credibility.
(If this is true then his father Louis di Resta, who has given numerous interviews recently suggesting Hamilton's had an easy ride and is no better a driver than his son, might want to reconsider his PR strategy.)
But Haug, who is head of motorsport at Mercedes, has been a little bit cooler, suggesting that the Scotsman is not yet ready to step up to the top table.
He said: "The options for Paul next year are either to stay in DTM or go into GP2 but nothing is decided. We need to look and see what the next steps are.
"I think he is an exceptional guy but you never know. You need to find out and then go from there."
Where facts shade into rumour
OK, that's the sensible stuff dealt with. From this point on we are getting into the realms of rumour and speculation – in other words, the witches' brew that keeps F1 running just as surely as oil and petrol do.
A long interview with di Resta and his father in Scotland on Sunday two days ago summarises it neatly: "Well-placed paddock chat has Di Resta in line to become McLaren's test driver or, given Heikki Kovalainen's disastrous form this season, even a dark horse to replace the Finn.
"More likely is a drive for Force India… Way off the pace this season, if they can conclude an engine deal with Mercedes they could be next year's Toro Rosso.
"There is even chat in the paddock that Williams could stage a raid in the unlikely event that Di Resta isn't offered a Mercedes-backed drive."
Although it also goes on to add that the driver is "keen to dampen expectations".
Prior to the DTM finale, he said: "I really don't know what's going to happen in the future and I've been careful not to talk about it or even think about it too much because the main focus has to be concentrating on making sure I perform at Hockenheim and then going from there, from a position of strength.
"Not that I think this weekend will be a defining moment for me. Whether I win or lose this championship, I think the decision will still be the same: Formula One is where I want to be."
Adding to the speculation
The first question to ask in the face of these rumours is where's the vacancy? Force India has confirmed its drivers for next year and McLaren already has two highly experienced and well-thought-of testers, including di Resta's DTM colleague Gary Paffett.
But it's true that an F1 contract often seems more of a starting point for negotiations than a binding legal document, so we'd better suppose that anything could happen.
It is being said that the racer is keen to get into F1 as soon as possible rather than biding his time and waiting for a decent team. Thus he would appear to have no personal objections to being a Force India back marker, especially if the team had a decent prospect of improvement.
And Vijay Mallya's obvious discontentment with his nil-points first season as a team owner – "it's a matter of pride," he said recently when talking about it – would seem to add fuel to the Mercedes tie-in flames.
People speculating about this point out that nothing involving either McLaren or Mercedes, with their first Formula One World Championship for 10 years on the line, can possibly play out until the F1 season and its immediate aftermath is resolved.
The other issue is to ask what Mercedes' long game may be. When BMW disentangled itself from Williams then that team was already on a shaky footing. The engine supplier had little to lose when acquiring Sauber.
But Mercedes' partnership with McLaren involves a team that is one of very few on the grid capable of fighting for world championships. If it plans to acquire and strengthen the uncompetitive Force India then this is a project that might take another decade to bear fruit.
Whatever happens, it seems like a good bet that the young Scotsman has achieved the elusive feat of making those people with the resources to help his career sit up and take notice.
And, with David Coulthard about to retire, what better way to celebrate Scotland's fine motor racing heritage than through this youngster getting a drive?